Windows Phone Summary of the Week: January 16 - 22, 2012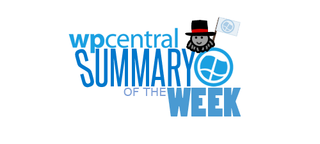 Welcome to your weekly roundup of Windows Phone news from WPCentral. We're slightly on the late side unfortunately due to time restraints and the lack of energy (not even a pack of Red Bull and countless coffees could beef up the energy bar). Kicking us off is episode 135 of the WPCentral podcast, where we have Rene Ritchie from our sister website iMore joining Dan and Jay.
The official WPCentral app has reached version 2.0, with 2.1 well on its way. A massive thanks to Jay for the incredible development that continues to splat bugs and introduce new features. Dave from the forums takes a minute to remind readers of the WPCentral Meta forum where suggestions can be posted and site announcements can be read. If that wasn't enough community action for you, why not dive into CES 2012 discussions? If development is more your thing, then we can cater for your needs with our newer developer section.
Be sure to head on past the break for the full weekly summary.
Nokia starts our week highlights by handing over 350 essential 2G, 3G, and 4G patents to IP bulldog. Pantech and Microsoft are working on an Android license deal to join Samsung, Acer and other OEMs. ZTE are looking to explode in the states with 4G phones, whether they be Android or Windows Phones. According to Nielsen the platform is catching 1.4% of the U.S. market, which isn't too bad considering the push is only just beginning with Nokia.
Some positive news includes the number of Facebook users using the Windows Phone app went up by 200,000 since Christmas. not a bad indication. We take a look at some data plan alterations being made by AT&T, and how Windows Phone browser share is set to overtake Blackberry in France. With Microsoft and Nokia locked in the partnership, we begin to see signs of how Nokia is aiding the software giant with mapping and more.
ZTE speaks out and reveals that the Windows Phone licensing is more expensive than first thought. AdDuplex, the developer advertising network for the platform has revealed some interesting usage data, while Microsoft announces record quarterly earnings of $20.9 billion. To add to Microsoft's good news, Windows Phone is still being predicted by analysts to overtake iOS by 2015. On top of that, Elbert Perez has reached one million downloads for all his games. If you remember back to CES 2012, Ben Rudolph was on the hunt for victims in a number of challenges. We take a look at the recap.
Moving swiftly onto gaming news, Flight control is this week's Xbox LIVE Deal of the Week, while TextTwist 2 becomes the 100th Xbox LIVE title for the Windows Phone. Brain Cube Reloaded, a sequel to the original puzzle game, is on its way to the Marketplace. Should you enjoy the strategy title Armed!, the developer is interested in hearing players feedback on any potential balancing issues.
A Windows Phone Manager Tool (which is in early alpha) is a man's best friend when it comes to XAP loading, keeping track of multiple side-loads can be frustrating on a number of handsets. The Windows Phone 8107 update is being rolled out across multiple regions, which includes the much desired disappearing keyboard fix. The Square sharing app which we took a look at not so long ago has now been released on the Marketplace and is available to download.
With Mango being well and truly set in stone, it's time to look to the future - namely Tango. We take a look at a few rumours which point to grouping Live Tiles as an upcoming feature (much like whats seen in Windows 8). Two unofficial Instagram apps are fighting for the spotlight on the platform, but both are plagued with the read-only API access granted by Instagram. Then again, it is relatively feasible that an official app could be on its way to Windows Phone, and could arrive before an Android offering.
If you weren't up for purchasing YouTube Pro for the updated look and feel, but actively use SuperTube, you'll be pleased to learn that a free update to the app will bring the app up to speed with YouTube Pro. Wordfeud, a cross-platform multiplayer word game is set to arrive on Windows Phone by February 1st. Rdio comes to Australia and New Zealand, but if the user reviews are anything to go by then this app is pretty awful.
From the WPCentral forum - Chromatic, a two-dimensional shooter, is in need of beta testers. The Deepshining custom ROM has been updated to 8107, but not only is it now up-to-date with the latest version of the OS, the ROM now comes packed with its own Marketplace. Keeping your Homebrew apps in order is now easier than ever. Two 4Chan readers are available on the Marketplace, though unfortunately are only viewers (4chan Reader and also Imageboard Browser allows access).
MSN Weather has gone Mango and now sports Live Tile functionality, and BoxShot is updated adding the ability for users to pin folders to the home screen. The official IMDB app also receives a Live Tile upgrade, and 4th & Mayor now supports menu and QR Code checkin.
For hardware we have the T-Mobile Lumia 710 being featured and receiving positive feedback, scoring 4.9 out of 5. If that didn't excite you enough, you can pick up the handset on T-Mobile for just a penny from Costco. If you thought the 710 was a slouch then perhaps you'll be interested to learn that the device features speedy UI rotation, allowing for faster rotation effects. Canada is finally receiving some generation two love from Nokia with the 710 and 800 making their way across the border in February.
Looks like either the Nokia Portugal team are having fun with some pranking, or the Lumia 900 is actually going to be making its way around Europe - we pray for the latter. If that wasn't enough, Nokia Ireland apparently spilled the beans surrounding the 900 coming across the water from the U.S. Looks like we're all in for an exciting ride with Nokia's high-end Windows Phone. For those who reside in South Africa, take note that you'll need to prepare yourselves for Nokia 7th, when the Lumia 800 will be launching.
Speaking of Lumia 800s, Nokia has been busy releasing the second firmware update that was promised along with the first to the end of last year. Unfortunately, not all is well with this update as owners have experienced issues once updated, including soft key lighting playing up when automatic brightness is turned off. Spinning this negativity into some positive zen; more evidence mounts pointing to a white Lumia 800 coming out, nice!
The ZTE Tania, a low-budget Windows Phone, has hit the UK at Clove for £250. Speeding over to the opposite side of the scale is a behemoth of a battery for the HTC TITAN from Mugen Power. How does 3600mAh sound to you? Good news for those who rock Dell Venue Pros as the OEM is reportedly keeping up with OS updates and is rolling out 8107 as well as everyone else. Shocker!
We have a fun little WPDoodle of the HTC TITAN II, making all other Window Phones look like wimps. Nokia France ensures everyone gazes in awe as they launch their 6 "Amazing Days" where they reward lucky winners with some awesome prizes. Over on this side of the channel, we see the Lumia 800 being sported in Coronation Street.
In Germany, they wanted to go one step further with Ghostbusters, and now we have a full video of what the event was all about. A Vodafone UK advert, which is promoting their RED Box service features Yoda and Windows Phone. Should you be into NASA soundtracks and whatnot, then perhaps some ringtones that are free until the end of February will interest you?
For developers we have winners from the Core77 contest who are hard at work bringing their app ideas to life. Should you have a number of apps on the Marketplace and would like to keep and eye on how well they're performing in terms of reviews etc., then you'll be interested in the Windows Phone Dashboard. If you're looking for accent colour hex values to achieve close replication in Photoshop then you'll want to check out Metro Swatches that can be loaded into the software for quick access.
Highlights
Gaming
Software
Hardware
Fun
Developers
Rich Edmonds is Senior Editor of PC hardware at Windows Central, covering everything related to PC components and NAS. He's been involved in technology for more than a decade and knows a thing or two about the magic inside a PC chassis. You can follow him over on Twitter at @RichEdmonds.
Windows Central Newsletter
Get the best of Windows Central in in your inbox, every day!
Thank you for signing up to Windows Central. You will receive a verification email shortly.
There was a problem. Please refresh the page and try again.