Best 3D-printed models of January 2020
We showcase the fantastic models you make each month.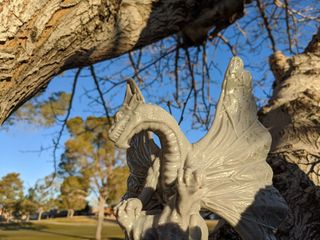 (Image credit: James Bricknell/Windows Central)
The 3D printing community is terrific. Not only are there people from every walk of life ready to help anyone get better at the hobby, but there are also talented designers churning out inspired models for us to print. One of my favorite things to do in my spare time is to look around the web and find some of the best models that people have printed and ask them how they managed such beautiful work.
I think this kind of talent needs showcasing, so each month I will be showing off some of the best prints I've seen from around the 'net. Each entry will have a link to the person who printed the model, and, where possible, the person who designed it and the printer they printed it on. Hopefully, these designs will inspire you to push yourself, and maybe seek these community members out.
Model of the month
Why you can trust Windows Central Our expert reviewers spend hours testing and comparing products and services so you can choose the best for you. Find out more about how we test.
This section is dedicated to the very best model that I have seen in the community for this month. The winner can revel in the knowledge that they are Windows Central's Model of the month!
Model by Kijai Design
Aerith from Final Fantasy vii printed by Kijai Design
If you are a fan of Final Fantasy vii — and at this point, who isn't? — then you will likely recognize this model in this exact pose. With the remake of FF vii coming to PlayStation 4 very soon, now is the perfect time to print your own Aerith.
This model is especially easy as it prints with almost no support at all. Jukka, the man behind Kijai Design, has added a small breakaway support for her chin, but that's it, the rest prints beautiful in one go. Even the life energy that surrounds Aerith can be printed in one piece and hollow so you can use LEDs to make it glow. It does look stunning.
Jukka uses his Prusa Mk3 for all his prints, and, as we all know, the Mk3 gives fantastic prints almost every time. Jukka even painted this one himself, and although he confesses to not being the best painter in the world, I think his final work is excellent.
Every print Jukka designs are printed on his trusty MK3 from Prusa Research, and they always look fantastic. It's a favorite of mine as well.
More fantastic models
There are so many great models out there we couldn't just stop at one. Let's celebrate some of the very best models and printing people around!
Model by Arte_Creator
España, printed by Leonardo Delgado
Source: Twitter/@arte_creator
Now technically, this model came along in December, but I had a daughter with a broken arm so that I couldn't post about it. It deserves to be highlighted, though, because España is a stunning model. Leonardo Delgado used the multi-material print version to make this, but if you haven't got a setup like that, the model does come in lots of separate pieces so you can print them all and attach it together.
Using multiple different rolls PLA from Fillamentum, Leonardo has produced one of the best models using multi-material printing that I have ever seen. If you haven't tried multi-material printing yet, this should inspire you to try.
Multi-material printing is the latest phase of 3D printing and can produce some fantastic results. This beautiful model is proof of that.
Model by Fotis Mint
Pygmy Possum printed by Tom Jackson
The beginning of 2020 has been crazy, with some of the most extensive bushfires humans have ever faced destroying vast areas of Australia. To raise some support, a lot of designers got together and produced models for a 24hr live stream. These models were showcased and available to buy, with all proceeds going to help those affected by the bushfires.
This pygmy possum is one of my favorites, with its exquisite detail and the cute finger it can grab. Fotis did a fantastic job at the model, and Tom Jackson did a tremendous job of the print, as always. The possum and many other great models are available at Gumroad, and remember, all the proceeds go to help the victims of the bushfires.
While Tom can make any printer sit up and dance, most of his best work comes from the Prusa MK3s he uses. Honestly, it's like magic.
Model by Printed Obsession
Elementals printed by Grafitomi
Source: Twitter/@GrafitTomi
Grafitomi has recently been playing with a new way to color resin prints. By using alcohol dyes before the curing process, he can stain clear resins to produce some stunning results. A lot of us 3D printing Twitter people have been following his progress, and it is looking fabulous.
These two models are another set from the bushfire maker-thon, and they were printed on Grafit's workhorse, the AnyCubic Photon. Though it's one of the older resin printer models, it is still producing quality on an almost daily basis.
Despite the touchscreen from the dark ages, the Anycubic Photon is fantastic. It is the perfect ratio of cost/quality that you would want in your first resin 3D printer. Buy one if you can.
Model by Wekster
Picard and Data mini's printed by Zenador78
With the launch of the new Star Trek show, Star Trek: Picard, Wekster supplied us with some awesome Next Generation mini's. Picard and Data are just the first two, and I believe Worf and Geordie are next. I printed these two models as well — I'm a huge Picard fan — and although mine looked good, they were nowhere near as cool as Zenador78's versions.
Zen used the Palette 2 to print Picard and Data in multiple colors, and the result gives me all the happys. The Palette 2 works by feeding up to five different color filaments and splicing them together to print the right color at the right time. It's a very new technology, but it brings models to life in a way not possible before.
The Palette 2 Pro is a multi-material god! It can print multi-color, as well as multi-material, and even allows you to "paint" single piece prints for color printing.
Creator of the month
Instead of having a manufacturer of the month each month, we will try to highlight creators as a whole. So it may be a company that creates impressive printers or filaments, or maybe it's a YouTube creator that inspires us. We will showcase the best right here.
Uncle Jessy
Uncle Jessy — real name Clayton Parker — is one of my favorite YouTubers. Like me, he tends to review 3D printers, but he also has a lot of excellent cosplay content. The energy he brings to his videos is contagious, and I enjoy the way he reviews the machines.
When he reviews a machine, he doesn't get bogged down in the technical details, though he does give you some specs. He talks about what it's like to use daily, as well as the troubles that come along with the machine. This is helpful for those people who are looking to start in the hobby as they need to know what the device is like to use, not how many LEDs it has.
So go and subscribe to Uncle Jessy on YouTube, and enjoy great content regularly, and follow him on Twitter, where he's always willing to answer questions. I enjoy the 3D printing community, and Clayton is a prime example of why. He's always willing to lend a hand when needed. Oh, and it's his birthday this week, so say happy birthday as well.
Be a part of the action
This entire article is to showcase what is great about the 3D printing community, but I can't do it without your help. If you see terrific prints anywhere on the web, or you have made something magical yourself, drop a link in the comments below or tag either @windowscentral or @keridel on Twitter, and we will check them out.
Related reading
Get the Windows Central Newsletter
All the latest news, reviews, and guides for Windows and Xbox diehards.
James built his first PC when he was 13 and has never looked back. He can be found on Windows Central, usually in the corner where all the 3D printers are, or huddled around the Xbox playing the latest games.