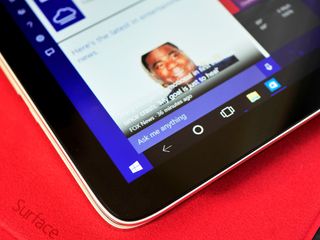 A lot can happen in a week. Seven days might not seem like much, but it can be an eternity in the tech news cycle. Between Windows news, hardware and software developments and Microsoft's fast-paced movements throughout the technology landscape, it's never easy to keep your hand on the pulse of technology.
Not to mention everything that's going on right here at Windows Central!
Every week we're going to compile the biggest stories into one post, so you never fall behind – In Case You Missed It (ICYMI).
Windows
Preview build 10130 of Windows 10 got a lot of attention this week, as Microsoft not only pushed out an update to fix unresponsive flyouts on the taskbar, but also released three security updates for it.
In addition, head of the Windows Insiders program Gabriel Aul, issued a warning to Surface 3 owners to refrain from trying to install build 10130 on their devices. A bug affecting Cherry Trail CPUs, including the Atom x5 and x7 prevents the installation of Windows 10 build 10130 on the Surface 3, causing it to freeze on the BIOS screen.
Despite the issue, Windows 10 PC build 10130 is still stable enough that it has begun rolling out for Slow ring members with bug fixes included.
Cortana got some love as well. Both Windows 10 and Windows 10 Mobile versions got an added splash of color for the weather section. The personal assistant also picked up enhanced ability to help travelers plan their trips with additional voice commands, updates for check-in times, and more.
But if you are a little wary about letting Cortana collect your personal information, here's how to turn off personal data gathering in Windows 10.
Even some third-party manufacturers are hopping onto the Cortana bandwagon. Computer maker Toshiba plans to add a dedicated Cortana key on their Windows 10 PCs.
With the launch of Windows 10 a little over a month away, Microsoft has strengthened their push to get people to upgrade. An update to Windows 8.1 has added a prompt in the setup process to ask them to reserve their free upgrade.
For those of you who aren't yet sure whether or not to take them up on their offer, we put together a list of Windows 10 questions and answers you need to know before upgrading.
Other notable items:
Windows 10 build 10135 leaked on the Internet with minor refinements
Microsoft Edge tips and tricks showed in new video, responsive images support revealed
Microsoft's new adapter will let you use your wireless Xbox One controller with Windows 10
Windows 10 Enterprise PCs on Long Term Servicing Branch won't get Edge browser
Microsoft
It looks like some Facebook-related integration in Windows 8.1, and Windows Phone 8.1 will be going away. The collection of features, referred to as Facebook Connect, which bring Facebook contacts information into Outlook.com, the People app, Onedrive, etc., will be shut down because of changes to the API that they use.
Microsoft continues their rebranding and realignment process. Recently, they changed the name on the old Nokia Theater in Los Angeles, replacing Nokia's moniker with their own.
Xbox Music may also be getting a rebranding as well. Some perceptive users of the online Xbox Music web player noticed a reference in a pop-up to microsoftmusic.com. Could Xbox Music (and Xbox Video?) be getting a makeover in favor of Microsoft Music? It makes a lot of sense.
And speaking of music, now that Apple has decided to can Beats Music in favor of their new Apple Music service, we put together a list of alternatives for Windows Phone owners.
Businesses should be excited to hear that pre-orders for the Microsoft Surface Hub, which is going to be manufactured right here in the USA, begin on July 1. The device itself will start shipping in September
In more business news, Microsoft acquired BlueStripe Software, a major provider of products designed to help IT workers monitor and manage applications
Lastly, we got a glimpse of what might have been, or what still may come to be. Pictures surfaced online this week of the Moonraker, Microsoft's unreleased smartwatch. The watch was something that Nokia was working on, and planned to reveal around the time of the Lumia 930. Those plans were cancelled after Microsoft acquired Nokia's mobile division, so who knows if anything will ever come of it.
Other notable items:
Miscellaneous
We are proud to announce another round of Windows Central's Hidden Gems series, in partnership with Microsoft.
So far, we've shown you how to stay fit with TRAINR and BodBot and given you a chance to win a Fitbit Charge HR in the Hidden Gems Day 1 Sweepstakes!. We've also helped you stay stylish with Wish and keep informed with NPR One. Be sure to keep your eyes peeled for even more great highlights.
Twitter announced some new functionality this week. In a bid to promote user security, the social network will now let you share your list of blocked accounts with other users. And as they evolve from primarily an SMS-based platform, they have decided to lift the 140 character limit for direct messages in July.
Oculus, the virtual reality specialists, held a special event, at which they showed off the first consumer version of the Rift VR headset.
They also announced that the Oculus Rift will include an Xbox One wireless controller and will support Xbox-to-PC game streaming. Oculus also unveiled a prototype for their Touch, a finger-based game controller for the Rift, along with new games and the Oculus Home VR portal.
Though it may not seem to be the case on its face, Microsoft actually thinks that the Oculus Rift and HoloLens are "very complementary technologies".
YouTube is also gearing up to get more into gaming. Their YouTube Gaming is set to duke it out with Twitch for game streaming dominance.
Other notable items:
Dick Costolo stepping down as Twitter CEO on July 1
Share your thoughts on this past week of news! And we'll be back again next week to do it all over again.
Windows Central Newsletter
Get the best of Windows Central in your inbox, every day!
Cool thanks! Missed the smartwatch rumours. Love these ICYMI articles :)

That photo looks likee a Tracy morgan AMA