Windows Phone Summary of the Week: September 26 - October 02, 2011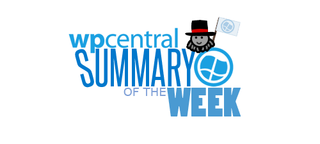 This week we have a Windows Phone developer interview with Dave Amenta (opens in new tab) (Send to WP7), definitely worth a read for any aspiring Microsoft platform developers. Dave Blake returns with his wpcentral forum update, but contains a Mango twist (and if you missed what I just wrote, here's Dave's reminder (opens in new tab)). If you missed our Mango coverage, be sure to check out our Mango summary (opens in new tab), we'll be skipping the news in this summary to avoid repetition.
To kick off our weekly summary, we have Microsoft filing for trademark (opens in new tab) on the slogan "Put People First" for the Windows Phone platform and to secure future promotion and advertising campaigns. Microsoft has opened up the web version of the Marketplace where users can purchase apps as well as locating and swiping a lost phone. Nokia has had some trouble with O2 in regards to stocking their upcoming windows Phone due to the carrier's relationship with Apple. Nokia has since dropped O2 as a stockist.
An incredible deal has been signed by Microsoft and Samsung for patent licensing where the manufacturer will pay royalties per-Android handset sold. It's apparently going to be worth $444 million to Microsoft. Should you have an exciting suggestion that you feel the Windows team could absorb some of the above cash for development, you can voice your feedback (and vote for other suggestions) on their UserVoice account (opens in new tab).
Should you not know how to create custom ringtones in Mango (opens in new tab), our George Ponder has written up a perfect howto. It's been confirmed that AT&T will be bringing visual voicemail (opens in new tab) to customers and will provide more information as to when this feature will be made available soon. After all the drama surrounding the camera app and location services recently Microsoft has stated that they've found a bug in the service (opens in new tab) and will look to fix it.
Unfortunately, while not a highlight as such (not a positive one), Nokia continues to cut jobs with 3,500 more being slashed. In light of this negative news we can help the platform and developers by becoming beta testers with a new Windows Phone Beta website being launched (opens in new tab). Keeping up the good news roll, Canada will be able to access the Zune Marketplace tomorrow (opens in new tab) (October 3rd), while US residents will need to read up on alterations being made to the Zune subscription.
Microsoft is tackling Marketplace spam harder with a lower cap on the maximum number of apps (opens in new tab) submitted per-day, but fails to catch a NES emulator and ROMs being sold. Our sister site PreCentral publishes their view on Windows Phone Mango. Closing off the highlights the T-Mobile HTC HD7 allows the user to change search engine (opens in new tab) while we look at how Samsung owners can use DLNA with the AllShare app (opens in new tab).
Gaming time! There's a massive Xbox 360 sale (opens in new tab) going on that includes a wide number of titles and Full House Poker is this week's Xbox Live Deal of the Week for Windows Phone. We see more Kinect integration with the mobile paltform (opens in new tab) at the HTC Radar launch in Hong Kong - looking good! Burn the Rope is now available for awaiting players to download. Ah, speaking of sales! Puzzle Quest 2, Brain Challenge, and Gamechest: Logic Games are also discounted (opens in new tab) for gamers to take advantage of. Beards & Becks gets updated to version 1.2, adding Mango support.
WhatsApp being released had users expecting more, thankfully the team have stated that the initial release was just a beta and that they plan to bring more features in the future (opens in new tab) to bring the app up to standard with other platforms. The Guardian (a British newspaper) has released a Mango app that features a number of topics and video playback. After showing us some of the features we'll be seeing in the next version of Evernote, the team have released 2.0, which brings a number of improvements.
We take a quick look (opens in new tab) at where tethering, visual voice mail and hidden SSID support is in Mango and a quick hack for enabling tethering on the Samsung Omnia 7 (opens in new tab). On the adCenter blog there was a beta tester callout for the new official adCenter app (opens in new tab) for Windows Phone.
We covered some Twitter trouble that occurred on Mango due to the social network modifying the API which broke the connection with Live. Good news for SugarSync users as the team are looking to bring an app (opens in new tab) to the platform, but should you be stuck at the office or heading to bed and own a HTC handset, the manufacturer has pushed their dock app to the Marketplace. Wrapping up this week's software news is the spotting of a placeholder Nokia Maps app on the Marketplace.
We take a look at the recently announced Samsung Omnia W and the specification (opens in new tab), modelling with the Radar (opens in new tab) as well a video tour (opens in new tab). Should you find this Samsung device interesting the it's already available for pre-order (opens in new tab). ZTE Tania makes an appearance (opens in new tab) running Windows Phone Mango. Among all the Mango madness we recently experienced, the Fujitsu IS12T received a firmware update (opens in new tab).
Microsoft has revised the chasis specifications (opens in new tab) for low-end devices, which the ZTE Tania took advantage of having only 4GB of storage. HTC is reporting that they've witnessed success with Windows Phone, although this could simply be limited to Singapore. The HTC Titan and Radar are available for pre-order with Phones4U in the UK. On the other hand, we have LG Jil Sander E906 press shots (opens in new tab) which split everyone in half just like Marmite - you either love it, or hate it.
Some Nokia hardware news was floating around this week (not long to go until Nokia World!) with Microsoft Canada revealing a number of device code names including "Sabre". The Sabre was then speculated to sport 3D voice navigation (opens in new tab) while the Nokia Ace is set to feature a 4.3" AMOLED screen and HSPA+. If you want to pre-order the Samsung Focus S (opens in new tab), you can do so at Cellhut. Do take the time to gaze at the product images though.
The above video is the new Windows Phone Mango commercial (opens in new tab) showing the beauty of the platform with an up beat background track. Julien Schapmen from Touch Xperience shows us how the OS can be used for home automation with controlling anything (opens in new tab) from the television to a lighting system.
Finally, we arrive at our developer summary. First we have a fake Marketplace that allows one to test how the app will look in the real Marketplace after approval. Lastly, to close the weekly summary, we have Microsoft offering developers Mango 7.5 badges for app screenshots (opens in new tab) in the Marketplace.
Highlights
Gaming
Software
Hardware
Fun
Developers
Rich Edmonds is Senior Editor of PC hardware at Windows Central, covering everything related to PC components and NAS. He's been involved in technology for more than a decade and knows a thing or two about the magic inside a PC chassis. You can follow him over on Twitter at @RichEdmonds.
When I did the beta Mango on my HD7 it was like a free phone upgrade. The phone was infinitely better. For those of you waiting for your carrier to upgrade you it is worth the wait on a grande scale.
Windows Central Newsletter
Thank you for signing up to Windows Central. You will receive a verification email shortly.
There was a problem. Please refresh the page and try again.