My personal top 7 Amazon Prime deals you should defo buy: Tech, gaming, Xbox
Jez Corden's recommendations are the best recommendations, of course.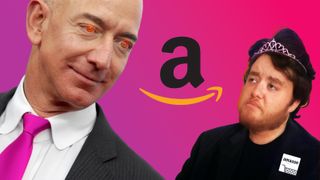 (Image credit: Jez Corden)
Prime Day Deals
• Best deals: Our best
• Windows laptops
• Gaming laptops
• 4K and ultrawide monitor deals
• Gaming monitors
• GPU deals: AMD & NVIDIA
• Motherboard deals: Intel & AMD
• NAS deals: Network-attached storage
• Routers
[Updated on July 12 at 5:45 PM ET with latest deals and price checks]
IMPORTANT: Amazon Prime Day ends on July 13 at 2:59 AM ET (or July 12 at 11:59 PM PT.)
So you're looking to grab something shiny and new, and it just so happens to be the biggest deals event of the summer: Amazon Prime Day. But hey, you don't know what deals are actually good, right? There's a ton of junk out there, and it would be mighty useful if you could get advice from someone who had an absurd amount of headphones, mice, keyboards, devices, and other random accessories literally piled up in a cardboard mountain from extensive testing. Well, today is your lucky day.
I am Jez Corden. Sometimes, I use my lesser-known monikers as Xbox Whisperer, Headphone Hoarder, and Gadget Graveyard Keeper. Few people are lucky enough to have as much tech access as me, and I wield my unlikely superpower for the good of humanity: helping you avoid shitty tech and ultimately helping you save money.
On this most celebrated day of capitalism, I've decided to round up my personal 7 best deals for Amazon Prime Day on tech, Xbox stuff, and gaming to help elevate your gaming lifestyle. Let's get right in, shall we?
Jez's quick list
SteelSeries Arctis Nova Pro headset for Xbox / PC
My personal headset that I am currently using as I write this, the SteelSeries Arctis Nova Pro for Xbox, is a content creator's dream. Connect your PC / Switch / PlayStation and your Xbox up to a single DAC for easy switching, and inject Bluetooth audio for seamless Xbox gaming and PC live streaming goodness. Endless battery life thanks to its hot-swap system, and it looks pretty damn sexy, too. This is one of the best Xbox headsets out there right now. This version is wired, but you'll save a ton off the asking price for opting into it.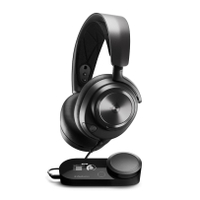 SteelSeries Arctis Nova Pro (Xbox/PC) Headset: was $249.99 now $199.99
SteelSeries headsets really pack a punch when it comes to Xbox audio solutions. The wireless version of this headset features in our best headsets list, but the wired is a lot cheaper in the Prime sales, and no need to worry about battery life.

Razer Xbox Quick Charger
Charging Xbox controllers can be irritating. Fiddling around with USB cables, buying up reams of AA batteries, wondering whether or not third-party stuff will even have enough juice and longevity. Well, here's what I currently use.
Formerly owned by Controller Gear, Razer's Universal Quick Charging Stand for Xbox was recently snapped up by the premium gaming company. It comes in various colors, designs, and branding for the best Xbox controllers from your collection. While the battery won't last as long as something like the Xbox Elite Controller Series 2, the dock will give you all-day battery life and recharge relatively quickly once you've tidied it away for the night. Connect it up to your Xbox console, job done.
Razer Universal Quick Charging Stand for Xbox Series X|S: was $39.99 now $25.99

Fully charge your Xbox controller in under 3 hours with the Razer Quick Charging Stand for Xbox controllers. A replacement battery with a magnetic strip connects your gamepad. Plug the dock into USB on your Xbox, and that's it! The stand comes in a wide range of colors for all types and even has some options for limited edition controllers too.
JSAUX Steam Deck Dock
This is the JSAUX Steam Deck Dock, but it also works with other handhelds too. This is the dock I'm currently using with my ASUS ROG Ally. It's also compatible with the Steam Deck (and, in fact, is designed for it originally). This latest revision does, however, support full 100w charging, which is needed for the ASUS ROG Ally 30w turbo mode.
This is a sexy dock-meets-display stand for the Steam Deck and the ROG Ally, giving you a wide range of additional ports and functionality. You hook up this when you want to play on a big screen using the HDMI-out or connect up a keyboard and mouse for games that aren't great with typical dual joysticks.
I love mine, and you'll love yours. It's like 65% cheaper than the official Steam Deck dock with this deal, making it a steal. JSAUX is also an awesome company who were very helpful when I needed some tech support.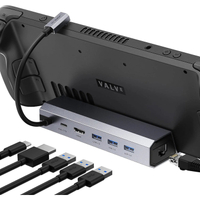 JSAUX PC Handheld Dock: was $39.99 now $31.99
Expand your Steam Deck or ASUS ROG Ally with four additional USB ports, an ethernet port, an HDMI port, and power delivery of up to 100 watts. This dock is FAR cheaper than the official Steam Deck option and does exactly the same stuff.
SATECHI 4K Docking Station
One thing that I can't get enough of is ports. USB ports, USB-C ports, HDMI ports, SD card slots, power delivery ports, etc. The problem is, a lot of docks just aren't that great. Either the power delivery is inconsistent, the ports are buggy or unreliable, or there are just not ENOUGH ports. Heck, even weight can be an issue. You don't want a dock that will slide around against even the slightest bit of cable weight or tension. That's when Satechi came in clutch.
This docking station has literally every port I could ever imagine needing, from USB-C power delivery, regular-size USB, several HDMI ports, and audio-in, and it comes with 100w power delivery for charging my ASUS ROG Ally as well. This is the dock I use with my laptop generally, but it's also great for connecting my ASUS ROG Ally for some gaming on a bigger screen. It's not exactly cheap, but if you want something that will actually deliver, you sometimes have to pay a little extra.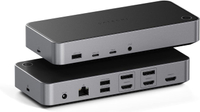 SATECHI 4K Docking Station (was $299.99 now $239.99)
The Satechi 4K docking station boasts 100w power delivery, USB-C fast charging across 4x ports total, 4x HDMI ports, ethernet, and audio out. This has been a lifesaver for my Razer Blade laptop and my ASUS ROG Ally.
Seagate Storage Expansion Card
Xbox Series X|S consoles don't have a particularly huge amount of storage, and modern games require SSD speeds to run properly. Microsoft partnered up exclusively with Seagate with an elegant but fairly expensive solution based on CFExpress. However, the tech is quite a niche, and prices have remained substantially higher than most consumers can justify.
However, I have one of these and find it the easiest way to store larger games without moving things back and forth between deep storage and a slow mechanical hard drive. Thanks to Amazon Prime Day, they're cheaper than ever. If you ever were on the fence about getting one, you should grab one right now.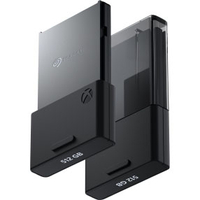 Seagate Storage Expansion Card 2TB: was $399 now $279

With competition heating up in the Xbox storage arena, finally, Seagate has had to drop the price on some of its CFExpress cards. These storage devices boost the Xbox internal memory capacity by a large amount, and this 2TB beast is now down to its lowest price ever.

Astro A50 headset
Here's another headset I consistently recommend, one of my favorite and most reliable. I've had my Astro A50 review unit since 2019, and it has been flawless the whole time.
The Astro A50 was unique for a long time as one of the only wireless headsets that could mix two separate signals. It remains unique as the only Xbox / PC gaming headset on the market that can mix SPDIF optical-in with USB sound. I tend to use it by connecting the SPDIF audio to my TV to inject Xbox sound, connecting the USB to my laptop, and connecting to party chat via the Xbox app. It's great for streaming and content creation. However, you can use it entirely over USB only, which is how most people will likely use it.
Astro has one of the best (if not THE best) configuration tools for its headsets, with strong mic monitoring, solid audio, and great comfort. It's usually too pricy for most, but this charge dock headset bundle is $60 cheaper for Prime Day.
Astro A50: was $299.99 now $237.49
The Astro A50 headset is one of my favorite Xbox headsets, owing to its ability to incorporate multiple sound sources via SPDIF optical and USB. Thanks to Prime Day, it's getting one of its deeper discounts in recent memory.
HyperX Cloud II
If the above headset recommendations are too pricy, consider my favorite entry-level Xbox headset pick instead.
The zero-frills HyperX Cloud II won't dazzle you with buzzword-laden special effects and features, but what it will do is massage your ears with dreamy cups, a lightweight "cloud-like" design, and truly impressive audio. This headset range always punches well above its weight for price-to-power ratio and has for years been my go-to recommendation for those looking to break into the big-name brands. For Prime Day, it'll net you a solid $30 saving you can drop on something else instead!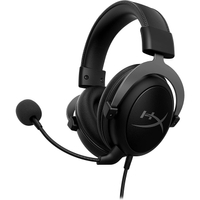 Hyper X Cloud II: was $99.99 now $59.99

The HyperX range is known for punching well above its weight when it comes to quality and tends to be what I recommend to people who are looking to grab a higher-quality Xbox headset for the first time. One of the firm's best entry-level headsets is far more affordable thanks to Prime Day.
It'sssss... Prime Day!
There are tons of great Xbox Prime Day deals beyond these picks, as well as Surface Prime Day deals and great TV Prime Day deals as well.
Prime Day runs from July 11 to July 12, exclusive for members of Amazon Prime, although you can see what's on sale by browsing the site at Amazon.com. If you do grab something, be sure to let us know in the comments, and I'll be on hand to field any questions you might have about any of the above products.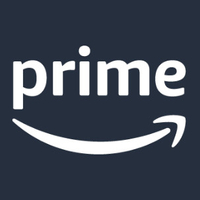 Amazon Prime free 30-day trial
Enjoy all the benefits of exclusive discounts during Prime Day, and cancel anytime. If you decide to stay, it's $14.99/month (plus tax) after the trial. Includes extra benefits like free games via Prime Gaming and more bonus content for subscribers.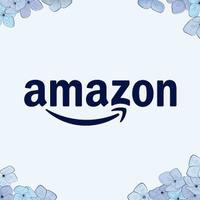 Amazon eGift: Buy a $50 card and get free $5 credit
Prime subscribers purchasing $50 or above in Amazon eGift cards will get $5 Amazon credit to spend. Essentially free money from Amazon, the eGift cards all need to be purchased simultaneously. This offer is valid through July 10 at 11:59 p.m. (PT), so don't wait!
Get the Windows Central Newsletter
All the latest news, reviews, and guides for Windows and Xbox diehards.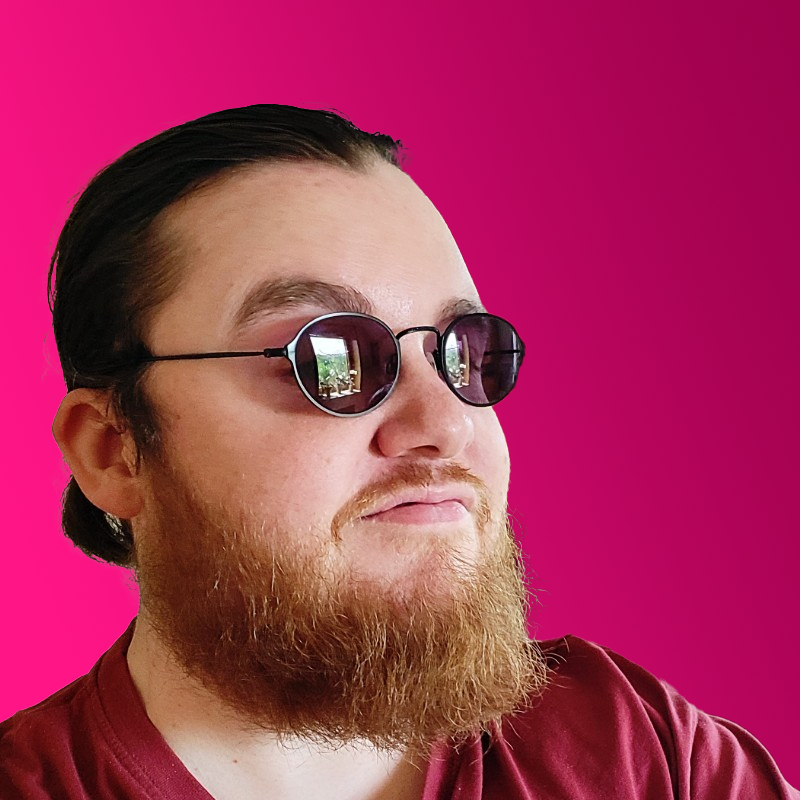 Jez Corden a Managing Editor at Windows Central, focusing primarily on all things Xbox and gaming. Jez is known for breaking exclusive news and analysis as relates to the Microsoft ecosystem while being powered by caffeine. Follow on Twitter @JezCorden and listen to his Xbox Two podcast, all about, you guessed it, Xbox!