ICYMI: Not-so-private browsing, the NFL fumbles on the Surface, and Facebook gets emotional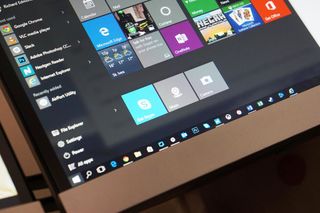 A lot can happen in a week. Seven days might not seem like much, but it can be an eternity in the tech news cycle.
Between Windows news, hardware and software developments and Microsoft's fast-paced movements throughout the technology landscape, it's never easy to keep your hand on the pulse of technology. Not to mention everything that's going on right here at Windows Central!
Every week we're going to compile the biggest stories into one post, so you never fall behind – In Case You Missed It (ICYMI).
Windows
Cortana on Windows 10 picked up an interesting update that improves proactive calendar reminders. The personal assistant will identify wording in emails that suggests a time commitment and offer to set a reminder. It will also help find better time slots for entries based on your daily routine and bring potentially urgent meeting requests to your attention.
Windows 10 cumulative update 10586.71 rolled out this week for users who are not enrolled in the Insider Program. Although Microsoft posted a KB article (opens in new tab) for the update, it does not contain any substantial information.
Fast Ring Insiders were able to get Windows 10 PC preview build 14251 for their computers and tablets. Though the new build contains some fixes for crash-causing bugs and some known issues, perhaps the most notable tidbit about the update was the huge jump in build number from the previous release. Microsoft explained that the big bump was simply to get both the PC and Mobile platforms on the same build number.
Microsoft's Edge browser has come under fire by researcher Ashish Singh, who claims that its InPrivate sessions aren't quite private. Singh says that his findings show that it is possible to see InPrivate browsing history by examining the WebCache file.
And with the slew of new laptops out there running Windows 10, Windows Central put together a list of our favorites.
Other notable items:
Microsoft rolls out updates for the MSN suite of apps on Windows 10
Microsoft
Microsoft released details on the updates for the Surface 3 and Surface Pro 3, which amounted to driver and firmware updates for several components. Some users reported getting the dreaded Blue Screen of Death post-update, and it turns out that rolling back the Surface Pen Settings driver on the Surface Pro 3 was the remedy.
The Surface Pro 4 and Surface Book also got firmware updates, though sadly, they didn't include a fix for the power management issues on both devices. Hang tight, because Microsoft has confirmed that power management fixes are still in the works.
The most high-profile Surface news of the week, though, had to be the commentators of the Patriots-Broncos game blaming the tablets for a technical issue on the Patriots' sideline. As it happens, network issues were the real culprit. Microsoft responded to mishap, explaining the situation, but it didn't get nearly as much coverage as the initial allegations.
In financial news, Microsoft released their FY16 Q2 report with mixed results. On the negative side, Windows Phone revenue took a hefty nosedive, plummeting by 49 percent.
However, the Surface line pulled in a whopping $1.35 billion in revenue and their gaming division was carried to higher gains thanks to 9 million new Xbox Live members and healthy video game sales.
Other notable items:
Gift cards can now be sent between select Xbox 360 owners
Miscellaneous
Two of the biggest names in online storage made some Microsoft-friendly changes to their services. Dropbox implemented collaborative editing of Office Online files, so users can work simultaneous on shared documents. Not to be outdone, Box enabled the same functionality.
Telecom giant BT made it through the approval process and was able to complete its acquisition of EE, the U.K.'s largest cellular carrier. Meanwhile VMWare laid off two teams of workers in the U.S. The teams that work on both their Fusion and Workstation virtualization products were released as part of a restructuring, with development reportedly continuing in China.
Federal Communications Commission Chairman Tom Wheeler has filed a new proposal that could eliminate the need for cable boxes. If approved, the measure would allow other companies like Microsoft, Google, and Apple to design ways for consumers to watch the channels they pay for using devices like game consoles, computers, and more.
Finally, on a happy, sad, angry, loving, and surprising note, social media site Facebook will be adding five new emoji icon next to the "Like" button on peoples' posts. Now users will be able to choose from "Love", "Sad", "Angry", "Happy" and "Wow," in addition to the already existing "thumbs up."
Other notable items:
The $299 Chuwi Hi12 Windows 10 tablet packs serious hardware
NVIDIA preps PC gamers for Rise of the Tomb Raider with game-ready drivers
Share your thoughts on this past week of news! And we'll be back again next week to do it all over again.
Windows Central Newsletter
Get the best of Windows Central in your inbox, every day!
Hi. You must be new here. Every Saturday we do the roundup. On Sundays we do the phone roundup. Thanks!

And WC/WPC old timers like me wake up in the middle of the night to read ICYMI. Sad :(
Past 3am, right across the Sound here.