Best cases for the Lumia 950 XL
What are the best cases I can get for my Lumia 950 XL?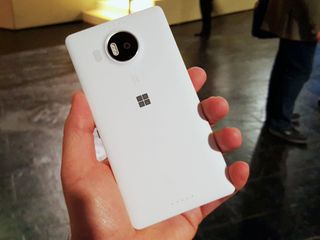 There are several different styles of case available for your Lumia 950 XL, from wallet styles to thin-fit to heavy duty, each one offering something different for all kinds of people. Need lots of protection? You'll probably want a rugged case. Need something to match your outfit? The leather back cases will probably be right up your alley.
Which kind of case do you love best? Need some help figuring it out? We've rounded up the best cases of all varieties to protect your Lumia 950 XL from everyday wear and tear.
Update 2 January 2017: We've refreshed this list to ensure you're still getting the best cases available now for your Lumia 950 XL!
Cimo heavy duty case
Why you can trust Windows Central Our expert reviewers spend hours testing and comparing products and services so you can choose the best for you. Find out more about how we test.
The Cimo heavy duty case is constructed with durability in mind. Its premium silicone and polycarbonate body will absorb any shocks your phone encounters during the day, and the beveled front edges keep the screen from being scratched if you lay your phone down on its face. The back of the case is dimpled, which keeps it in place if you set it down on a slick surface. When you hold it in your hand, it will stay in place even if your palms are sweaty.
The case covers the buttons on the side of the Lumia 950 XL, but you won't have any problems pressing them, and, unlike some other cases, each button is distinct. There's a cutout for the camera, speaker, and microphones on the back, and the entirety of the display remains uncovered.
For dual-layer, shockproof protection for your Lumia 950 XL that won't break the bank, check out the Cimo heavy duty. It will set you back about $8.
Mozo leather back cover
This genuine leather back cover for your Lumia 950 XL is a stunner. It replaces the regular back cover of your phone with one made from a unique piece of leather and keeps all wireless charging functionality intact.
The sides of the case — and now the sides of your phone — are made from a metal-coated polycarbonate, which sets off the leather backing and gorgeous 950 XL display. People will be asking you where they can buy this case, especially when they take a closer look and see the fine stitching around the outer edge.
Although this case might not be the best protection against drops, it sure looks great. Because it replaces the back of the phone, it's about as slim as possible. For the best minimalist case made from real leather, check out the Mozo leather back cover. It starts at about $50, but it sure is worth it.
Incipio NGP case
There's a reason why this translucent polymer case has a near-perfect rating in the Microsoft Store: users rave how snugly it fits the Lumia 950 XL, so much so that you might not even notice it's on your phone.
The case has a raised bezel which will protect your screen if you like to set your phone on its face, and has separate cutouts on the back for the speaker and camera. Unlike some other cases, the microphone holes on top and bottom of the back of the phone are cut out individually, rather than a single cutout.
Although this case costs a bit more than other soft-shell cases — about $20 — its durable construction will last you a long time, and its snug fit won't soon loosen.
Mozo notebook flip cover
Like the Mozo leather back cover, this notebook flip cover also replaces the entire back of your Lumia 950 XL. The actual cradle that fits over your 950 XL's insides is made of plastic, but the rest of the case is assuredly genuine leather — and boy does it look and feel great.
Unlike other flip cases that open side to side, this one flips open from top to bottom; sort of like a notepad. This leaves your phone's buttons free to be pressed even with the lid closed.
There is a cutout for the camera and front earpiece — the front and rear microphones and rear speaker all have distinct holes rather than large cutouts that really make this case look fancy.
The inside flap of the case has a slot for a card for those nights when you only need the bare essentials. If your outfit requires a matching accessory, you can get this case in either brown, black, or red.
This case starts at about €60, which is a pretty great deal considering you're getting genuine leather and quality construction.
Orzly Fusion bumper case
Orzly has combined the best of the bumper world and the showcase world with this Fusion case. It has a rubber rim that will protect your phone from dreaded corner drops, but it also has a hard, clear plastic back that shows off your beautiful Lumia 950 XL.
The rim of the case has a bezel around the front, which means you can set your phone on its face without having to worry about scratches. All buttons are left uncovered, so you won't be fumbling to hit the volume or turn on the screen. There is a cutout for the camera, speaker, and microphones on the back so that you won't lose any function there, either.
The case is actually pretty slim, which many of you will love, and the snug fit ensures your phone won't be rattling around. The rubber rim, on top of protecting against drops, also keeps your phone in place when you set it down on a slick surface, or when your hands are a bit moist.
If it's protection from a bumper case you need, but it's a clear case you want, you have to check out the Orzly Fusion — it starts at about $20.
OEAGO rugged case
Some people are really hard on their phone — whether their job demands it, or whether they're just unlucky, sometimes a rugged case is necessary. Enter the OEAGO rugged case. Even at first glance, you can tell this thing is going to protect your Lumia 950 XL.
The case is made from two parts: a soft inner sleeve that protects against shocks while riding around in your pocket or purse, and a hard outer shell that will keep your phone safe from drops and impacts. The corners of the case are double-thick to offer great protection against those dreaded corner drops that are sometimes inevitable.
The back of the OEAGO rugged case has a built-in kickstand to prop your phone up; perfect for kicking back during a break to watch a few videos. The edges of the case are ribbed to make gripping easier, and this thing won't be slipping if you set it down on a slick surface. Even though the case is bulky, the buttons on the side of the phone remain easy to press.
The OEAGO is available in six colors and starts at about $30; not a bad price for the best rugged case for your Lumia 950 XL.
Nillkin Nature case
There are two reasons why this case is called Nature: it uses non-toxic TPU in its construction, and it retains the natural look of your Lumia 950 XL. Its translucent, smooth design ensures everyone will know what phone you're using, but the sides are frosted with an anti-slip texture that ensures you won't drop the phone.
A bezel runs around the screen to keep it from getting scratched if you usually set your phone face-down. Cutouts for the buttons on the side of the phone ensure you won't have a hard time changing the volume or turning on your screen, and cutouts for the camera, microphones, and speaker keep everything working smoothly.
This is a super-thin case, so much so that you'll really have to look twice to ensure it's there. If you're worried about the environment and keeping your Lumia 950 XL on display, check out the Nillkin Nature case. It starts at about $9.
Terrapin folio leather case
Even though the Terrapin folio is made of synthetic leather, you'd be hard pressed to tell. The stitching is intricate, which really sets off the cognac or black/brown color options available, and the texture is just like real leather.
Your phone sits in a plastic casing that keeps it securely fastened but leaves all buttons and ports free to be used. Your screen will stay protected if you toss your phone into bag or purse, as the case has a strong magnetic clasp holding the lid shut. The clasp won't be smacking you in the face while you make a call, as the magnet is reversible and will hold fast to the front cover.
Want to watch a video on your phone? Fold the case back and set your phone down for a built-in kickstand. Cool, but still not the best part. The inside flap of the case has a full four slots to keep all your cards in place, and a bill sleeve will hold all of your Benjamins.
This case might only be $14, but it looks like it cost a small fortune. If it's a full wallet case you're looking for, check out the Terrapin folio.
Get the Windows Central Newsletter
All the latest news, reviews, and guides for Windows and Xbox diehards.
Senior Editor, Laptop Reviews
Cale Hunt is formerly a Senior Editor at Windows Central. He focuses mainly on laptop reviews, news, and accessory coverage. He's been reviewing laptops and accessories full-time since 2016, with hundreds of reviews published for Windows Central. He is an avid PC gamer and multi-platform user, and spends most of his time either tinkering with or writing about tech.