Best Fitness Gifts
It used to be that a pair of running shoes and some clean workout clothes were all the fitness gear you needed.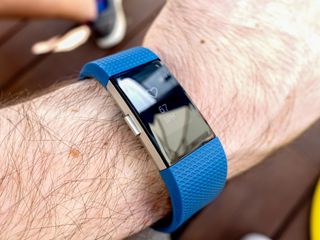 These days, a beats-blasting playlist and a fitness tracker are as essential to a good workout as anything else. Whether you or someone you know is just starting out on their fitness journey, or they're seasoned athletes looking to take their training to the next level, here are our recommendations for the best fitness tech to enhance your workouts and help you hit your fitness goals.
Fitbit Charge 2
Why you can trust Windows Central Our expert reviewers spend hours testing and comparing products and services so you can choose the best for you. Find out more about how we test.
When it comes to fitness trackers, Fitbit still reigns supreme. They've become so ubiquitous, chances are you know someone obsessed with tracking their steps and other fitness stats on their wrist. Or that person is use. Fitbits track steps taken, flights of stairs climbed, and calories burned throughout your day.
Fitbit's latest wrist accessory, the Charge 2, is their absolute best yet. First, there's the large OLED display, which you tap to cycle through the different statistics and modes. The Charge 2 features Fitbit's PurePulse continuous heart rate monitor, which lets you quickly check your current heart rate at any moment, and also features the convenience call, text and calendar notifications that you'd expect from wearable tech. Built-in GPS is missing, but Connected GPS allows you to use your phone's GPS to map your outdoor runs when tethered to your phone via Bluetooth. The silicone strap is sweat resistant, but you'll want to make sure to clean and dry it after each workout. It's also not waterproof, so don't even think about swimming with it on.
See at Amazon (opens in new tab)
Withings Body Wi-Fi Scale
Take complete control of your weight using the Withings WS-50, the smart scale that's designed to accurately measure your weight, BMI, heart rate, and even monitor the indoor air quality of your living space.
Supporting up to 8 users on its personalized display, each person in your household can track their weight securely and monitor their goals using the Health Mate app (available for Android and iOS). As you weigh yourself each day, the WS-50 will display the weather and average temperature, giving you a heads up on how to dress before stepping outside and getting active. This smart scale is also compatible with a variety of other health apps including Google Fit, Apple Health, Runkeeper, LoseIt!, MyFitnessPal, and more.
See at Amazon (opens in new tab)
TuneBand Go armband
There are hundreds of armband smartphone cases out there for bringing your phone with you on a run or a workout. This is because manufacturers typically designed a bunch of different models to fit specific phone makes and sizes. This means you'll end up having to get a new armband when it's time to upgrade to a new device.
That is, unless you get a TuneBand Go. This armband offers universal compatibility, as its rubber hooks are adjustable to fit phones from 5 inches to 6.5 inches in size. It also accommodates cases, and it's actually recommended you use one if you're concerned about the clips making direct contact with your phone's display.
See at Amazon (opens in new tab)
NorthFace Thermoball Etip gloves
Winter is coming, which means it's time to haul out your cozy winter gear — lest you choose to stay indoors until spring. But you really ought to be heading outside and making the most of things, whether that means sledding, snowboarding or skiing, or simply walking through a winter wonderland.
If you want to enjoy the great outdoors — even when the temps are downright frigid — and still stay connected to your phone — you'll want to get a pair of touchscreen conductive gloves that are first and foremost warm and reliable. The North Face makes quality outerwear, and these gloves will keep your hands nice and toasty while still allowing you to use your phone's touchscreen via the conductive thread sewn into the fingertips. The palms are also grippy, so that you don't accidentally drop your phone into a snowbank. Whoops!
These would make a great gift for pretty much anyone with a phone, and are available in styles for both men and women.
GoPro HERO5 Session
Getting active with technology doesn't always have to be about tracking steps or keeping your phone accessible. Sometimes you just want to head out there, strap an action cam on you and show the world how you have fun.
The GoPro HERO5 Session is a portable, rugged little 10MP camera that can shoot still, burst and time-lapse photos, as well as 4K video (also capable of shooting high-speed footage at 90fps in 1080p, and 120fps in 720p). It features voice activation as well as one-touch controls, and can be mounted pretty much anywhere, so you can just tap and go out and record all of your outdoor adventures . Whether you know a cyclist who's talked about wanting to document their daily commutes, or a budding action sports superstar looking record epic footage, the GoPro HERO5 Session is a gift choice that they'll cherish. Do note that they will also need a microSD card to record their adventures.
See at GoPro (opens in new tab)
Jaybird X3 Sport
An ideal pair of workout headphones are going to be wireless, sweatproof, and comfortable while still delivering solid sound quality and adequate battery life.
Jaybird has been in the Bluetooth headphone space since 2007, and their latest pair, the Jaybird X3 Sport earbuds are a great option for the runner or athlete in your life that always seems to be complaining about their headphone situation. The two earpieces are tethered together, with a three-button remote for controlling playback and volume, and each pair come with several silicone and foam tip options, along with fins that help keep them secure in ear no matter how intense your workout gets. The size is small and compact, and yet the batteries are capable of delivering you great sound quality for up to 8 hours.
See at Best Buy (opens in new tab)
Windows Central Newsletter
Get the best of Windows Central in in your inbox, every day!
Microsoft Band2 is still the best wearable gift. Plus it helps keep UPS going with all the cracked band replacements.

Agreed. Came to the article to see if there was a better suggestion as a replacement for the band 2, I see there's not.

They've done a couple of articles on potential replacements for the band 2, I think one was one of the fitbits and the other was a garmin product. You can probably do a search to find them.

I agree liked the band 1 but love the band 2. Even shocked when I moved to android and I can still reply to texts on it. Getting a smart watch for weekend but for me I don't think there is any better fitness band on the market at the moment a shame Microsoft have dropped it.

Yea, the band... along with it's godawful ugly clasp. I would never recommend that thing

Agreed, except the price point of the Band 2. A brilliant device like that shouldn't let average consumers to think twice.

I have to disagree. I had a Band 2 until last weekend when my second one brocke and Amazon couldn't replace it anymore. I got myself a Garmin Vivoactiv HR and there's so much things better with it. Shure, it's wider and i can't reply on texts. It also has no Cortana functionality and doesn't track UV exposure. But as a fitness tracker it's so much better. It has replaceable armbands, so I don't have to worry that much. It has a more traditional screen which is better for showing informations. The app is also much better and shows much more data, as well as supporting a lot more sports for workout. You could also get a lot more informations on the device itself. Band 2 just showed some basic numbers, but Garmin has graphs and everything on your wrist. It even has ANT+ to add more sensors, something I always wanted for biking. But the most shocking difference is battery life. While the band barely handled two days (still much better than the apple watch) I charged the Garmin last saturday and also I even did some GPS tracking (about an hour and a half) I still got almost 50% battery life left today. I got no idea how Garmin did this, but that's awesome.

I have got the band 2 and my brother has the Garmin vivoactive HR . While I was sitting the HR on Band 2 displayed 79 and the garmin was showing 136 . (Onthe Left Band 2 on the Right Garmin ) After 2-3 minutes it showed 83 (Garmin ) , I think it is not stable as the band 2 . And My band 2 is dead now looking for something new , maybe try Garmin Forerunner 235 .

Why is the FitBit Charge 2 being recommended? From what I understand, you can't get notifications with it from a Lumia (yet).

because other than the band devices, there is no other device that can do the notifications with W10M until the GATT server is implemented (and it's on the way).

Wrong. I just got myself a Gamin Vivoactiv HR and it shows notifications. You can't reply and it has some issues with connection stability, but it genrally works.

Ah ok I got it mixed up with bring able to reply. I thought fitbits could at least show notifications too

After the news of the band 3 being cancelled, at least for now, I opted for the Garmin Vivoactive HR. I wish it had the shape of the Band but it does pretty much everything else. And it's waterproof.

I got myself the same device as a replacement for my broken band 2. A lot of it is just a lot better, especially battery life.

Fitbit charge 2.... No GPS! Epic fail as far as I am concerned. Vivoactive much better for my cycling use. I don't take a Windows phone with me.... Just basic Nokia feature phone for emergencies.

I got rid of mine... after owning a Band, then a Band 2... I gave them up. I ended up with a Pebble Time Steel and NEEDING to move over to Android (no offical support for Pebble, nothing new for Windows Phone users) to be able to use it. Personally, I wanted a WATCH, not a fitness band and the Pebble offers me that with a lot of fitness features...and the Time 2 is coming out in Jan and that will offer even more.....Did I say the battery lasts 7-10 days ? I dont miss charging my Band 2 every other day... AT ALL

that closeup of the arm hair skeeves me out

Garmin wifi scale is better than withings plus Garmin support on wm10.

Yeah, I don't get it. Isn't this windows central anymore? How could you recommend a device that needs Android or iOS to work? If I had such a device I would use different sites to stay informed. It's even worse since there's at least the mentioned Garmin scale that supports Windows 10. Are you getting payed by these companies and do you have to mention them on all your sites?

The Fitbit device and it's ilk aren't good gifts. People don't use those things long term. They just don't, that is why sales for those devices are starting to tank, which is why Microsoft isn't making a band 3. Don't waste your money on something that's just a passing curiosity.
Windows Central Newsletter
Thank you for signing up to Windows Central. You will receive a verification email shortly.
There was a problem. Please refresh the page and try again.