Best Windows Mixed Reality Gifts
If you're giving the gift of Windows Mixed Reality this year, make sure you've got the complete package.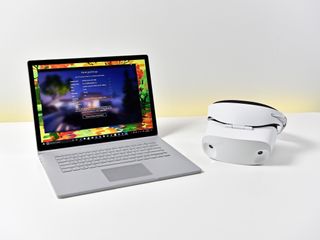 (Image credit: Windows Central)
Planning to surprise someone special with a Mixed Reality headset this year? Solid choice! These headsets offer some incredible experiences, and when connected to the SteamVR store, the list of games and apps they can explore goes on for days, with more releasing all the time.
Before you click the buy button, here are a few things you may want to add to the shopping cart.
The right Windows Mixed Reality headset
Why you can trust Windows Central Our expert reviewers spend hours testing and comparing products and services so you can choose the best for you. Find out more about how we test.
Step one in picking a solid Windows Mixed Reality kit as a gift should obviously be to make sure you're getting the right headset to begin with. Microsoft has worked with many different partners to release headsets that fit many needs and price points. These headsets have a lot in common on the inside, but if you're going to choose the right one for your gift it's important to know what features are the most important.
In particular, you want to look at:
Padding — Generally speaking more padding, especially around the front part of the headset, is better. Some companies also cover the padded areas in anti-microbial materials, making the headset a little more hygienic and likely easier to keep clean.
Cable management — Not every headset makes it easy to position the long cable where you might want it. Some headsets are even removable, which is great for storage.
Style — Not every gadget has to be matte black or grey! Some Mixed Reality headsets are sleek and glossy, some have a nice textured design, and some are bright white.
Check out all of the Windows Mixed Reality headsets and how they stack up to one another
Our recommendation: Dell Visor
If you're not sure which headset to get, and you're looking for a good all-around option, the best middle option is the Dell Visor. It's not quite as expensive as the fully-featured Samsung headset, but it has a lot of padding and looks fantastic. This is a great headset, and for $449 you get a bundle with the motion controllers.
You're going to want some games ...
It doesn't really matter which headset you have, the games all come from the same places. Microsoft sells its native games through the Windows Store, but you can also get a ton of games through the Steam store.
Check out the best games for Windows Mixed Reality
Not sure which games to give? Both stores support gift cards.
Keeping it clean is important
We don't usually think about cleaning materials as gifts, but VR can be a sweaty business when you're really into a game. A lot of these games are deeply interactive, and that sweat can lead to things like smudged lenses and soaked padding that no one wants to touch after someone else has jumped in and soaked it. It's a good idea to consider tossing a few of these in your gift bag:
Microfiber cloth — They're cheap, and everyone needs one to keep their lenses clean and scratch-free.
Alcohol wipes — If you want a quick, disposable way to wipe down a headset before sharing with someone else, this is what you should get.
Sterile face mask — If you think this headset is going to be shared with a lot of people, a box of these will help. A lot.
Get the Windows Central Newsletter
All the latest news, reviews, and guides for Windows and Xbox diehards.
Russell is a tech nerd who chases the best of everything, from phones to game consoles to laptops and everything glowing or beeping. He's the Managing Editor of gaming content for Mobile Nations and can be found contributing to all of the Mobile Nations sites. Reach out on Twitter!