Windows Phone Weekly Digest: September 19, 2015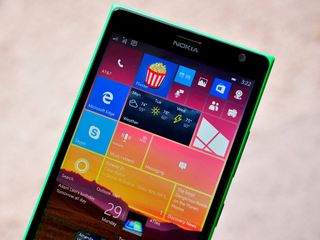 There's a lot going on in the world of Windows Phone. So much, in fact, that it is sometimes tough to catch every important story.
Device rumors come and go. New apps join the Windows Phone Store, and your favorite app can get a big update with a new look or new features.
Therefore, every week we will compile a list of the Windows Phone news that you just shouldn't miss. Welcome to the "Windows Phone Weekly Digest."
Windows Phone
Due to a significant bug, the rollout of Windows 10 Mobile build 10536 was halted early this week, but a handful of Insiders were able to install it. The build managed to make its way to about 200 phones before it got pulled.
The bug was fixed and Fast Ring Windows Insiders got 10536 a couple of days later, with a catch. The update was actually two builds, 10514 and 10536, and would take a really long time to install on some phones. It even appeared to hang at 0% for a while before actually installing.
Not to mention that some non-supported phones will see Windows 10 Mobile build 10536 as an available update, but installing it will make those phones stop functioning unless they get reflashed.
We worked our way through it to find what's new, improved, and fixed in Windows 10 Mobile build 10536, as well as the known issues. You can check out our hands-on video here.
While we eagerly await Microsoft's October 6 press event, where we expect to see some of their new Windows 10 Mobile phones, Winfuture managed to obtain some information on the Microsoft Lumia 550 "Saimaa" Windows Phone.
The Lumia 550 is set to replace the Lumia 640, and amongst other things, appears to sport a front-facing flash. It is possible that it is an iris scanner, though that technology is supposedly reserved for flagship phones. Reports suggest that "Saimaa" is set for an early 2016 release, so we'll just have to wait and see.
Other notable items:
Apps
Apps
Microsoft went app crazy this week. They launched Microsoft Translator Beta for Windows 10 and Windows 10 Mobile. We took a look and gave you our impressions.
The Windows Maps app was updated and will now relay traffic information to you.
Outlook Mail and Calendar on Windows 10 Mobile picked up a new dark theme and personalization options. You can check out our take on it here.
Outlook Groups was also released for Windows 10 Mobile and Windows Phone 8.1. The new app, which is sort of a return to the Rooms feature in Windows Phone was demoed by none other than Satya Nadella at the recent Salesforce conference.
Microsoft also made some strides when it comes to photography. Their Photos app for Windows 10 and Mobile gained the ability to create Albums.
They also released their new Photos Add-ins app, a revamped version of Lumia Moments. But what makes it important is its direct integration into the camera, rather than being a standalone app. This signals a shift in how Microsoft will approach Windows 10 Mobile, making it more modular and building optional plug-ins for it that can be added and removed by the user.
Other notable items:
Games
In gaming news, Doodle God Blitz received its Xbox Live stamp. To celebrate, the developers cut the price of all in-app purchases by 50%.
Order & Chaos 2 was released for Windows Phone. The follow-up to the hit 2013 fantasy-themed massively multiplayer role-playing game brings with it a ton of new features and content but does not yet carry the Xbox Live badge, like its predecessor did.
Another less-serious sequel also came to Windows and Windows Phone. The hilariously addictive Dumb Ways to Die 2: The Games is a collection of 36 mini-games that puts your timing and touchscreen skills to the test.
And finally, we took a look at Spider-Man: Ultimate Power. After mysteriously disappearing from the Store, Spidey is back battling Green Goblin, Sandman, and Venom to save his beloved Mary Jane.
Other notable items:
Abyss from Game Troopers is on sale for $1.49 until September 23
Be sure to weigh in on this week's news in the comments section. See you next week!
Windows Central Newsletter
Get the best of Windows Central in your inbox, every day!
Loving this recent 10536 build....has been very stable for me.

Jumped in to TP on phone and everything works except asking Cortana for directions. Only goes to Maps and does not give the choice to choose the Sat Nav. Apart from that, bits of slowness but using on my 930 daily driver. Black theme I love too. Want more of it and transparencies too.

You installed the preview on a 930? No weirdness/problems/bugs apart from what you mentioned? I need to know for sure, I use the 930 as well and need to be sure it'll work :) Thanks!

The only issue I have is using Cortana to get directions, it did default to my Sat Nav app but now defaults to Maps and doesn't give me the option to change to Sat Nav. I'm sure this will be fixed soon. The OS has little blips like bits of slowness and the apps don't close by using the back arrow to exit, you need to press and hold the back arrow then close. Apart from that everything is working and it's worth suffering the above for the gains of having W10 on my phone. If you proceed with the update, I would recommend that you change the lock screen time out to never first, and leave the phone on wifi and charge all night as this lets everything update fully. in my first hour after the update my battery went from 100% to 17%, but the next morning it went back to normal. Both Jez and Mark from WC recommended this version as good enough for daily driver and I agree, though others here seem to have problems. You can always try and revert to 8.1 with the recovery tool. Good luck.

Thanks, I'll have a look! btw is Edge already availlable on this preview?

Welcome. Yes, Edge is included but it is not syncing with my W10 on the Surface for favourites. Also, Cortana reminders are syncing when you look in "reminders" but does not activate on both devices. I only get the notifications on the device I made the reminder on.....odd! That's all I've found as issues and I'm sending feedback on these and hoping they are fixed soon. I will not be reverting to 8.1 and look forward to the RTM release, when I will leave the Insider programme.

FYI, I did an update from 8.1 and did not do a hard reset.

Thanks again! " change the lock screen time out to never", I can only set it to 15mins max...I have no "never" option...and do you have any idea how many hours the update takes?

Under settings > lock screen > screen times out - mine shows 1 minute to never but that may be specific to operator/region. I always use the never when doing the update as the screen turns off and don't know if that interferes with the update and I can't see where it's at. Guess 15 mins will be enough, especially as now the servers are not being hit hard. Just tried the Cortana reminders again and like magic they work now...... Microsoft are listening :)

Actually I loved Black theme in calendar & outlook and Creating folders in photos app. I am not using any preview builds to see its performance but those words feel promising

Hows new build on 640 no reset?

No way dude, without reset on L640 it's awful...i tried i thought it will be stable enough but no. Try resetting, i prefered revert to 8.1 till they have a solid build

Here is a list of bugs i had:
- loading screen (oh yes! Still here especially when you start really using your phone)
- pinned apps on start won't be seen for seconds or minutes (unistalling apps will create same issues)
- hotspot have some lags
- network fails often if using 2SIM
- Windows Central App takes several seconds to open
- screen freezes sometimes and forces a reboot
It is still a good build though...better than the previous one but worse comparing to 10166.

Except for the missing messaging tile which you have to get back from the store.

Lumia 1020??can i utilise my 41 mp thru some odr app??

no will have use windows phone 8.1. app will be back this fall for windows mobile

Not completely true. The output is full res for me. Just lower file size and no smaller 5mp file

Can u tell me hw to get cortana n glance??dont seem to have them..

How to install 10536 update in Lumia 520.

Could I run Windows 10 Build on the 928?

yes if your a insider and use windows insder app

Next build on their internal ring, dont forget it ;>

I dont seem to have Cortana in this build??hw can i get it?

Yes of course..but Cortana is not even showing up..not in application list..

This build have a lot of interesting additions...but still buggy.

If only all apps where as smooth as truecaller for w10m

This is my hope, snapchat, all other apps lots more....... facebook like android, and smooth win 10 then win ! :D

Hi I am not getting this 10536 build on my Lumia 920. When I check for updates its showing that "your device is up to date". Phone details- OS version: 10.0.10512.1000 Firmware revision version: 3051.50009.1451.1009 Lumia Cyan RM-821_im_india_443 Please help me out to get the latest build on my phone. Thanks Prakash