The best games for punching music in VR
You can dance if you want to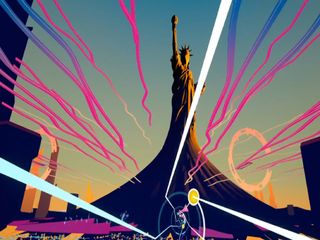 So you may have seen people going crazy for games that let you "punch music" in virtual reality (VR). The hype is certainly real, and that's because a workout is always better when you get to jam out to your favorite music.
This type of genre in VR has gotten so large because they've taken two awesome concepts (physical games and the best music) and clashed them together for your to get your work out in a super exciting way. So, without further ado, here are the best music punching games that you have to try out.
The line-up
Why you can trust Windows Central Our expert reviewers spend hours testing and comparing products and services so you can choose the best for you. Find out more about how we test.
AudioShield
AudioShield is by far the most popular music punching game for Virtual Reality to this day. Docking in at over 2,000 reviews alone, this game has had mostly positive feedback on Steam. What draws the people to it so much is the simplicity of the style of game, as well as the awesome graphics that look like something plucked right out of Tron. In this game, you quite literally have a shield on each hand that you need to block the color-coded music spheres that will shoot at you.
As the difficulty increases, you'll be hit with not just the beat, but all of the rhythmic sounds coming from the song. You can grab this game for $19.99 on Steam and begin your journey of breaking a sweat and jamming out while doing it.
See on Steam for HTC Vive, Oculus and Windows Mixed Reality
Holodance
Honestly, I'm not sure why this title isn't getting as much attention as it deserves. Not only are you punching spheres but at times during the song these mini challenges will pop-up that follows the beat of the music. I want you to imagine hearing the long strung out note of a guitar solo and then feeling the power of knowing it comes from your very hands. This is the illusion that Holodance will bring you, and it's phenomenal. For only $19.99 on Steam you can take being a rock star and throw it out the window because in here, my friend, you are the music.
See on Steam for HTC Vive, Oculus and Windows Mixed Reality
Airtone
Unlike the futuristic feeling that AudioShield brings you, Airtone is here to show you the joy of colors and visual acid trips. Here your host, Neon, will take you through the world like you've never seen before with 25 different and upbeat music tracks to fly through. No, quite literally fly through. For $29.99 on Steam, or the Oculus store, you can add this title to your game library whenever you need a quick smile. So fill yourself with the energy that'll come after spending some time with Neon!
Soundboxing
Soundboxing brings an exciting twist to punching music by allowing you as the player to decide which music you wanna workout to. If you're as much of an avid music lover as I am, you'll appreciate the fact you can load up any YouTube video you want and allow the game to create the challenge for you. This way instead of sticking to a specific number of tracks, that is usually all one genre, you can decide the playlist for yourself. Not only that, but you can't really beat the price of $7.99 either. You might not get the prettiest experience, but the customization and price is well worth it.
See on Steam for HTC Vive and Oculus
AudioBeats
Same workout, same punching music style, but this time you get the visuals and feeling of playing the drums while doing so. AudioBeats might not give you as much of a workout, considering you can play the game sitting down, but trust me you will still get a workout. I mean, have you seen how sweaty the drummers get when they're coming off the stages of your favorite concert? Well, for the amazing price of $9.99 on Steam you can also get to experience what it's like to be a rock star. Get those drumsticks ready!
See on Steam for HTC Vive and Oculus
Beats Fever
Take screaming from the rooftops to a whole new level with Beats Fever. In this futuristic scene, you'll find yourself at the top of a city skyline with a cyborg view of the music coming at you. Are you're more of a nature scene type of gamer? Perfect! This title even has options to play from a field of gorgeous flowers, following the same flow of your glowing cyborg vision. For $14.99 on either Steam or the Oculus Store, you can immerse yourself in the feeling of upbeat raves with this spectacular title you're sure to break a sweat in.
Thoughts?
Which of these is your favorite game for punching music in VR? Is your favorite not listed above? Tell us in the comment section below!
Windows Central Newsletter
Get the best of Windows Central in in your inbox, every day!
Essa Kidwell is an expert in all things VR and mobile devices who can always be found with an Oculus Go, a Pixel 2, and an iPhone 7+. They've been taking things apart just to put them back together for quite some time. If you've got a troubleshooting issue with any of your tech, they're the one you want to go to! Find them on Twitter @OriginalSluggo or Instagram @CosmeticChronus.
NONE of this is dancing. They're just a variation on Simon Says.

So Holodance uses two or three Vive trackers?

As few or many as you like / have ;-) We support Windows VR (aka MR ;-) ), Oculus Rift with Touch controllers and HTC Vive. So, what always works is using hands and head. If you use a Vive and have Vive trackers, two attached to your feet will give you the ability to catch orbs with your feet and improved body motion tracking for the Avatar system. More trackers improve the fidelity of the body tracking, we currently support up to 7 (feet, knees, waist, elbows). That said, I can see the point of ScubaDog: While Holodance will make you dance if you enjoy dancing and naturally move with the music, it doesn't have an explicit dancing mechanic. This will, however, change with our upcoming in-VR beatmap editor which will have a "choreography mode".

Good thing we advertised this as best apps for punching music! The awesome part of these games is that the music flies AT you that you punch to destroy, and it allows you to utilize all the space in your area. There are plenty of testimonies online about how some of these apps have helped people lose loads of weight, so that goes to show how physical playing these games will be! <3
Windows Central Newsletter
Thank you for signing up to Windows Central. You will receive a verification email shortly.
There was a problem. Please refresh the page and try again.