Father's Day 2022 gift guide
Find affordable, thoughtful last-minute gifts for the dad in your life.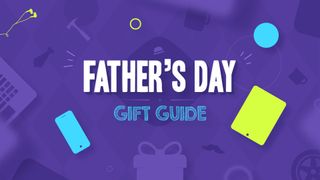 (Image credit: Future)
Father's Day has come again, and you might be wondering exactly what Dad's been pining for. We've been testing a lot of great (and some not-so-great) products to figure out our absolute favorite tech, and we've brought it all together here to help you find gifts Dad will truly love and appreciate!
And there is even a few items here that will delight non-techie dads as well, so scroll on to find some inspiration!
Sony WH-1000XM5
Why you can trust Windows Central Our expert reviewers spend hours testing and comparing products and services so you can choose the best for you. Find out more about how we test.
Sony's latest headphones are great for audiophile dads. Having been recently redesigned, the WH-1000XM5 not only look great on your head, but these cans also sound great. They support high resolution audio, best-in-class noise canceling to keep outside noise and distraction at bay, long battery life, and built-in beamforming microphones that make them a versatile pair of cans for audio listening, streaming, and video conferencing. Though they're a bit on the pricier side, they're the perfect gifts for dads who have to juggle a busy family while working from home.
Sony WH-1000XM5
Clarity without compromise
Reasons to buy
+
Modern, elegant design
+
Superb audio quality and best-in-class noise canceling tech
+
Long battery life
Reasons to avoid
-
Expensive
-
Doesn't fold up as compact as predecessor, the WH-1000XM4
Microsoft Surface Laptop Go 2
With an aluminum lid, Microsoft's Surface Laptop Go 2 is the company's lightest notebook to date. Featuring a 12.4-inch PixelSense with a more unconventional 3:2 aspect ratio, the Surface Laptop Go 2 is ideally suited for productivity. Multitasking dads won't have any problems juggling between different windows, Microsoft Edge tabs, or doing some online shopping to prepare for the holidays later in the year. With an affordable starting price and solid performance, this mid-range laptop will last for many years to come.
A beautiful window for Windows
Reasons to buy
+
Beautiful design with solid build quality
+
Nice display
+
Affordable starting price
+
11th Gen Intel processor configurations
Reasons to avoid
-
No keyboard backlighting
-
Battery life could be better
Eero 6+
With the launch of the Eero 6+, Eero brings advanced Wi-Fi 6 connectivity to in-home mesh networks. The Eero 6+ isn't the company's first Wi-Fi 6 mesh router, but this is a solid choice given that Eero had rectified all of our complaints with the original 6 model. The Eero 6+ is one of the most affordable gigabit mesh networks, and it comes with support for Thread and Zigbee, which will help you connect even more smart home accessories without having to buy separate hubs. With the Eero 6+, you're only limited by the speeds of your ISP, and the faster speeds will be great for gaming, downloading, streaming 4K movies, and more!
Eero 6+
For the connected dad
Reasons to buy
+
Affordable starting price
+
Great coverage and performance
+
Easy to use
Reasons to avoid
-
No easy access to more advanced features for networking pros
Logitech MX Master 3
Logitech's MX line of keyboards and mice are well regarded due to their beautiful, approachable design and ergonomic styling. Over the years, these peripherals have been a staple in many home offices, and for good reason. We love how the MX Master 3 handles, and if you're sitting in front of the company all day, this mouse's ergonomic is second to none. If you also need a keyboard to pair with the mouse, be sure to also check out Logitech's MX Keys. And dads who want a mechanical key will likely love the company's new MX Mechanical.
Logitech MX Master 3
Helping dad avoid carpal tunnel
Reasons to buy
+
Beautiful design
+
Ergonomic
+
Responsive
Reasons to avoid
-
Not compact enough for travel
Toast laptop covers
Made from wood, Toast's premium covers are wooden skins for your laptops, phones, and other electronics. The Toast wooden covers not only protect your valuable gadgets from scratches and dings, but they also add a touch of class with a modern yet retro chic vibe. And if you're the sentimental type, be sure to add a laser engraved message to these wooden covers.
Toast wood skins
Get toasted without toasting your gadgets
Reasons to buy
+
Beautiful craftsmanship
+
Protects gadgets in style
+
A number of wood grains and types to choose from
Peak Design Everyday Backpack
Peak Design's Everyday backpack has been a favorite among gear heads, photographers, and travelers. Thanks to a thoughtful design with multiple compartments, a padded rear slot for your laptop and tablet, and a durable design, these backpacks also make for ideal companions to the everyday commuter.
Peak Design Everyday
A commuter's best friend
Reasons to buy
+
Multiple comparts with configurable dividers to keep things organized
+
Stylish design that's durable
+
Lifetime warranty
+
Reinforced straps and latches for easy one-handed operation
Belkin BoostCharge Pro 3-in-1 charging stand
For the iPhone-toting dads out there, Belkin's latest BoostCharge Pro 3-in-1 stand charge is the ideal bedside or desktop companion. It features a magnetic MagSafe stand to securely hold your phone and wirelessly recharge it, a wireless charger for the Apple Watch, and a wireless charger built into the base to charge AirPods, other wireless headphones, or even a second phone. If you wield two phones every day, you can have the iPhone in the MagSafe charger and a second Android phone resting on the base. It's a nice hub for your important everyday electronics carry.
Belkin BoostCharge Pro 3-in-1 charging stand
An everyday electronics carry hub
Reasons to buy
+
Works with Apple's mobile ecosystem
+
Convenient hub to charge all your devices
+
Attractive design
Reasons to avoid
-
Won't fast charge Apple Watch Series 7
-
MagSafe adapter required for use with older phones
Amazon Echo Show 5 (2nd Gen)
Amazon Echo Show is the do-it-all hub that keeps your family entertained, connected, and in control. With this smart display, you can listen to music, watch video clips, conduct video calls with other family members with another Amazon smart display, look at photos, and even control your Ring connected smart home system all from this 5.5-inch screen. Like other smart assistants, you can even summon Alexa to keep you company and informed by asking queries about the weather, having her dim the lights, or give you latest news updates. Privacy-focused homes can use the hardware-based camera shutter slider to block access to the camera when the Echo Show is used in more private areas of the home, like the bedroom. Bedside, the Show can be used as an alarm clock and the screen can display the time as well, which goes to show how versatile this tech tool is in the smart home.
Amazon Echo Show 5 (2nd Gen)
Making your home smarter
Reasons to buy
+
Can be used to control your smart home
+
Digital display can be used to display photos or watch videos
+
Integrated speakers for video calling and music listening
+
Hardware-based privacy with slider to block camera access
Reasons to avoid
-
Not portable and requires a plug for power
Ekster Aluminum Cardholder
Ekster has reinvented the wallet, and the company's Aluminum Cardholder not only comes in a slim, stylish design, but can also give its owners some serious health benefits! Back pain from sitting on massive wallets bulking out of rear pockets is a common complaint, and with the Ekster's slimmed down footprint, you can place this wallet in your front pocket. Up to six cards will fit inside the aluminum box, and they fan out when you push the eject button allowing you to clearly see which card to use to rack up your credit card rewards points. A slim strap around the wallet can accommodate more cards, folded cash, and even receipts. The best part? No cows were harmed in the creation of Ekster's aluminum wallet.
Ekster Aluminum Cardholder
Minimalist carry without the leather or bulk
Reasons to buy
+
Available in a variety of sleek colors
+
Slim design
+
Strap can accommodate even more cards or cash
Reasons to avoid
-
Can't hold coins
-
Will scratch if placed in the same pockets with keys
Apple Music subscription
Dad's DJ days may be long gone, but that doesn't mean he needs to stop enjoying his favorite beats. Apple's Music subscription boasts a catalog of 90 million songs that can be played on all of the company's hardware, including the iPhone and Apple Watch, as well as Android phones and tablets, on the web, and on Windows. There's even a third-party Apple Music client for Windows users as well! Pricing is competitive with competing streaming services, and a family plan will let you share the love of tunes with up to six other users for $14.99 per month.
Apple Music
Living an Apple life in a Windows world
Reasons to buy
+
Family plan makes it affordable to share
+
Large catalog of more than 90 million songs
+
Streamlined experience if you have Apple hardware, like an iPhone, Apple Watch, Apple TV, or Homepod
Reasons to avoid
-
Another recurring subscription you have to pay for
Xbox Wireless Controller
An extra controller will be sure to delight the gamer dad in the house. This way, he can compete with you or let you join in on the action for some serious family bonding time. An extra set of controllers can open up new experiences for multi-player games and it will extend the fun of video games to everyone in the house.
Microsoft also sells adapters so that you can use these controllers with Windows as well!
Xbox Wireless Controller
Reasons to buy
+
Lets more people in on the action
+
Expands game experience with multi-player modes
Reasons to avoid
-
None, unless you're against fun
Belkin Magnetic Fitness Phone Mount
Dad's got a dad bod? You can help him transform that dad bod to being beach-ready for the summer with Belkin's Magnetic Fitness Phone Mount. Designed to work with Apple's MagSafe magnetic mount technology, this phone mount attaches to workout equipment at the gym to give dad easy access to his phone's screen while breaking a sweat. This means that dad can pull up workout videos while he's using the weights, watch videos on the bike, and even get your FaceTime calls from his biggest fan, supporter, and coach: You!
And if dad doesn't have a modern iPhone with MagSafe built in, there are third-party adapters. Case manufacturers even sell MagSafe-style cases for select Android phones that will work with this fitness mount, and if dad wants a case-less option, you can add any number of third-party magnetic rings that attach to the phone via adhesive to replicate the iPhone MagSafe experience.
Belkin Magnetic Fitness Phone Mount
From dad bod to summer bod
Reasons to buy
+
Can be moved and used on a number of fitness equipment
+
Handy for pulling up workout videos and tutorials
+
Can keep dad entertained at the gym
Reasons to avoid
-
Requires MagSafe compatible phone or adapters
Withings ScanWatch Horizon
Withings ScanWatch Horizon is a smartwatch that actually looks smart. With a hybrid design, the ScanWatch Horizon features an analog watch face as well as digital screens to give you your health metrics readout. Styled after more traditional diving watches, the ScanWatch Horizon won't look out of place at a formal event, unlike its modern contemporaries like the Fitbit and bulkier running watches. With a steel body, sapphire crystal screen, and up to 30-day battery life, this is a watch that dad will love wearing all the time.
As a fitness watch, the ScanWatch Horizon can measure your ECG, heart rate, pulse oximeter, and sleep score. It can also track your activities and workouts, display notifications, and, best of all, look good on your wrist.
Withings ScanWatch Horizon
A smart looking smartwatch
Reasons to buy
+
Stylish design reminiscent of diving watches
+
Digital crown for easy control
+
Analog watch face
+
Digital screen for displaying health monitoring, fitness tracking, and phone notifications
Reasons to avoid
-
Requires a separate app to work with your phone
-
Expensive
Xbox Game Pass
Microsoft's subscription gaming service comes in many levels and tiers, offering you the ability to stream your game for one all-inclusive price. The basic Xbox Game Pass allows you to play on recent consoles, while upgraded tiers will expand access to PCs and come with even more content. If your dad is a gamer, he'll appreciate having easy access to all the fantastic titles in Microsoft's subscription service.
Xbox Game Pass
Subscription gaming
Reasons to buy
+
Console gaming service starts at $9.99
+
Large library of games
Reasons to avoid
-
PC gaming access requires upgraded subscription
Leatherman Surge multitool
If your father loves to tinker around the house, giving him the right set of tools will not only make a nice gift for dad for his day but also for you. Leathermans' Surge multitool set is a great addition to the toolbox and utility belt, allowing dad to satiate his need to tinker around the house, but you may also be a witting or unwitting beneficiary to this. With his newfound tools, Dad can help you with some light repair work and put his handyman skills to the test!
Leatherman Surge multitool
Handy dad, happy dad
Reasons to buy
+
Premium quality is built to last
+
Versatile toolset that you'll always have with you
Apple HomePod mini
If Dad loves to spend time in front of the TV streaming shows or watching sports on Apple TV, the company's HomePod mini will make for an excellent companion. If the dad in your life doesn't have a home theater setup with nice speakers, then hooking up a pair of HomePod mini speakers to the Apple TV will give you better audio quality than what's being piped out of the small speakers on your flatscreen. The compact solution can be moved around the house, though you'll still need to plug these in as they're not battery powered, for an immersive audio experience. Move the HomePod minis, for example, to your dining room to pipe out some relaxing music for dinner party guests.
Apple HomePod mini
Small speakers that pack serious punch
Reasons to buy
+
Small size
+
Can be paired up and connected to Apple TV for better audio when watching movies
+
Works with Siri as a smart speaker
+
Affordable price
Reasons to avoid
-
Not battery powered, so not a mobile speaker solution
Peak Design Tech Pouch
Now that offices are starting to open for in-person work, the Peak Design Tech Pouch is a great accessory for Dad to keep in his backpack. As a traveling and commuting companion, the Tech Pouch comes with different compartments to organize cables, chargers, spare batteries, and other everyday carry items.
Though it was designed as a pouch to store accessories, you can also use it as a dopp bag for travel if you want to have all your essentials organized.
Peak Design Tech Pouch
For the organized neat freaks
Reasons to buy
+
Helps keep things organized and reduce clutter
+
Portable, travel-friendly design
+
Can be used as a sling bag if optional shoulder straps are attached
+
Lifetime warranty
HBO Max
HBO Max has one of the most robust catalog of movies, TV shows, and streaming content on the Internet, and it's a great alternative to cable. Getting your dad a subscription to the streamer could entice him to cut the cord and ditch cable or satellite and save money in the long run. New content rotates in every so often, and there's plenty to watch for the whole family. HBO Max builds on the prestige of programming created on cable's HBO channel.
HBO Max
Make every night movie night
Reasons to buy
+
Robust catalog of movies, TV shows, animations, and documentaries.
+
Builds on HBO's prestige and brand reputation
+
New content added regularly
+
Ad-supported tier is more affordable
+
Can be used on multiple devices, including phones, tablets, set top boxes and streaming devices, and Macs and PCs inside the browser
Tile Pro
Before Apple's AirTag, there was Tile, and the company's trackers have been a popular staple. Affordably priced and extremely utilitarian, these trackers help you keep track of everything that's attached to it, from keys to bags and luggage. And the large audience of Tile users mean that as long as someone has the Tile app installed on their phone, you'll likely be able to track and locate your lost wares through the Tile network.
Over the years, Tile has expanded its trackers, and the company now offers varying devices. There are keychain-style trackers for your keyring and slimmer cards that can help locate lost wallets. These trackers make an excellent gift for dads, especially those who frequently misplace their valuables.
Tile Pro
A beacon to locate lost things
Reasons to buy
+
Works with Android and iOS devices
+
Variety of form factors for different devices to track
+
Easy to use
Reasons to avoid
-
Requires a separate app download and not compatible with Apple's Find My app
inCharge X
inCharge X is a clever accessory that you can hang from your keychain. Ready in a pinch, this Swiss Army knife of charging cables comes with multiple adapters built into its design, allowing you to charge your phone in a hurry. You'll still need to find a USB-C or USB-A port or a wall charger to get power, but you'll be armed with your own charging cable. This six-in-one utility from. Rolling Square is the perfect accessory for busy dads who always run out power on their phones halfway through the day.
inCharge X
The Swiss Army knife of charging cables
Reasons to buy
+
Compact and portable size
+
Can be used with USB-A or USB-C charging bricks
+
Fits USB-C, microUSB, and Lightning ports on phones for added versatility
+
Convenient design can hang from a keyring
Reasons to avoid
-
Doesn't come with its own power brick or battery, so you'll need to supply your own
Ring Video Doorbell
City dwellers will be all too familiar with porch pirates and property crime, and one good way to help Dad and the family stay safe is with a video doorbell. Ring's Video Doorbell is an affordable solution to monitoring your front porch, and an app will buzz you whenever the doorbell detects presence at the door or if someone rings your doorbell. You'll be alerted of visitors, both wanted and unwanted, and any activity that happens at your front door. A small subscription is required for cloud recordings, and you can augment Ring's system with additional doorbells and cameras, a monitored security system, and more.
Ring Video Doorbell
Keep porch pirates away
Reasons to buy
+
Affordable price
+
Easy DIY installation
+
Can create a home security system by adding more Ring products
Reasons to avoid
-
Requires subscription for cloud recording
Something for every dad
Since you know Dad best, it's ultimately up to you to choose the perfect gift that will make your father happy, feel appreciated, and let him know that you're thinking of him. Our gift guide covers the gamut of tech-inspired and non-tech gifts, so there's bound to be something that everyone can enjoy.
Tech dads will likely appreciate a new laptop, like the Surface Laptop Go 2 on our list, or Sony's latest WH-1000XM5 noise-canceling headphones, while those who may not gravitate towards the latest gadget can find value in the Leatherman Surge utility knife, a new wallet from Ekster, or a travel bag from Peak Design to hold all his wares. Whatever the case may be, as long as you put some care and a lot of love into your gift, Dad will surely enjoy it.
Windows Central Newsletter
Get the best of Windows Central in in your inbox, every day!
Chuong's passion for gadgets began with the humble PDA. Since then, he has covered a range of consumer and enterprise devices, raning from smartphones to tablets, laptops to desktops and everything in between for publications like Pocketnow, Digital Trends, Wareable, Paste Magazine, and TechRadar in the past before joining the awesome team at Windows Central. Based in the San Francisco Bay Area, when not working, he likes exploring the diverse and eclectic food scene, taking short jaunts to wine country, soaking in the sun along California's coast, consuming news, and finding new hiking trails.
Windows Central Newsletter
Thank you for signing up to Windows Central. You will receive a verification email shortly.
There was a problem. Please refresh the page and try again.