24 tech gift ideas that are actually good
These tech holiday gifts are far from floppy.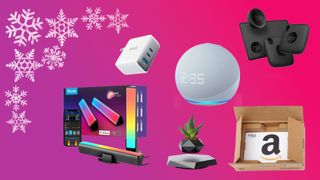 (Image credit: Future)
Finding the perfect holiday gift for a tech or PC enthusiast can be a tough task, given that part of the fun in new tech is researching and purchasing it yourself. Our tech gift guide is here to help with ideas for that seemingly impossible person to shop for, whether you're looking for the best gifts or things for holidays, Christmas, birthdays, or beyond. This piece concentrates on tech gifts that will complement their existing phones, Windows PCs, and other devices rather than attempt to replace them.
So for our picks of the best techy gifts and ideas for your loved ones, read on!
Instax Portable Smartphone Printer
Print on the move

Too many photos today live and die on cloud-based storage, never to see the light of day. This portable mini printer connects wirelessly to any smartphone to print your favorite pics in adorable 2" x 3" and comes in White, Pink and Blue.
Govee Smart LED Light Bars
Light up their life

These light bars give your gift recipient control over ambient lighting wherever they want to place them in the home. Controllable via an app or with voice commands from Alexa and Google, RGB lighting will react to music, games or movies.
Alexa, play my Holiday playlist

Its always worth checking which smart home speaker your tech enthusiast already uses. Extra devices are always useful, access to their playlists in every room? If they are fond of the Amazon ecosystem, this latest spherical speaker has an LED display which shows time and song titles.
Titanium tech

An unabashed luxury upgrade from the Fitbit, the Oura ring looks like a classy piece of titanium jewelery, but it houses impressive health tracking tech. Monitor your heart rate, breathing, body temperature and sleep quality. It's an elegant addition to any techys lifestyle and has a remarkably intuitive companion app for those important health stats.

Ok Google, add another Nest to my list

Probably the most aesthetically pleasing of the Google Home devices, the Nest Audio is designed for a fuller sound experience when playing your favorite music. Compatible with other Google devices, and comes in a large selection of colors depending on your recipients preference.
Google Nest WiFi Extender
Turn up the wi-fi

These clever devices work in tandem to cover your home in fast and reliable wi-fi, buffer no more. The Nest routers are strong enough to handle up to 200 connected devices and guarantee an uninterrupted internet experience all over the home.
Totally levitational dude

For tech gift to astound and impress, this LED light bulb is held in place using magnets and the bulb powered wirelessly through the air via induction. A gift and a conversation starter.
Hidrate Spark 3 Smart Water Bottle
Smart ...water?

There's apps dedicated to reminding you to drink water, so a water bottle with a built in nag setting was bound to come along. This bottle glows to remind you to hydrate, and syncs your progress to a smartphone app.
Desk Dust Buster

A tiny wireless vacuum for keeping your desk in tip-top shape. Workspaces can get filthy fast, especially when shoveling your lunch through a last-minute Teams meeting. This wireless gadget sucks up all the crumbs and nasties from your desk and makes a nifty stocking filler.
Slime that...cleans?

Yes really, endlessly handy to have on your desk, this fun neon slime gets into all the nooks and crannies of your devices, sockets, remote controls - anywhere where dust like to gather and pulls it out. A stocking filler for the clean techy.
Tell the time in style

A sleek and stylish clock for the digitally minded. This aethetically pleasing present tells the time in five-minute intervals and adds character to any home office with its copper design.
Anker Nano 2 100w GAN Charger
Get juiced fast

GAN chargers are up to 3x faster and more compact than your standard chargers, and any tech enthusiast with multiple devices will want speedy charging at home or on the move. The Anker Nano 2 100w is tiny and speedy with 2 USB-C ports and 1 USB-A.
Samsung Duo Wireless Charging Mat
Wireless power

Wireless charging docks and pads are a dime a dozen, but what any tech whizz wants is fast charging which not all are capable of. This Samsung Duo charging mat is capable of 9w fast charge and can even be purchased in the Trio version if you really want to splash out.

Gravity-defying succulents

Another other-worldly household item, have your guests thinking you've broken Newton's laws with this magnetic planter. For a zen workspace this is a perfect home for cacti and succulents.
Rocketbook Smart Reusable Notebook
Paper is for normies

The Rocketbook digitizes notes that can be wiped away so the 'paper' can be used again and again. Featuring smart search and email transcription, this is both useful and great for the environment. A notebook that comes with it's own app.
Battery powered coffee

Control this mug from your smartphone to keep your coffee at the perfect temperature for as long as you need. The perfect gift for a techy that works from home, they'll never know the disappointment of a lukewarm drink again with this smart cup.

Tile Mate Essential Trackers
For the techy that travels

A bundle of tracking devices for the tech connoisseur that wants to keep their stuff secure. Using Bluetooth when in close range, or the smart app when further away, these clever devices help track anything from wallets, to laptops and keys. They even work with Alexa and Google.


Retro Pixel Art Game Bluetooth Speaker
Pixelated retro fun

A Bluetooth speaker with a difference, the Divoom speaker is reminiscent of an old-school arcade game, and even comes with Snake! This cool gift connects to a smartphone app to make your very own pixel art creations, and the sound quality packs a punch in a tiny package. A fun wildcard gift for tech lovers that would look great on their desk.
SofaBaton Universal Remote
Control all the things

For the techy with a myriad of devices, a Universal Remote can answer their prayers for a less cluttered media centre. Replacing the remotes for their tv, soundbar and streaming stick - this remote controls it all.
Philips SmartSleep Wake-up Light
Wake up naturally

Who knew you could techify your sleep? Well staring into a screen into the early hours no doubt has some impact on our sleep cycle, that's where the Philips SmartSleep comes in. Simulating the rise and setting of the sun this will give your tech buff the gift of a sound nights sleep.
Nothing Ear Stick Wireless Earbuds
I got you nothing

The Nothing earbuds look like they've been lifted straight from Bladerunner, and boast up to 29 hours of listening time. Of all of the wireless buds on the market, these just look cool while packing some impressive tech and will connect via Bluetooth to your techy's phone.
Wireless charging on the go

In an impressive array of colors, the Anker MagGo is a truly portable magnetic wireless charger, built for iPhone users. With a kickstand to keep their phone screen in view, the magnet snaps the device into place for efficient charging wherever you are.
Dust Destroyer

Any long-term keyboard user knows how frankly disgusting they can get without regular cleaning. This compressed air duster saves tech owners a fortune in cans of compressed air, and can be used to keep keyboards and PC parts squeaky clean. Pew pew!
Lexon OBLIO Wireless Phone Charger
For the germaphobe

Adding something unique to the wireless charging market, the Lexon OBLIO is a fast charging wireless charger with a difference. Not only does it look like a stylish vase for your workspace, it's equipped with a UV light sanitizer to disinfect your phone from a days worth of viruses and bacteria.
When you just don't want to risk it
Why you can trust Windows Central Our expert reviewers spend hours testing and comparing products and services so you can choose the best for you. Find out more about how we test.
We hope our tech gift list has inspired you with some ideas for that special person in your life, but if you're truly at a loss then you can't go wrong with a gift card. Far from being a lazy gift, in today's climate of cost-saving, a gift of a few extra months of free subscription for your tech lover or even just the gift of choice would be a welcome present. Here are a few suggestions:
Playlists a-plenty

From music to podcasts, Spotify Premium gives you access to ad-free content, high quality audio and offline playlists.
The gift of binge-watching

Whether you have been freeloading off their Netflix account, or they don't have a subscription yet, give the gift of a few months free unlimited movies and TV.
If you're hungry for more gift ideas and have a gamer on your gift list, check out our gift guide for Xbox gamers.
Get the Windows Central Newsletter
All the latest news, reviews, and guides for Windows and Xbox diehards.
Jen is a News Writer for Windows Central, focused on all things gaming and Microsoft. Anything slaying monsters with magical weapons will get a thumbs up such as Dark Souls, Dragon Age, Diablo, and Monster Hunter. When not playing games, she'll be watching a horror or trash reality TV show, she hasn't decided which of those categories the Kardashians fit into. You can follow Jen on Twitter @Jenbox360 for more Diablo fangirling and general moaning about British weather.