Gamescom 2018's very best games and products
With Gamescom 2018 behind us, we thought we'd look back and round up all the coolest things we saw on the horizon for Xbox and Windows PC gamers.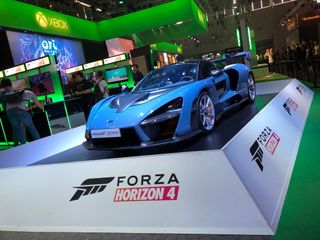 (Image credit: Windows Central)
Gamescom 2018 was a massive event, with an expected half a million people braving the crowds in Cologne's massive Koelnmesse convention center. Gamescom is a bit of a continuation from E3, giving European fans a chance to get a glimpse of the future of gaming, although many new games and products were unveiled at the show, too.
We went hands-on with dozens of games and new accessories at the show and thought we'd round up the best of the best for your perusal.
Cyberpunk 2077
Why you can trust Windows Central Our expert reviewers spend hours testing and comparing products and services so you can choose the best for you. Find out more about how we test.
Without a doubt, Gamescom 2018's biggest show-stopper for us was Cyberpunk 2077. The demonstration, previously available only to press, has now been made public, showcasing Cyberpunk 2077's dizzying array of gameplay mechanics and systems.
In Cyberpunk 2077, you play as "V," an up and coming mercenary in the crime-riddled Night City. In the future, the line between "person" and "product" has been completely lost, in a world where cybernetic enhancements are commonplace.
Poverty, corruption, and violence aren't in short supply in Night City, and it's on you to carve out a life for V in this neon-drenched world. We have no set launch date for Cyberpunk 2077, but it's probably still a couple of years away.
See at Amazon (opens in new tab)
Resident Evil 2
Resident Evil 2 shows how far video games have progressed in 20 years, through an all-new remake headed to PC and console in 2019. Rebuilding the game through an over-the-shoulder third-person perspective, the upcoming homage fully revives the fundamental themes, while embracing horsepower of modern hardware. And if our pre-release hands-on is indicative of the final result, the title could be among Capcom's best yet.
The biggest-player facing changes only lightly affect gameplay, accounting for the new perspective of Racoon City. Gains and losses come with abandoning the detached camera, but the tense survival horror roots still endure. You'll be up-close in the action, without harming Resident Evil's signature puzzles and exploration.
Resident Evil 2 is shaping up as a blood-soaked survival horror for all, while changes should keep it fresh for franchise veterans. RE2 should launch on January 22, 2019.
See at Amazon (opens in new tab)
Metro Exodus
Metro Exodus takes the apocalyptic-shooter series into uncharted territory, as linearity subsides in favor of more open exploration. Metro Exodus is the third installment in Ranger Artyom's saga, and we were lucky enough to go hands-on.
Exodus sees the return of fan-favorite survival mechanics such as stealth, scavenged make-shift equipment, and the dynamo recharger. Exodus pushes the envelope a bit, however, including an on-the-fly crafting system, allowing you to modify your weapons straight from your back pack in the field, while promoting the urge to scavenge through craftable health kits and explosives. You might be able to stealth past that nasty-looking group of bandits, but they might be holding the keys to a cache of life-saving equipment.
Exodus should launch on February 22, 2019, and it'll look truly stunning in 4K on the Xbox One X, pushed even further with support for NVIDIA's new RTX graphics cards.
See at Amazon (opens in new tab)
Turtle Beach
Turtle Beach's new Atlas series PC headsets put the focus on sleek and sexy design, as the manufacturer turns its attention to the esports crowd.
Gone are the gaudy primary colors, the Atlas range focuses on metallic accents for a more professional look. Finally, Turtle Beach is making headsets you wouldn't be embarrassed to wear outside.
On the inside, Turtle Beach is using metal parts to improve the strength of its lineup, while retaining many of the signature audio features fans of its lineup have come to expect. We have no word on availability, but as soon as we know, we'll let you know.
Dying Light 2
Dubbed the modern dark age, Dying Light 2 takes place several years after the events of the first game, where a viral zombie apocalypse has wiped out much of humanity and social infrastructure. Dying Light 2's world is darker, bleaker, and more primitive, with the survivors scrapping over clean water and basic supplies.
While the infected still roam at night and in the game's dark, hidden places, Dying Light 2 puts the focus on human factions. Who you choose to side with will dramatically alter the course of the story, and even the physical landscape, in a game where choice and consequence truly exists. We have no word on the launch window, but we'll keep you posted.
See at Amazon (opens in new tab)
RAGE 2
RAGE 2 is another post-apocalyptic title making the cut (sensing a theme here... ), but this one has a vastly different flavor than your standard Mad Maxian jaunt. Washed in bright neon colors and over-the-top action, RAGE 2 takes place decades after an asteroid collision has destroyed much of human civilization. The remaining inhabitants struggle to survive, forming enclaves and gangs to fend off roaming mutants, cybernetically enhanced bandits, and the fascist military group known as The Authority.
RAGE 2 combines the open-world mayhem from Avalanche Studios with the shooter expertise of id Software to create something that feels truly magical. We have a good feeling about this one, and you should definitely keep it on your list for 2019.
See at Amazon (opens in new tab)
Ori and the Will of the Wisps
Ori and the Will of the Wisps is the next installment in the Ori saga, kicked off in 2015. The Metroidvania-styled platformer won immense praise for its hand-drawn backgrounds, precise platforming gameplay, and emotional narrative, which follows the cat-like Ori on a quest to save his forest from corruption.
We went hands-on with Will of the Wisps at Gamescom 2018 and discovered an enchanting world of meaningful updates set to take the franchise to new heights. Ori has all-new traversal mechanics, making movement a lot more rapid and responsive, and an array of new weapons and upgrades makes combat a lot more meaningful. Moon Studios has also developed new technology to really make Ori's hand-painted environments spring to life, with dynamic lighting, a bigger emphasis on 3D objects, and Spirit Trial races that are as addictive as can be.
Ori and the Will of the Wisps has no listed launch date, but it's certainly one to watch.
See at Amazon (opens in new tab)
Mutant Year Zero: Road to Eden
Based on a tabletop roleplaying franchise, Mutant Year Zero is a turn-based tactics adventure RPG from Funcom, and it was perhaps the biggest surprise, for me, at this year's Gamescom.
Set in a distant post-societal future, Mutant Year Zero follows a trio of mutants who are on a quest to figure out ... what the hell is going on. You'll play as a giant duck, a pig man, and a rock lady as they carve a bloody path through the ruins of civilization, battling other mutants, roaming gangs, and violent thugs.
Mutant Year Zero handles similarly to games like XCOM, and in our hands-on, we found it to be every bit as tactical and addictive, with intriguing abilities and a dynamic freeform flow between combat and exploration. Fans of tactics games must keep an eye on this one.
Plantronics
Plantronics is another headset manufacturer attempting to court the esports crowd with a more "mature" approach to headset design, and its Gamescom lineup we checked out is as exciting as ever for headset fans.
Plantronics's new RIG range comprises their industry-leading comfort and svelte design, with a few new features for the modern market. We've already reviewed the sleek and sexy RIG 500 Pro at the high end, but Plantronics showed us a new open cup headset designed for the Fortnite generation, with a volume limiter to protect youngsters' ears, and low isolation in order to hear outside sounds more easily. If you're into your headsets, keep an eye (or an ear) on this company.
Forza Horizon 4
Forza Horizon 4 is Microsoft's most ambitious racer to date. After seeing it on both Xbox One and Windows 10 at Gamescom, there's little doubt (if there ever was any) that this is going to be one of the finest games of 2018.
The core idea of the Horizon Festival returns, but the world around it changes, as does the content. Weekly season changes will quite literally transform the game in front of your very eyes and with it your driving style and the races you enter.
Playground has committed to an aggressive post-launch content strategy that will see something fresh arrive every single week, and along with some significant improvements to the approach to the PC, Forza Horizon 4 is every bit the must play we were expecting it to be.
That's a wrap!
As Gamescom sails off for another year, the biggest and best the industry has to offer look set to batter our wallets for the remainder of this year and into 2019. What games are you most looking forward to? Sound off in the comments.
Get the Windows Central Newsletter
All the latest news, reviews, and guides for Windows and Xbox diehards.
Matt Brown was formerly a Windows Central's Senior Editor, Xbox & PC, at Future. Following over seven years of professional consumer technology and gaming coverage, he's focused on the world of Microsoft's gaming efforts. You can follow him on Twitter @mattjbrown.
All those things look great, but was hoping for a reveal of the Elite v2 controller...

Very surprised to see Devil May Cry 5 not making in this list! wow

I'm excited for FH4, but I'l return it if it's crammed full of ads like a FtP title