Microsoft issues small firmware update for Wireless Display Adapter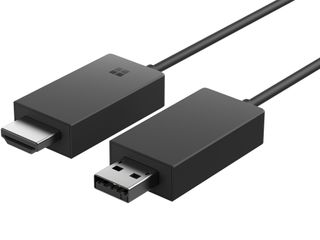 Microsoft has issued a firmware update for its Wireless Display Adapter. It's not clear right now what this update adds, but it bumps the firmware version to 1.3.8350. Just open up the Wireless Display Adapter settings in Windows, and select the Firmware section to find and download the update.
The Wireless Display Adapter was originally released in late 2014, and allows you to project your Miracast-enabled Windows device wirelessly to an external display. The company recently announced a second version of the adapter, which is slated to be released next month.
Windows Central Newsletter
Get the best of Windows Central in in your inbox, every day!
@Microsoft why no garage apps for windows phone where as you have premium apps for Android/iOs... It's really disappointing for the final 3% of windows phone users :(

This is relevant to the discussion about a firmware update to this device how? Way to stay on topic.

What are garage apps? And what premium apps on iOS and android are you referring to?

first you need to get a car then a house

He's right, this app is only available for Android and iOS: http://ismartgate.com/

Great, I hope this fixes the connecting issue I have since the previous update. It takes me at least 3 attempts to get connected.

Is it good to stream Youtube 1080p?

Same here. But when it connects, it does not drop. Getting it to connect. Boy, what a pain.

Imagine yourself with a group of 75 people in a meeting room that are waiting for a presentation. They see connecting to surfacebook and a big MICROSOFT logo and no immediate connection.... It's really embarrassing but indeed when it is connected it almost never drops

Might just be a fluke but I'm using continuum on my 950 to write this and overall performance seems to have improved (it was frustrating the last few times I used it without the display dock due to a lot of lag)

Just updated one of my wireless adapters @work and this one works flawless, two more to go @home. Hope they will perform the same after the update

Every presentation I've been in or ran, we used wired connections. Your office must be different.

Ever since the miracast option is available I use it and its great. It stopped being great after the last update but this update made it good again....

This is one of those ideas that sound great in concept, but will take some time to iron out the kinks.

Surface Pro was my first experience with Miracast, been using it since. We have about 15 meetings every week with presentations, just being able to walk in with one device and connect wirelessly saves me so much time. It is only getting better, preordered the new wireless adapter already just to see what is improved.

That's good to know. I have SP2 and have been wanting the adpater to use on my TV, but when it 1st came out many people kept menitoning connection issues. Looks like they solved those early issue.

I really recommend it, its also a lot of fun to use @home when i want to see a movie or a soccer game that are only found free online

Do you need to connect the adapter to a pc to do this or will it work wirelessly?

You can update it wirelessly

It's supposed to update wirelessly but I've tried several times now and it fails every time. That's through connecting my laptop. When I connect my phone it tells me the firmware is up to date even though it's not.
I'll try connecting it directly to the laptop later and see if it updates then. Posted from Windows Central for Windows 10

You need to start the connection to the display adapter from the PC or Mobile as you would normally and then once connected you can fire up the app and download the firmware update which is then updated to the adapter wirelessly... Did mine earlier, and all was easy and smooth...

My adapter is connected to my TV. Do I need to disconnect and connect it to my PC, or it can update firmware while still connected to TV?

You can update it whilst it is connected to the TV, you can then see that the Firmware is being applied to it... Once the Firmware is applied the adapter will restart itself ...

Wirelessly, I updated the adapter with no problems Posted from Windows Central for Windows 10

I updated the firmware easily. Unfortunately, on a 950XL / Redstaone Preview, the mouse pointer if being used by the phone jumps around way too much. Maybe it's a redstone proble. However, using my blutooth mouse it was nearly lag free and I streamed videos from Edge with it just fine.

There's a problem with the new build with wireless continuum.

I'm not on Redstone with my 950 and seeing an improvement in mouse input from the phone screen so you could be right that it's specific to the build you are on. I haven't ever had it work this perfectly over Miracast before. Impressed with the performance today

Just updated, but I have had no issues with the dongle.. Even hill climb racing works perfectly before..

Might as well wait for the new one.

I really wish they'd get the Xbone Miracast app straighted out and pulled out of preview hell, I'm not buying one of these adapters when I was told the X1 would have this capability.

My Lumia 1520 with Win Mobile 10 latest threshold build 10586.107 told me that there was a new firmware available for my device. I connected to the adapter from the windows mobile 10 app, downloaded the update, it asked me to install it on the adapter. The adapter showed a firmware updating progress screen. Later both the phone and the adapter stated "update complete". The adapter resets and then shows the same firmware number. The phone still sees the old 805 build number instead of the new 850 build number. Any ideas what to do?

Working like a charm on my Vulcan Journey 7" Windows 10 tablet, my small daughter loves to use Fresh Paint Windows 10 app on the large TV.

I'd like to know if this fixes the overscanning/scaling problem I have on my tv wirelessly using continuum. I don't really have a need for continuum that way but I sure wouldn't want to buy the continuum dock if it's going to do the same thing as the wireless display adapter. Does anybody have this same problem?

Yes, the "Microsoft Wireless Display Adapter" app gives you the ability to adjust the display on of the image on the tv/screen. See the 1st screen shot on the store page: https://www.microsoft.com/en-gb/store/apps/microsoft-wireless-display-ad... You should see the slider at the bottom of the screen shot for "Adapter Settings" > "Adjust Display". Hope that helps... P.S. Not see any similar issue with the Dock.

For me, there is no option to update firmware, its greyed out in the app. Also my firmware says 3.0.65.0 - why so different?

Disconnect the Wireless display adapter and hold down powerbutton for 10 seconds. It will update itself.

I disconnected the device from monitor but how on earth does it update itself if its it connected via USB and to lesser degree HDMI

Like I said. Disconnect HDMI, usb stays on for power. Push powerbutton on Wireless display adapter. Then reconnect hdmi. It will update itself. Check Wireless display adapter app.

Two of the three previous comment have absolutely nothing relevant to Miracast firmware updates. What is wrong with you people? There's an ENTIRE Forums area, to b***h and moan, where we don't have to see it, on every article, with no connection to your petty gripes. I just wanted to know if anyone has applied the update and what diff it made, as far as lag/performance, as a wireless adapter owner? Geez!

I meant two of the first few comments... There is no comment editing function available for me to ammend my original comment.

Question about this adapter; I recently got one, and use it with my Surface 3, however it's very laggy, I'm curious if that is due to the lack of power of the S3 or if that is the case for a Surface Pro 3/4. Because if this is prevelent in those more powerful devices than I'm assuming the Wireless display adapter is not a great option for streaming movies/ TV. Thoughts?

Anyone with an Android device able to successfully cast Netflix or Vudu using this Wireless Adapter? Or is it just the Dell Venue 8 7000 that can't do it?

Updated my adapter succesfully with Lumia 950, and now having issues with Netflix too. I get code Q8156-C00D7159 from Netflix. Everything else seems to work OK.

After two chats with Netflix, they commented that some versions of W10 mobile are not fully supported. Seems this is related to .107 and .122 and affects all Miracast streaming for Netflix. Too bad.. :(

after updating, I'm not able to mirror my 950 xl screen, I'm forced to only use Continuum, I'm done with my 950 xl, I'm selling today.

This fixed an issue for me where I only had video in wireless Continuum, now I have sound too. Much better. I may have missed an earlier firmware update as I wasn't able to update the dongle by lack of a Windows PC with Miracast functionality. Now there is a mobile app for the Microsoft Wireless Display Adapter that does the trick perfectly on my 950 XL.

Doesn't want to work for me. Pretty bad $99 AUD investment. I expect better from Microsoft

How do I update the firmware from an Android device? My PC and netbook do not support cast only my Android phone and tablet do but there is no app on the Google Play store so how can I update the firmware?
Windows Central Newsletter
Thank you for signing up to Windows Central. You will receive a verification email shortly.
There was a problem. Please refresh the page and try again.