Quantum Break: The Ultimate Buyer's Guide (US Edition)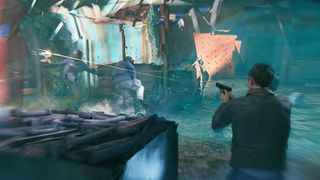 Quantum Break, the first blockbuster of Microsoft's 2016 gaming lineup, is now closer than ever, hitting the Xbox One and Windows 10 on April 5th. The game has an innovative twist regarding presentation, merging a time-bending third-person shooter with an interconnected live-action show.
If you're still yet to preorder Quantum Break, it's not too late to lock down your copy for launch day. Below we've compiled a list of the different ways to obtain Quantum Break, in both digital and physical forms. We've also made sure to include some of our favorite pieces of Quantum Break merchandise to pick up alongside the game next month.
Living in the UK and need that buyer's guide? We have you covered and you can find the UK Buyer's Guide here.
Preorder Bonuses
Depending on where your copy of Quantum Break is preordered, you'll receive a range of pre-order bonuses. Some pre-order bonuses are exclusive to specific retailers, making your choice of retailer more complex than the price alone. Below, we've listed some top video game retailers in the US and the preorder bonuses they offer.
| | Alan Wake | Alan Wake's American Nightmare | Alan Wake: The Signal | Alan Wake: The Writer | Exclusive Steelbook Case | Quantum Break (Windows 10 Edition) | $10 Xbox Live Credit |
| --- | --- | --- | --- | --- | --- | --- | --- |
| Amazon.com | ✓ | ✓ | ✓ | ✓ | | | |
| Microsoft Store | ✓ | ✓ | ✓ | ✓ | | | ✓ |
| Xbox Store | ✓ | ✓ | ✓ | ✓ | | ✓ | |
| GameStop | ✓ | ✓ | ✓ | ✓ | ✓ | | |
| Best Buy | ✓ | ✓ | ✓ | ✓ | | | |
If you redeem a digital code for Quantum Break from any retailer before April 10th, you'll also get a free copy of the game for Windows 10!
Quantum Break (Standard Disc)
Across most retailers, the standard version of Quantum Break is being offered for $60, with additional bonus content dependent on the retailer (detailed breakdown supplied above). This version of the game is most common and stocked by a majority of video game distributors.
Preorder the game from various video game retailers below:
Quantum Break (Standard Digital)
A digital version of Quantum Break is also available, sold as a pre-paid code to be redeemed via Xbox Live. Most retailers who stock pre-paid codes will distribute the codes ahead of launch, to give players the chance to pre-load the title. Like digital copies purchased directly from the Xbox Store, these copies of the game will unlock at 12:01 in your time zone.
The following retailers stock digital copies of Quantum Break for Xbox One.
Quantum Break Special Edition Xbox One Console Bundle
For those yet to jump onto Microsoft's latest console, the Quantum Break special edition console bundle is the best way to get started with the platform. The bundle includes a special edition white Xbox One console and controller, alongside a pre-paid code for the digital version of the game. So long as the code is redeemed before April 10th, you'll also receive a free copy of the game for your Windows 10 PC. This unlocks the opportunity to experience cross-platform Windows 10 gaming and the ability to sync saves between the Windows 10 and Xbox One versions of the game.
Cirrus white Xbox One 500GB console
Cirrus white Xbox One wireless controller with 3.5mm headset jack
Quantum Break full game download
Xbox 360 full game download of Alan Wake (playable on Xbox One)
14-day Xbox Live Gold trial
The Quantum Break special edition console bundle is available from the following top retailers:
Quantum Break: Zero State
Quantum Break: Zero State is an upcoming novel from Remedy Entertainment's Cam Rogers, who also participated in the main game's writing. While little is known about the novel's contents, we can expect the events explored in the novel to further flesh out the story established by Quantum Break.
Here is the current synopsis provided by Remedy:
"Jack Joyce spent six years trying to escape - escape his life, escape time, escape the madness of his brother, Will. But when he finally returns home, it turns out his brother isn't quite so mad. Will has created a time machine, one with the potential to save humanity. War? Preventable. Natural disasters? Stoppable. Except for one tiny problem...his machine will also cause the end of time as we know it. Now Jack has just one chance to turn back time, to fix what was broken, to save the world."
Quantum Break: Zero State will be available from a majority of leading book stores.
Quantum Break: The Secret History of Time Travel (Game Guide)
Quantum Break: The Secret History of Time Travel is a must-buy for those interested in the game's lore and development. The book gives Quantum Break fans an insight into the game's creation through developer commentary, concept art and breakdown of the game's lore. The guide has been complied by renowned game guide publisher Prima Games, therefore, contains a breakdown of each level, a guide to tackling the game's branching story and other tactical essentials.
Here is a breakdown of the book's contents:
History of Remedy
Early Development Concept Art Gallery
Full Strategy Guide: Comprehensive coverage of Quantum Break
Free Mobile-Friendly eGuide
Exclusive Extras
The book will only be printed once, so make sure to preorder a copy soon!
Quantum Break: The Secret History of Time Travel will be available from most video game retailers, to be purchased alongside the game at launch.
Quantum Break Original Game Soundtrack
During the game's development, Remedy Entertainment has undeniably put a focus on the game's sound effects and score, which plays a major role in portraying the intended atmosphere. When using Jack Joyce's time bending powers, the music's tempo dynamically adapts to your in-game actions, creating a unique experience for each player. A preview Quantum Break's soundtrack is now available on the Microsoft Studios official SoundCloud page, ) giving a sample of what the final product may offer.
The Quantum Break soundtrack is currently listed on http://Amazon.com, but as new online distributors open preorders for the album, this list will be updated.
Quantum Break Original Game Soundtrack Vinyl
For the collectors out there, iam8bit is distributing a limited run of Quantum Break's official soundtrack in vinyl form. The 180-gram heavyweight vinyl is packed with thirteen tracks from the game's score and decorated with artwork from Christina Mrozik. Only 3000 have been produced, so make sure to order one today!
Music by Petri Alanko
Album Art by Christina Mrozik
180-Gram Vinyl
Includes digital soundtrack (code comes w/ vinyl)
Limited Edition of 3,000
"iam8bit, Microsoft Studios and Remedy have teamed up to bring you the futuristic and heart pounding score from Quantum Break on vinyl. The soundtrack explodes with kinetic beats from acclaimed composer, Petri Alanko (Alan Wake, Imaginaerum - The Movie). The range of the sound is impressive - from melodic symphony and to futuristic intensity, packing a lot of scope into a single disc. We've mastered the audio specifically for vinyl at Telegraph Mastering Studio. The records are 180-gram heavyweight vinyl, making them less prone to warping over time."
Official Quantum Break T-Shirt
Microsoft Studios is also offering a limited run of official Quantum Break shirts, ahead of April 5th. As with the other limited edition items on our list, make sure to order as soon as possible to guarantee yourself a piece of official apparel.
"Monarch Solutions is happy to reveal the latest in time traveling gear. Suit up in this limited edition tee as you harness time and take control of your destiny. Doesn't matter if you're fighting yesterday, today, or tomorrow this versatile soft tee will be the one thing that won't let you down and is patented with our latest "Time Fracture Proof" technology. Make sure to grab one while limited supplies last!"
Sizes Small to XXXL are available.
Get the shirt from the Microsoft Studios store below:
Microsoft Studios Store - $22
If you're still not sold on Quantum Break, we recommend checking out our extensive coverage which will continue beyond the game's launch. For a breakdown of the game and live-action its live-action counterpart, make sure to take a look at our initial impressions, and our full review for Xbox One!
Have we missed any of your favorite Quantum Break goodies? Make sure to let us know in the comments!
Matt Brown is Windows Central's Senior Games Editor, Xbox & PC, at Future. Following over seven years of professional consumer technology and gaming coverage, he's focused on the world of Microsoft's gaming efforts. You can follow him on Twitter @mattjbrown.
I wand Standard Physical or Digital. BioResearch & Games.

I know I'm not supposed to judge a book by its cover, but that cover art for the novel's book jacket is awesome. I'm buying it.

They went all in with this game. WC App via Nexus 6.

Kinda disappointed they didn't go for a collector's edition though! Would've loved a statue or something!

I don't understand why the Microsoft Store is the only retailer not offering the Alan Wake: American bonus. If I knew I wasn't getting that i wouldn't have preordered from them. Now it's too late to cancel since they already charged my credit card and shipped the game to me

They've updated the store listing since posting this, stating that American Nightmare will be available! You're in luck!

Ohh I just checked, thanks for the heads-up!

Amazon UK and other retailers like Game.Co.UK have emailed all customers staying that they are unable to offer the Alan Wake bonus games because of the PEGI rating being 16 on Quantum Break and 18 on Alan Wake games. They've offered a rubbish alternative of Kameo: Elements of Power instead! https://www.amazon.co.uk/gp/browse.html?node=9478168031&tag=hawk-future-...

You're still able to get American Nightmare if you pick up Quantum Break in-store, alongside a valid ID! We'll have a UK edition of the buyer's guide later this week too!

Do you think retailers will still honour the offer even after launch on Tuesday? I've got mine pre ordered on Amazon UK but trying to decide whether I should take the £5 extra cost and go for the digital version through XBOX - XBox UK says they're giving Alan Wake American Nightmare and the two add ons, the signal and the writer.

I thought that ANY digital purchase got you the W10 version, not just the Xbox Store copy. Huh. Also, while you get the $10 rewards from the MS Store, Best Buy's GCU (if you're a member, for $15/year) makes the game $12 cheaper ($48) than the other options ($60). Actually, Amazon gives you that 20% discount now as well with Prime (though that's $100, if you don't have it already). Really, if you're in the U.S. and want physical games, Best Buy is the best option because it gives you the 20% discount new (even for on-sale games, which Amazon won't do), a 10% used discount, and $10 in rewards for some pre-orders (DOOM's the next on the list, I think). I'm debating how I want to buy this, though. I was thinking of going digital to share the game with someone, and to give the W10 code to a family member. I also am considering GameStop's steelbook option, as it looks really nice. However, after hearing the game is only 10 hours long, I'm thinking this game might not stay with me for long, making the permanent, digital purchase or the more-expensive, steelbook choice less sensible than just getting the game for $48 from BB and trading it in after 1-2 weeks (as I don't think I'd bother to explore every combination of end-act choices).

I would really recommend you give this game a shot! From what our Xbox editor Jez has told me, it's an amazing experience! Make sure to take a look at our review! http://www.windowscentral.com/review-quantum-break

I mean, I already am going to get it, I just haven't pre-ordered it because IDK where I'll get it from.

I'm confused. I chatted with a Microsoft store.com support and asked extensively about the bonuses. https://www.windowscentral.com/e?link=https%3A%2F%2Fclick.linksynergy.co... actually offers both the digital and physical copies of the game. Support at first didn't know about what bonuses are offered and said he had to ask a superior first before confirming to me. At the end, he told me that the digital version offers Alan wake and all its dlc, American nightmare if preordered, and win 10 version free. I even told him I'm saving the chat for future reference. Remember, this is from the https://www.windowscentral.com/e?link=https%3A%2F%2Fclick.linksynergy.co... and not the brick and mortar store.

Ah, so I've just checked listing on the Microsoft Store and it looks like they've updated the listing to reflect that. At the time of writing, they never mentioned this, but it's now clearly advertised when pre-ordering! No need to worry!

I called my local GameStop yesterday asking about the SteelBook and they said they were already out, how does that work?

Oh! You just reminded me... I need to run up to Gamestop and get my Doom beta invite code!

Have you tried another GameStop nearby? Or has their entire stock depleted?

I don't know if it's still the case but if you pre-ordered the game on Amazon and you have Prime it was only $48

When did Microsoftstore start selling digital codes? This has been a huge complaint of mine since... forever. xbox rewards gives $15 rebate on pre-orders, but I am digital only, so was never able to take advantage of this. Not anymore... ordered!

I think Microsoft is really pushing digital with Quantum Break, with so many retailers stocking codes for digital versions. So many benefits for going digital, which makes physical discs look massively inferior.

Preordered the SE console bundle. Looking foward to playing this!

is the book just a rewrite of the games story? usually I don't like game books unless they cover story elements not related to the games main plot.
Windows Central Newsletter
Get the best of Windows Central in in your inbox, every day!
Thank you for signing up to Windows Central. You will receive a verification email shortly.
There was a problem. Please refresh the page and try again.