Best Independent Games for your Windows Phones
Windows Phone Central's round-up of the best independent games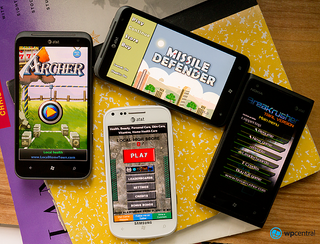 Well.... we've taken a look at the best camera apps, best must have games, best must have apps, best free games and best weather apps for your Windows Phones. Now we turn our sights the independent game developer for the Windows Phone platform.
They make code from their basement office or from a start-up company but some of these games can give the larger software companies (EA, Microsoft, etc.) a run for their money. We've rounded up a handful of games from the Marketplace's independent developers that we have found to be entertaining, fun, well presented and a worthy addition to anyone's Windows Phone gaming library.
Breakrusher (trial/$.99): Breakrusher is a Breakout (opens in new tab) styled game where your paddle is raised and can be moved anywhere on the screen (you don't have to wait for the ball to come to you). The blocks slowly work their way to the bottom of the screen and there are plenty of bonus items (25) to earn along the way. If things get hairy, you can also destroy the blocks by hitting them with your paddle. There are 30 levels spanning four game modes and 30 unlockable bonus stages for plenty of gaming.
There is a free trial version available with the full version running $.99. You can find Breakrusher here at (opens in new tab) the Windows Phone Marketplace.
Archer (free): Archer is, as you would guess, an archery game that is simple, fun and well animated. The multi-level game has you shooting a bow and arrow to see how many points you can score in twenty seconds. Score extra time by hitting the bulls-eye and there is a Play vs. mode for a pass and play game amongst friends.
Archer is a free, ad supported game for your Windows Phone that you can grab here (opens in new tab) at the Windows Phone Marketplace.
MissileDefender (trial/$.99): MissileDefender is a nicely drawn out Missile Command (opens in new tab) styled game. You defend your city against alien missiles by shooting your own missiles to take them out before they can do any damage. Upgrade/Repair points can be earned to upgrade your defensive weapons or repair damaged buildings. MissileDefender is a multi-level game that starts out slow but quickly picks up speed and can be really challenging.
There is a free trial version available for MissileDefender with the full version running $.99. You can find MissileDefender here at the (opens in new tab) Windows Phone Marketplace.
Juice Factory (Free): Juice Factory has been on the Windows Phone Marketplace for a little over a year and may qualify as a classic Windows Phone game. While the game has been around for a while, Juice Factory remains a challenging and entertaining game for your Windows Phone.
Your job is to throw your meat cleaver around, slicing up fruit for the Juice Factory. You have a limited number of cleavers per level and you have to slice a certain percentage of fruit before you can advance to the next level. There are over 180 levels of play to Juice Factory so you won't run out of challenges any time soon.
Juice Factory is a free, ad-supported game that you can find here (opens in new tab) at the Windows Phone Marketplace.
Bike Mania (free): Bike Mania first hit our radar when our own Jay Bennett recommended it during one of our Windows Phone Central podcasts. Bike Mania is a motor cross game that calls upon you to navigate your bike over various obstacles and making it to the finish line without crashing. Sounds simple, right?
The challenge is keeping your balance and speed up because your racing for the best time possible. The free version has ten levels of racing action and the full version has eighty levels. Throw in real-time weather effects, nice graphics, and challenging race courses and Bike Mania is a fun game to pass the time with.
You can find Bike Mania Free here at (opens in new tab) the Windows Phone Marketplace and Bike Mania ($.99) here at (opens in new tab) the Marketplace.
AlphaJax (free/trial/$2.99): AlphaJax is an online, turn based game of scrabble that is feature rich, fun to play, and just an overall nice game for your Windows Phone. You can challenge your friends to a game, let AlphaJax tap an similarly ranked opponent for you or you can Tweet out a challenge.
The game itself is pretty much a straight forward game of scrabble where you have to build words from existing words on the game board using a selection of letter tiles. The game ends when all the tiles are exhausted and the winner is the player with the most points. You can take screen shots of the game, chat with your opponent, and battle for top ranking in the various leaderboards.
There are two versions available for AlphaJax. AlphaJax Free is an ad-supported version and AlphaJax is an ad-free version that is running $2.99 (trial version available). You can find AlphaJax Free here (opens in new tab) and AlphaJax here at (opens in new tab) the Windows Phone Marketplace.
Impossible Shoota (free): When you bring up independent developers Elbert Perez has to be in the discussion. With fifteen Windows Phone gaming titles and hundreds of thousands of downloads, Perez is one of many independent Windows Phone developer success stories.
While all of his games are entertaining and challenging, we had to pick one and that was Impossible Shoota. The space themed arcade game is about as fast paced as a Windows Phone can get. You face twenty-five different enemy ships that you have to shoot your way through. As you progress through the levels of play, the swarms of enemy ships becomes more intense and if you blink twice, they've taken out your ship.
Impossible Shoota is a free, ad-supported game that you can grab here at (opens in new tab) the Windows Phone Marketplace.
ARMED! (trial/$1.99): ARMED! is a turn-based, multiplayer, sci-fi strategy game for your Windows Phone. It may have the best gaming graphics available that matches up nicely with game play that is challenging and entertaining. You have three game modes where you can play against opponents online, play head to head with friends in a pass/play mode, or challenge the AI in a single player mode.
ARMED! includes five gaming maps, twelve offensive and defensive units and fifty upgrades and special attacks to keep things interesting. Add Scoreloop integration and ARMED! becomes a very nice gaming package for your Windows Phone.
There is a free trial available for ARMED! with the full version running $1.99. You can find ARMED! here at (opens in new tab) the Windows Phone Marketplace.
So there you have it, a handful of recommendations on Windows Phone games from our independent developer community. As with any of our "best of" lists, if a title doesn't make the cut it shouldn't reflect poorly on that app or game. The Windows Phone Marketplace is full of quality games from our independent developers such as Rainbow Rapture, Logorama, Line Runner and Shuriken Ninja. To list them all would be create a post that would rival War and Peace in size.
That's where you guys and gals come into play. If we've missed an independent title worthy of a recommendation, sound off in the comments.
Get the Windows Central Newsletter
All the latest news, reviews, and guides for Windows and Xbox diehards.
George is the Reviews Editor at Windows Central, concentrating on Windows 10 PC and Mobile apps. He's been a supporter of the platform since the days of Windows CE and uses his current Windows 10 Mobile phone daily to keep up with life and enjoy a game during down time.
Finaly some indie love.
wpcentral thank you !

And yet you don't even highlight a fantastic TD game like Hexage's Radiant Defense!
Find it here: http://www.windowsphone.com/en-us/apps/ab93968f-ce5d-403b-84aa-f36847290ec5

Can't cover them all ;-) We'll be featuring that game soon, I've been playing it extensively There are lots of really good tower-defense games on Windows Phone

YES! Please do ... The game looks like something I would buy... Love tower defense games.

geoDefense rule them all though...

yes!! awesome game. pretty much all hexage games are awesome, there should be a post just dedicated to showing them all together. my faves: Evac, Radiant Defense, Radiant, Totemo.

Some great titles and a few I find pretty average. My opinion is that if you want to make a game around a simple or widespread concept, you better kill with the graphics and execution. I reckon a few on this list are just ordinary takes with nothing too special, especially in comparison to other platforms.
I'd personally throw in Dragon's Blade, Grow, Minicraft and Survivalcraft.

Hey they might be ordinary to you but to others they are enjoyable games. Personally I do not worry about what games other platforms have....This platform has enough good games to keep me satisfied. At least until the other big name (cross platform) titles get ported over.

Fair enough, but then I remind myself that "Penguin" was a top free game for ages and it was just a severely gimped version of Tiny Wings. Nothing wrong with something rather imperfect being enjoyable.

Check out this app http://windowsphone.com/s?appid=f226a7ae-e075-4bc9-bd1f-01f92c645e22 "Undead Carnage: Re..." is one of thousands of great apps for Windows Phone. See more at WindowsPhone.com! this the bomb.......

If you have time to waste try this one http://windowsphone.com/s?appid=ab92341c-5f98-48b7-959a-4b30833f09ce

When did this become "Developers, spam your apps" haha. Sorry, that game doesn't really look like something that would make a Top 10 list.

Taptitude. Simplistic but draws you in and keeps you coming back. I play games for achievements, most of the reason I even bought my phone yet I find myself wasting more time in that game not earning ANY achievements than anything else.

To it's credit, Taptitude's high score and in game currency keeps you in like any achievements do :D

ARMED! is showing as $3.99 on the marketplace now :(

Just bad timing... the $1.99 special for ARMED! ended just this morning. Still the trial version has unlimited free play including multiplayer... give it a try.

If you haven't seen it you should try "A Beanstalk Tale" it's a fun game.

Armed is £2.99, would've purchased at cheaper price

The $1.99 special for ARMED! ended just this morning. Give the trial version a try.... it has unlimited free play including multiplayer.

These are the exact type of indie games I want to promote with my App promotion business. Great list.

Send weather app to the news weather people has they will get scared of loose there jobs. Hahaha no need listen to them while I have my weather app

So many great indi games on Windows Phone! My personal favorite is MonsterUp haha.. So fun and addictive.

Its amazing to see how many indie games are up the top of the marketplace!!

Add Majesty, Square Off, Radiant Defense, Babylonian Twins, and Bouncy Mouse to the list. All very well done quality apps, though Bouncy Mouse has never been updated as promised. The dev may have abandoned the windows phone platform? Someone should contact that developer. Majesty is an amazing game that I hope gets reviewed here one day. Not exclusive to WP, but still great.