Best 'New and Rising' Games for Windows 10
The Windows Store has plenty of collections to browse through, and if you are looking for the latest in gaming, the New and Rising collection is where you want to go.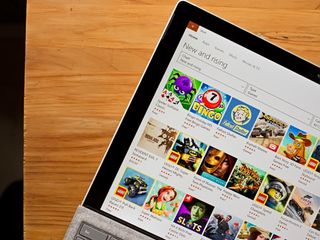 This collection of Windows 10 games is filled with relatively new releases that have spiked in popularity. The collection often includes a broad range of titles that include city builders, puzzle games, fantasy adventure games, and more.
Keep in mind that we are focusing on the top five listings in the Store's New and Rising collection. This collection is subject to changing daily as popularity rises and lowers with these games. With that being said, let's take a look to see which titles made the cut as the best new and rising games for Windows 10.
Gigantic
Why you can trust Windows Central Our expert reviewers spend hours testing and comparing products and services so you can choose the best for you. Find out more about how we test.
Gigantic is a third-person shooter in which you fight alongside and against Guardians in epic six-versus-six battles. The strategic shooter has been in a public Beta for some time now and is expected to see a full release in July of 2017 as an Xbox Live title.
The Multiplayer Online Battle Arena (MOBA) game sports stunning graphics, fast-paced action and addictive gameplay. Team play offers a wildly diverse roster of heroes to choose from, each with a variety of skills and weapon specialties.
Gigantic is available for both Windows 10 PC and Xbox One as a free gaming title with an optional Founder's Pack that is currently priced at $30. It's a visually stunning, action-packed game. Please note that Gigantic has minimum system requirements that may not allow this game to run on Windows 10 devices with less than 6GB of RAM.
Phantom Dust
Phantom Dust is a free blend of third-person combat and collectable card games. The Windows 10 game was recently rereleased with full Xbox Live support and for Windows 10 PC and Xbox One.
You play the role of an "Esper" who has the ability to manipulate dust that has choked the life out of Earth. The origins of this destruction is a mystery and you must venture into a series of ruins to discover the truth behind the planet's destruction.
Your skills and abilities are based on cards in your collection (there are over 300 of them) that allow you to build an arsenal of powers to take into the battle arena. Powers include orbital particle cannons, flaming swords, ice barriers, cloaking, attack reflection and more. Cards can be combined to offer a limitless combination of powers.
Phantom Dust has both solo and multiplayer modes to keep you busy competing in the intense battle arenas. Solo play includes over 15 hours of content through an immersive storyline. Multiplayer games have cross-platform support for up to four players in a variety of match types.
The game has already seen a few updates to add features and enhance performance since its rerelease about a month ago, adding to Phantom Dust's appeal. If you've battled it out in Phantom Dust, let us know what you think of things in the comments.
Download from the Windows Store (opens in new tab)
Iron Blade: Medieval Legends
Iron Blade: Medieval Legends is a free wonderful blend of arcade and role-playing games that has you traveling through Medieval Europe, seeking out an evil Lord and his minions. You join forces with the Templar Knights to defeat this threat to mankind, earning legions of treasure and gear along the way.
Iron Blade has three game modes that include the main storyline campaign, a fortress mode for player versus player action and an events mode that has time-sensitive challenges. Gameplay takes an arcade approach to battles, with character advancement in the battle arena being automatic, allowing you to concentrate on controlling the strikes, slashes and other deadly attacks.
As you advance in the game, character experience unlocks and improves skills, and gear becomes available that can be upgraded to enhance your attacks and defenses.
Graphics are top-notch with plenty of bone crushing detail. Gameplay has a healthy difficulty level, often requiring you to take on multiple enemies at once or a super tough boss. Iron Blade is a free game, available for Windows 10 PC. Just be careful though, Iron Blade is an addictive game that makes it easy to lose track of time.
Download from the Windows Store (opens in new tab)
Blackjack Professional
Blackjack Professional is a Windows 10 game that highlights the card game blackjack. The free game is available for Windows 10 PC and Mobile, as well as Windows Holographic.
Blackjack Professional sports colorful graphics, lively animations and a dealer than can be tough to beat. The Windows 10 game includes eight chip styles and 12 card styles that can be unlocked with your earnings to offer a bit of customization.
Blackjack Professional is single-player only with six themed rooms available. The rooms are progressively unlocked as you advance in gaming experience and include rooms such as Riverboat Blackjack, Diamond Club and Highroller's Table.
Gameplay follows the traditional rules of blackjack with options to split, double down, make side bets, buy insurance, hit and stand. There are two mini-games available to earn extra chips that include a scratch-and-win game and wheel of fortune. Additionally, there are several achievements to pursue that can earn you bonus chips.
Blackjack Professional is not the most complicated game in the Windows Store, but it offers a casual gaming experience that can help you unwind at the end of the day or if you need a little help passing the time.
Download from the Windows Store (opens in new tab)
City Mania
City Mania is a relatively new game from Gameloft that delivers a SimCity style of gaming to Windows 10.
Available for Windows 10 PC and Mobile, the free game sports colorful graphics and challenging gameplay that requires you to build, expand and manage your city. You can craft hundreds of buildings in your city and expand it from a quiet village to a bustling metropolis. You also have plenty of famous landmarks to add to your city skyline such as the Eiffel Tower, Tower of London, Tower of Pisa and more.
What helps set City Mania apart from other city building games is the ability to merge buildings together to create bigger, better structures and the cartoon characters that help optimize your city's performance. There are over 70 cartoon characters available that can be assigned to help run your city, such as firefighters to enhance fire protection, foresters to improve lumber yard production, and foremen to enhance industrial output.
There is a social aspect to City Mania with the ability to visit other gamer's cities and become inspired by their designs. While the Windows Store has plenty of city building games to choose from, City Mania stands out from the pack and is a great time-consuming game to give a try.
Download from the Windows Store (opens in new tab)
If you've tried any of these Windows 10 games, let us know what you think in the comments. There are plenty more quality and fun games in the New and Rising collection, and if we overlooked your favorite new Windows 10 game, feel free to toss out a recommendation in the comments as well!
Updated June 29, 2017: We made a few updates to this article based on changes to the New and Rising collection. This is a snapshot of the top games in the collection. The rankings within the collection could have changed since posting, but these games remain popular choices among Windows 10 gamers.
Windows Central Newsletter
Get the best of Windows Central in your inbox, every day!
George is the Reviews Editor at Windows Central, concentrating on Windows 10 PC and Mobile apps. He's been a supporter of the platform since the days of Windows CE and uses his current Windows 10 Mobile phone daily to keep up with life and enjoy a game during down time.
All games are Awful, I want to play high graphics games with free movement in mobile.. Yes it sounds a bit awkward but...

I want 10 Million dollars, free food for all and no more war in the world... Be realistic please... Have a look at continuum gaming channel on youtube. There are good games available... But in the end good games are not about good graphics but about good stories, game dynamics and leveling. Graphics are nice for the first 5 minutes and than they do no longer count much...

Don't forgert World Peace

Try out Leos Fortune for free movement and high graphics.

Does Asphalt xtreme work with Continuum?

i woud like all age of empires game's in Windows 10

isnt a freemium available i think its call castle crash but i hear its not much age of empire

It's just a tower defence game.

Hahaha and i thought you were talking about good proper games jot mobile phone chepos.

I cant stop playing Emoji Blitz!!

Spider Solitaire is my favorite time-waster, but also love Battle Monkeys! both on phone of course, have way more important things to do on my PC (:

does it start with a P and end with an orn?

LOL, oh man, you just made my day with that!!!

I'm not big on match 3 games but love disney emoji for some reason haha. Part of the fun is collecting the emoji and using all their powers.

Will definitely going to download & play John strike & asphalt 8 extreme

Gimme Five https://www.windowscentral.com/e?link=https2F%2Fclick.linksynergy.co...

Hello, my name is Anastasios from software company Imperial Dynamics. Please consider mentioning our Minecraft/Terraria inspired game Outlander also. It is available for both Windows 10 and Windows 10 Mobile. Also do a review of the game. It is available exclusively on Windows (no iOS/Android ports). Here is the link: https://www.microsoft.com/en-us/store/p/outlander/9wzdncrfhxx8

Are they any new games coming to the Windows Mobile 10 store? Since they removed the new and rising games feature from the store, you can't tell if WM10 ever gets any new games.

I believe all of these are on W10M as well.