Best Platformer Games for Windows 10 Mobile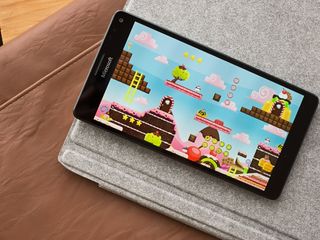 The Windows Store is full of entertaining games to pass the time with and platformers have been a staple source of time wasting fun since the early days of video gaming. These games require you to navigate around a series of platforms where you have to contend with a host of dangers. Along the way, you have treasures, power-ups and other trinkets to collect.
Platformers test your skills at timing, strategy and reaction. Being available for Windows 10 Mobile they can be addictive time wasters for just about anywhere. The Windows Store is packed full of platformer games and while it was difficult to narrow things down to just a handful of games, we have tapped a few as the best the Store has to offer. Let's take a look at the best platformers for Windows 10 Mobile.
Mimpi
Why you can trust Windows Central Our expert reviewers spend hours testing and comparing products and services so you can choose the best for you. Find out more about how we test.
Mimpi is a colorful platformer for Windows 10 Mobile where you must help Mimpi the dog find his master. Gameplay is a mixture of platform navigation and puzzle solving. The free game has eight diverse worlds that provide moving plenty of challenges.
You collect bones and paperclips for points and to unlock character skins to give the game bit of customization. On-screen controls handle Mimpi's movement and there are plenty of variables that come into play that delivers a puzzle element to the game. For example, clouds can be shifted around to create a platform for Mimpi to land on and navigate across larger gaps in the platform.
Progress is saved periodically at fire hydrants throughout the game; should Mimpi miss a jump and fall to his fate, he returns to the last fire hydrant, avoiding having to start the level from scratch.
Mimpi is a wonderfully animated Windows 10 Mobile game. There's not a lot of dialog between levels, allowing you to concentrate and enjoy the game. Overall, Mimpi is a fun option when you need a little help passing the time.
Download Mimpi from the Windows Store
Mush
Mush is a wonderfully drawn up platformer for Windows 10 Mobile where you help a furry little creature find his friends in a game of hide and seek. Controls are a mix of screen gestures and utilizing your tilt sensors to move Mush around a forest maze.
The gestures and tilt movements alter Mush's mood and in turn control his actions. There are 12 emotions to unlock and learn, such as drawing a smile on the display to make Mush happy. When Mush is happy, he floats, which can come in handy when you need help moving up trees or cliffs.
Along with using Mush's emotions to help you navigate the platform maze, there are plenty of items at Mush's disposal to help get around. For example, boulders seem to heavily populate the early stages of the game that can be rolled over gaps or snakes that cause Mush to jump extremely high and in the process jumping to an elevated section of the platform.
This Xbox-enabled game has a free trial, with the full version of Mush currently priced at $2.99. The artwork reminds me of the "Where the Wild Things Are' children's books, full of color and simply looks good. Gameplay has a simple feel, but it doesn't take long to realize this Windows 10 Mobile game requires a little thought and strategy for success.
Download Mush from the Windows Store
Lep's World 3
While there isn't an official version of Super Mario Brother's in the Windows Store, we do have the Lep's World series of Windows 10 Mobile games. Think of Lep's World as Super Mario Brothers, but instead of a plumber you race around the various platform levels as a Leprechaun.
Lep's World 3 provides you with a series of on-screen controls to handle movement and jumps. The game includes 120 levels of play where you traverse each platform level to reach a rainbow and eventually free your fellow Leprechauns that have been kidnapped by angry trolls.
Lep's World 3 has plenty of monsters to avoid and jump on to defeat, tons of gold to collect and magic pine cones that can be used to defeat your enemies with. As you progress in the game, additional characters become available for gameplay.
Graphics are colorful and gameplay has plenty of challenges. While it's not difficult to spot the inspiration from the classic platformer, Lep's World 3 does an excellent job of paying tribute to the Nintendo title. It is a free game, available for Windows 10 Mobile and an addictive time waster.
Download Lep's World 3 from the Windows Store
Jetpack Joyride
Jetpack Joyride is an infinite runner game for Windows 10 Mobile where you guide Barry Steakfries, a loveable hero, through an endless gauntlet of dangers. Barry must break into an experimental laboratory to find and commandeer experimental jetpacks from the grasp of evil scientists.
Barry is already equipped with a jetpack (fitted with a machine gun) and to lift him off the ground, tap the screen. The more you tap, the higher Barry flies. Additionally, as you activate the jetpack, a machine gun fires down on minion scientists. The goal is simple, help Barry travel as far as possible before he bites the dust.
Dangers include electricity fields, missiles and laser beams. Coins are scattered throughout the game that can be collected and used to upgrade or unlock gear that can help Barry survive. There is also a boatload of power-ups scattered around the game that can give Barry a boost, such as a Harley Motorbike or an Angry Bird-like plane.
While Jetpack Joyride may be considered a classic, it is a classic that is still a blast to play. The free Xbox game for Windows 10 has colorful and detailed graphics, addictive gameplay and plenty of platform challenges. If you haven't given Jetpack Joyride a try, you are missing out on a great game to spend a little downtime with.
Download Jetpack Joyride from the Windows Store
Grimbo
There are plenty of beautifully animated platformer games in the Windows Store, and Grimbo ranks up towards the top of the list. The award-winning game was first released as an exclusive for Windows Phone 8 and remains a popular platform game for Windows 10 Mobile.
The game has you guiding Grimbo the Grim Reaper through a magical adventure across ten worlds. You battle a broad range of enemies, collect floating coins and navigate across a maze of obstacles. Obstacles such as gaps to jump and teetering bridges to cross.
Controls consist of an on-screen joystick for movement, a button for fighting and simply tap the screen to have Grimbo jump. When you are attacking an enemy, if Grimbo gets a running start his initial attack is more powerful. Otherwise, you face a toe-to-toe fight that can be tough to win.
While easily one of the more picturesque platformer games, Grimbo does not lack in difficulty. Timing is the key to success whether you are jumping across suspended boulders or battling an ogre. Grimbo is a free game, available for Windows 10 Mobile and overall, it is an addictive, challenging game to spend a little down time with.
Download Grimbo from the Windows Store
If you have given any of these games a try, let us know what you think of things in the comments. Again, it was tough trying to narrow things down to just a handful of games and there are plenty more quality platformer games in the Windows Store. If we have overlooked your favorite platformer for Windows 10, please share your recommendation in the comments as well!
Get the Windows Central Newsletter
All the latest news, reviews, and guides for Windows and Xbox diehards.
George is the Reviews Editor at Windows Central, concentrating on Windows 10 PC and Mobile apps. He's been a supporter of the platform since the days of Windows CE and uses his current Windows 10 Mobile phone daily to keep up with life and enjoy a game during down time.