Best Room-Scale Games for Oculus Rift
What are the best room-scale games on Rift?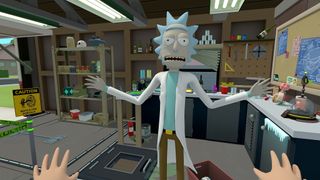 Now that room-scale Rifting is officially supported by Oculus with runtime version 1.15, many people are wondering what games they should play first in their VR space. To answer that question, here are the best Rift games that have room-scale support.
Arizona Sunshine
Why you can trust Windows Central Our expert reviewers spend hours testing and comparing products and services so you can choose the best for you. Find out more about how we test.
Arizona Sunshine takes place following an apocalypse that, you guessed it, turned everyone into zombies. Well, almost everyone. After you hear a voice over your radio, you set out into the harsh climate in search of other survivors.
With a wide selection of guns, great voice acting, and crisp graphics, this is one of the best shooters that lets you take advantage of your entire VR space. Get it for about $40 (opens in new tab) on Oculus!
See at Oculus (opens in new tab)
Rick and Morty: Virtual Rick-ality
If you're a fan of Rick and Morty, this Virtual Rick-ality game will be right up your alley. You're a Morty clone who gets to tinker around in the workshop garage and plenty of alien worlds; solve puzzles, collect goodies, or just mess around to your heart's content.
Equal parts hilarity and insanity, Virtual Rick-ality is a true homage to everyone's favorite comic duo for about $30.00 (opens in new tab) on the Oculus Store.
See at Oculus (opens in new tab)
Raw Data
Another shooter geared for room-scale action, Raw Data is as gorgeous as it is frantic. Take a deep dive into Eden Corp. to find out just what exactly is going on their research and development departments, and, in the process, eliminate a few hundred robots hellbent on murdering you.
If you like a workout while you play and you don't mind some online co-op action thrown in there at the same time, this is one for you for only $39.99! (opens in new tab)
See at Oculus (opens in new tab)
Rec Room
Not only does Rec Room have a bunch of multiplayer games, including paintball, frisbee golf, dodgeball, 3D charades, and paddle ball, it is completely free for everyone. This online multiplayer game lets you meet friends in a lobby before embarking on an adventure.
Bump fists with other players to add friends, customize your avatar with a ton of outfits and makeup, and discover a whole new online world where you can compete against friendly people for FREE!
See at Oculus (opens in new tab)
Job Simulator
Working in real life is rarely fun, but working in VR is a blast with Job Simulator. Fill orders as a cook, change tires as a car mechanic, toss staplers around and deal with HR as an office clerk, and ring customers through the checkout as a store clerk. This is hardly scratching the surface; you'll have to try it yourself to discover all the magic within. Great for all ages, grab Job Simulator for a lot of humor and not a lot of hard work.
Find it for $19.99 (opens in new tab) on the Oculus Store!
See at Oculus (opens in new tab)
Space Pirate Trainer
With retro graphics and a booming soundtrack, Space Pirate Trainer will hit a sweet spot for anyone who longs for those old days of arcade glory. Your spaceship is docked on a small platform, and droids seem to be out to kill you. You have two pistols with multiple firing modes to fend them off, plus you can switch them out any time for shields.
Another first-person shooter that takes full advantage of your entire VR space, Space Pirate Trainer will have you ducking and dodging incoming shots just as much as you'll be firing back for only $14.99 (opens in new tab) on the Oculus Store!
See at Oculus (opens in new tab)
Fantastic Contraption
If you're looking for something that puts your intelligence to the test, Fantastic Contraption is a real challenger. There is a wide variety of courses to traverse, but there's a catch; you have to build big contraptions from scratch and have them navigate to the finish line. When you run out of levels that come with the game, grab levels other players have created. Feel free to contribute to the ever-growing collection of puzzles with the simple creation tools built right into the game.
Find this for $19.99 (opens in new tab) on the Oculus Store!
See at Oculus (opens in new tab)
Onward
A lot of VR first-person shooters use the zombie or future tech trope to deliver an exciting experience, but not Onward. This is a hardcore military simulator that will test your patience just as much as it will test your aim. It might take you awhile to learn all the controls and to get a hang of the dual-controller aiming system, but the payoff is deeply rewarding. Play in a squad with your pals, and take advantage of your entire VR space as you crouch, lie prone, and peek corners to get an edge on the other team.
Onward is currently in Early Access for about $25 on Steam!
Senior Editor, Laptop Reviews
Cale Hunt is a Senior Editor at Windows Central. He focuses mainly on laptop reviews, news, and accessory coverage. He's been reviewing laptops and accessories full time since 2016, with hundreds of reviews published for Windows Central. He is an avid PC gamer and multi-platform user, and spends most of his time either tinkering with or writing about tech.
Windows Central Newsletter
Thank you for signing up to Windows Central. You will receive a verification email shortly.
There was a problem. Please refresh the page and try again.