A new Windows 8.1 RT update is due sometime in September, but details remain scarce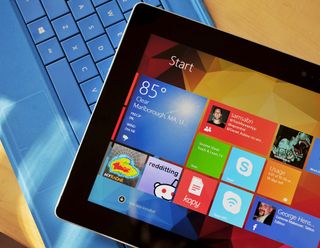 Microsoft has confirmed it plans to release a new update sometime in September for Windows 8.1 RT, the ARM-based OS that it launched for tablets like the Surface RT and Surface 2
Windows Insider head Gabriel Aul posted that tidbit of info on his Twitter feed, but details about what will be included in the update have yet to be revealed. In January, Microsoft confirmed that it it working on an update for the OS that will provide those users with "some of the functionality of Windows 10." Hopefully we will get more information on that front soon.
Source: Gabriel Aul (Twitter)
Probably just the tablet mode improvements from Windows 10..and a few UI tweaks. Oh and probably Circle profile pics too...

Tablet mode "improvements"? That hysterical.

Tablet mode is much better than Windows 8. The universal back button and the much more intuitive task switcher make it much more usable.

Currently I disagree and have not to date opted in for the update as a Surface Pro 3 user.

I guess it's just a matter of opinion. I've found myself using my HP Stream 7 more now that I finally put Windows 10 on it.

Yup, I've installed the TP on my Dell Venue 8, and going back to my Surface Pro 3, W8.1 feels a bit clunky, with some software on the desktop, some not, etc. I so hope that they bring more gesture to W10 tablet mode though.

I don't care how much intuitive task switcher is in windows 10, in Windows 8.1 is the fastest I've ever seen. Every task switcher for others OS I feel it so slow and ugly. But hey it's cool is just IMO, not an universal truth.

Have you tried multitasking? Then switching apps when your snapped?

The yeah switcher is NOT more intuitive. More easily discoverable, yes. But that's it.

I find the ability to see a mini version of the entire app as opposed to a micro window, plus the fact that a new app is just a click away as opposed to swiping right, then all the way left for no apparent reason THEN click the app you want are much more intuitive.

It's only "intuitive" because it's a clone of Android. I find the Windows 8 version much simpler. I can switch apps without lifting either hand. And you can view all active apps on a side pane anyway.

http://cdn5.howtogeek.com/wp-content/uploads/2015/07/img_559c11caae22c.jpg <- This also coincidentally September being the rumored month for WindowsMobile10 launch..

Exactly. If that's what's coming no thanks, I'll leave my RT on 8.1.

This kind of reminds me of Windows Phone 7 when all we got was the 7.8 software update. At least RT is still getting something though I guess.

I wouldn't assume anything good just yet. Personally, I'm disabling Windows Update just in case they are preparing to make RT now like 10.

Killing me. My Asus vivotab RT still rocks and is better than most of the new stuff out there. Reliable, fast and easy to use, plus great looking.

Nokia 2520 what a great Tablet! Thin and do most of the Daly basis stuff.

Yep, I have two. Use them for work.

Awesome tablet indeed and battery lasts forever. I bought one for 200€ to be my travel tablet while SP2 can stay home :) I hope universal W10 app support would be one of those W10 features they add.

Yup the battery life is like forever.

Yes I agree the 2520 is amazing and I would have loved to have one of those instead.

How is September "around the time of Windows 10?"

It's barely over a month from the time of Windows 10 GA.

Actually, September is one rumored time frame for the mobile version of win 10.

That's more like "Around the time of Windows 10 Mobile." Sounds like an IFA announcement.

Good news! Love my Surface2.

Cortana seems to be desktop based, so sadly I'd say no. Probably universal apps and Edge, together with the new store

Cortana is in essence is bing search evolved. Windows 8 has embedded search just like 10 so to get Cortana onto 8.1 RT wouldn't take much.

Sounds right, after all Cortana is on WP.

Cortana from windows 10 mobile

Hope the update is robust - my other half's Surface 2 updated earlier via Windows Update and it blue screened after reboot. Had to refresh the tablet and install from backup. My Mrs was not impressed.

When you don't install from a clean state anything can happen. We always recommend when upgrading to a new O.S. that you wipe and install.

Lol Posted via the Windows Central App for Android

we nee to know, if universal windows 10 apps will work otherwise the surface2 is a dead platform :( ​

I never used RT before, but Microsoft needs to keep it alive for over the few millions that still use it, at least 5 years.

They promised support for 4 years from launch, I believe

A few million people have it?

Will the Dell XPS 10 also receive this update or is it just for Surface tablets running on RT?

I have a feeling that's what the update is. I doubt they're coding an entirely different OS from W10 for it, if it runs on 7-inch tablets I don't see why not a 10 inch Surface RT too.

I doubt it will be WM10 because they are calling it Windows 8.1 Update 3. My bet is it will still look exactly like Windows 8.1 but will support the universal app framework from Windows 10 and that's it. Good enough. Means Edge and the new Store and all new Microsoft apps will come to the RT.

Just need the ability to run Windows 10 universal applications.

I got the 2520 least they giving is sum things of Windows 10

I'll reserve judgment, but I , like several others, feel W10 is still a step back when it comes to touch interface. I prefer the independent search that can be snapped, the immersive iexplorer and the swipe navigation to name a few.

Finally some love for my 2520...

I can't understand why they can't just get Windows 10 mobile??

Exactly. I would like to know why they can't/won't just release W10M for all RT devices?

Because some people complain about everything,

That's not even an answer to his question.

Because I think they want you to buy the Surface 3.

It would incredible if they would put windows 10 mobile on rt devices. Then I would buy my dream tablet right now, the Nokia 2520!

For sure. I think we are in the minority though on this one. I too think it would be perfect. I do not like some tiny desktop on a small screen, it makes no sense to me.

Because Microsoft has decided that Windows Mobile will only be allowed on devices with screen sizes of 7" or less. I have no doubt that someone will find a work around for this but until then... As for me, as long as my Surface 2 can run Universal Office, gain the new settings updates, and get Edge, I am satisfied. I plan on replacing it with an LTE version of the Surface 3 anyway.

"titbit" or " tidbit"? I know which I prefer...

I hope they only make it run Universal Windows Apps. Other then that Win 8.1 is miles better than Win10 on a tablet

This is why I keep asking if Microsoft ever said anything about old phone or windows 8/8.1 apps being able to run in a layer on Win10. Without this, they can't really update the surface RT to Win10 because of potential app incompatibilities running both ways.

Hopefully we can simply reject any Windows 10 Tablet 'update', as Windows 8.1 remains the superior Tablet user experience.

My 2520 is waiting like a virgin waiting for his honeymoon. Posted via the Windows Central App for Android

The 2520 is a underrated device, it is much better than an iPad Air 2 or a Samsung Galaxy Note Pro 12.2, here is why 1) You have full desktop browser. Means you can do real multitasking and get music listening on 1 browser tab while keep using your device for other stuff. Try opening Spotify iOS or Android versions without a subscription and it's random song mode really dissapoints me. On Nokia 2520 you go to the web Spotify app and it works great without a subscription. 2) You have multiple monitor support. MHL is much more limited and/or Miracast/Air play are much laggier than HDMI port you have on your 2520. Your device probably supports Quad HD graphics (2560x1440 or 3200x1800 ) on monitors that support that resolution. 3) You have drivers for the Xbox One controler, this is great for playing race games from the appstore on your large monitor or TV, no need to use your touch display as a controller which has been proved that it doesn't work for tablets, just for smartphones

And then comes the limitation from ARM Soc's which we all know. I'm selling my Surface 2 and buy a Surface Pro 3. Posted via the Windows Central App for Android with my Note 4.

Xbox One controller drivers?

I hope they bring Word Flow/Swype keyboard to the RT upgrade. I use it all the time on my 1520!

Mostly curious what happens to my office license on my Surface 2. Better not make me pay for office 365 license. I already allocated my 5 licenses

That's the big one I'm waiting to hear about. Will they screw us by getting rid of pre-installed office and force a subscription?

It just needs to be able to run the Windows 10 Universal apps so people can get a few more years out of the device

That, Action/Notification Center and Edge. Cortana would be icing on the cake, but considering how integrated it is, I highly doubt we'll see her on RT. Posted via the Windows Central App for Android

Access to win 10 store is a must. RT or not, tablets will play a role in getting developers on board. Or at least that is what I'm hoping.

I hope photos app will get updated. The current one shows tiny thumbnails with huge black borders when browsing photos from OneDrive. Earlier they were full screen. Now I have to make photos available offline to see them full screen :/

Hopefully this includes an update for crippled touchscreens on Surface 2 devices!!!!! So fed up of waiting to get touch capability back.

Running windows 10 apps is the most important thing to include in the update. Anything with the interface is extra Imo.

Universal app, Cortana, and Edge is all I need.

I really dont understand why 10 cant be installed on an RT device. We know that 10 is compliled ror ARM devices. No biggie to me, my father in-law is rocking my RT1 and he wont care. But i just dont get it.

I think it is two things: 1) they will have to spend engineering Tim that is better spent on other version of windows, and 2) it will continue the confusion that was created with RT in the first place. So they decided to pull of what they did with wp7 and cut it. If they include the ability to run win 10 apps, I think this decision was really good for everybody (even RT users in general as they will get a more polished windows 10 on their desktop/tablet).

Also I think they hope you will buy a Surface 3.

Hang on my tablet runs on RT but on the desktop its showing me I'm ready for windows 10 when its available... so what's that mean?

Strange hahahahaha Posted via the Windows Central App for Android with my Note 4.

Why would it be so hard to put windows phone on these things

I have to admit I'm one of the folks who went out and bought the Nokia 2025 from the MS store Verizon model. .i got what I paid for. Looking at email surfing the net in family room. Honestly it's a dog.. I love the style of it but R/T to me is a big dog. Going into it, I knew it wasn't going to be Stella. I just didn't think it would have been this doggy in performance.from now on it's straight OS for me.

Windows RT is so forgotten that even Windows Central is using stock images with Sam Sabri on it. lol.

cant they simply put windows 10 mobile on arm tablets? it would be like running continuum all the time, w10 mobile can scale perfectly for tablets afaik, and then there would be no reason to drop arm tablets at all since they would be 10" phones BUT in windows terms that means having a proper big screen UI/UX OS wide and with most apps being desktop class at such sizes, having an intel tablet for me means having 5h less battery endurance and nothing else

I've been asking this for months. Bringing "some" Windows 10 features to Windows RT has got to be so much more work than just making sure that Windows 10 mobile would run on existing RT devices. I'm perplexed about this one.

Thats the most painful topic. I mean, tables are not as disposable today as, say, smartphones. So it hurts me having so lil' future to my Surface 2... It was expensive, hard to find and a dead end... In less than one year...

I'm surprised its not moving to the phone version ow W10 Posted via the Windows Central App for Android

I just hope it has cortana

I still hope somehow that they didn't show the update for RT as an update to Win10 or Win 10 Mobile as these are the versions for the future models.​ But the update they roll out will for sure only be for existing RT devices and they call it Win 10 mobile 10" edition - including Desktop. Basically just an RT version of Win 10 Mobile. ​ ​ ​ ​ ​

I think that Microsoft should prepare update for old RT devices - with Win10M version. So without Desktop because it is not needed since when touch Office is finished

I can live with that very well :).

I can confirm that Windows RT will get Cortana. You can see for yourself by looking at the registry :)

Never thought about that.

The most needed featrure Windows RT needs is to be able to use Microsoft's new Universal Apps because as they are made by developers or Microsoft they will run on a Windows RT Tablet meaning more useful things for a Windows Rt tablet to be enabled to do. I never felt Windows RT tablets were a total failure because at least 70 percent of the People who bought them say they work OK for them. Now that rating is not that of a failed product
Windows Central Newsletter
Get the best of Windows Central in in your inbox, every day!
Thank you for signing up to Windows Central. You will receive a verification email shortly.
There was a problem. Please refresh the page and try again.