Best Raspberry Pi 3 Accessories in 2022
Get your Raspberry Pi 3 kitted out with these essential accessories.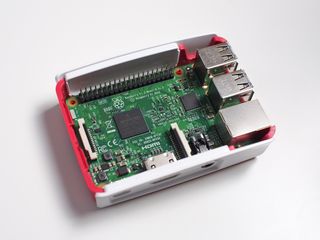 (Image credit: Windows Central)
The Raspberry Pi ecosystem by its very nature is incredibly wide-reaching, and there are a lot of additional bits and pieces you can get ahold of to enhance your experience. Equally, it can be pretty daunting when you're new and just want some basic accessories to help you along.
We're not going to dive too far into the maker rabbit hole, but if you're picking up a Raspberry Pi 3 for your Windows 10 IoT Core or any other project, here are some accessories you should check out.
Official Raspberry Pi 3 case
Why you can trust Windows Central Our expert reviewers spend hours testing and comparing products and services so you can choose the best for you. Find out more about how we test.
Just like for smartphones, there are hundreds of cases available for the Raspberry Pi 3. And also as with smartphones, they vary greatly in design and construction. For a good, all-purpose case you can't go wrong with the official Raspberry Pi offering.
The lid can be removed to expose the sweet Pi within. Likewise, the side panels can also come off. It provides easy access to every part of the Raspberry Pi while looking great and being very affordable at around $7.
See at Amazon (opens in new tab)
Raspberry Pi camera module V2
Need a camera for your Raspberry Pi project? No worries, there's an official add-on for that. The latest version of the official camera module has improved on its predecessor in a number of areas.
You're getting an 8MP Sony Exmor IMX219 Sensor that can shoot 1080p video at 30 frames per second. The sensor itself is capable of more, The Raspberry Pi isn't right now, but who knows what the future holds?
Aside from that, it's a fixed-focus affair, and you're recommended to be using at least a 2A power supply. Overall, it's a neat little module that's only $25 and very easy to use.
See at Amazon (opens in new tab)
LoveRPi Performance Heatsink
Under normal use cases, the processor on the Raspberry Pi 3 is fine without any form of additional cooling. But since overclocking is super simple, if you're considering going down that route you should add something like these heatsinks.
It's nothing fancy, but this pack of heatsinks is made from aluminum and has an adhesive, thermal backing. You simply stick it to the processor, and it'll help dissipate the heat. At $5 for a pair, it's a no-brainer.
See at Amazon (opens in new tab)
Western Digital PiDrive
Western Digital (WD) has made it both easy and affordable to add some serious GBs of mass storage to your Raspberry Pi 3. You get a slim HDD, as well as all the cables you need to get up and running, and even a microSD card preloaded with NOOBS for easy installation of your system software.
It's available in 250GB and 375GB forms, neither of which will run away with your wallet. The most expensive option currently costs $30.
WD also sells a couple of different enclosures for the PiDrive (opens in new tab) for around $11.
See at Western Digital (opens in new tab)
Pi-Top Ceed
It is one of the more extravagant Pi 3 accessories out there, but the Ceed from Pi-Top will turn your little circuit board into a mini desktop PC, with a particular focus on teaching folks how to code.
It's entirely modular, but the main attractions are the 14-inch HD display and the adjustable stand around the back to adjust it.
The Pi-Top Ceed comes with a custom software build preinstalled, but because it's Raspberry Pi you can change things up to suit your own tastes. Open it up, plug it in, attach your Raspberry Pi and away you go! It costs $150 but it also turns your Pi into a little desktop computer.
Rii i8 mini-keyboard
If your Raspberry Pi 3 use involves not sitting at it with a keyboard and mouse, but you still need some form of input method, this one is for you. The Rii i8 is a cheap wireless keyboard with an included touchpad that works entirely like a regular keyboard and mouse.
It's not something you'll be typing on for long periods, but it's great for something such as a Raspberry Pi Kodi box, when you're feet-up on the couch.
The rechargeable battery lasts an age, too, so you don't have to worry about plugging it in at night. All for around $15.
See at Amazon (opens in new tab)
CanaKit Raspberry Pi GPIO Breakout Board bundle
A big part of the Raspberry Pi community is using that little board to power weird and wonderful projects you make yourself. If you're new to the idea and it seems a little daunting, this bundle from CanaKit has some great accessories to help you out.
With wires, a ribbon cable, a breadboard, a quick reference guide and even some LEDs, this little box of tricks can help you start expanding your Pi beyond just what's on the board.
At around $15 it's a great place for beginners to start.
See at Amazon (opens in new tab)
Raspberry Pi touchscreen
Displays for the Raspberry Pi are common, but they're also far from all being equal. The official Raspberry Pi display is a great choice if you're looking for a touchscreen in particular.
At $75 it's fairly pricey, and the 800 x 480 resolution won't set anyone's pants on fire, but it's a seven-incher, and importantly it's a multitouch display with 10 point touch.
See at Amazon (opens in new tab)
Pi Sense Hat
The Sense Hat adds a ton of functionality to your Raspberry Pi projects. It hooks up over the GPIO port and has a magnetometer, humidity and temperature sensor, accelerometer, barometer, 8x8 LED matrix and support for a 5-button joystick if you're making a gaming related contraption.
It'll also sit nicely within the official Raspberry Pi 3 case, and for under $40 you're adding a whole lot to your Raspberry Pi.
See at Amazon (opens in new tab)
HiFiBerry DAC+
If you're building something home-entertainment related, you probably want good audio. The Raspberry Pi 3 can be used with an add-on like this HiFiBerry DAC to give you true high quality audio.
This model has twin RCA jacks, it slots onto the Pi without any need for soldering, and it is basically just plug-and-play. But most of all, it delivers 192kHz, 24bit quality audio for under $40.
See at Amazon (opens in new tab)
Tell us how you Pi
The accessories listed here are only a taste of the wide world of Raspberry Pi, and there's so much out there. If you've got a particular favorite accessory, share it with us all in the comments below.
Updated April 10, 2018: If you're building something with Rasberry Pi, you'll want great audio for, so we added a great Raspberry Pi DAC to our roundup.
Richard Devine is an Editor at Windows Central. A former Project Manager and long-term tech addict, he joined Mobile Nations in 2011 and has been found on Android Central and iMore as well as Windows Central. Currently you'll find him covering all manner of PC hardware and gaming, and you can follow him on Twitter and Instagram.
The Raspberry 3 has built in WiFi, so the dongle is useless...

Even better - the dongle isn't compatible with Windows IoT. I have a RPi 2 and that dongle, had to buy a new one to be able to connect to it with Win IoT installed.

Pi3 has built in wifi and built in bluetooth. No dongles required. The one you suggest is a waste of money.

The Edimax was great for the Pi2

Agreed, for the Pi2. My comment was based on its recommendation for the Pi3 since it comes with extremely capable wifi built in.No dongles needed.

Indeed. Looks like three of us made the similar comments about the Pi3.

Great article but the Pi-3-b has integrated 802.11n, Bluetooth 4.1 (BLE) and by adding too many peripherals can cause power problems even with a 2amp power supply.

As other people have pointed out Pi3 already has wifi (802.11n)... making the suggestion of the dongle completely useless. This is really what bugs me about these "Best of..." articles that Windows Central has been posting. I've said it before that I totally get the need for new revenue streams and this is certainly a creative one. But the problem is, most of these seem to have ZERO research put into them and are nothing more than a list of top selling items from Amazon or the likes. When buying guides like these are posted, they're a tacit endorsement of the products by WC. When the buying guides are poorly (or not-at-all researched) and don't seem to be founded actual usage by the staff... Sorry but this does nothing but hurt the credibility of the Windows Central brand.

I see your point and really hope they aren't going down that road. I suspect some of these recommendations are based on previous articles, just refreshed for updated links or to replace "Pi 2" with "Pi 3".

I'm hoping things turn around myself. I mainly come back here out of habit, but I feel like we get way more of these types of "articles" than actual useful content. Anecdotal point - I recently left Windows Phone and switched to Android. Not thrilled about it, but given the state of WP/WM/W10 on phones... it is what it is. I figured I would go to Android Central for all my Android related news, but I guess because everyone is under this Mobile Nations umbrella they're all being pushed in the same direction and this kind of content appears over there too. Unlike with WC, however, because I just started visiting AC and have no built-up brand loyalty. As such, finding actual content in between those articles was just a pain and I never visit anymore. Get my Android news elsewhere. I suspect similar things may happen to this website if this kind of content keeps happening. This isn't the only Windows-related game in town. Even if you do a Google/Bing search for say "raspberry pi 3 buying guide," or "how to find in edge," or "how to change the [silly] default fonts in word," Windows Central doesn't show up at the top of the listing for any of these searches. So, the idea of putting out bulk content to drive searches doesn't seem to be working either for people that are "newbies," so you're still pushing this content to your existing base that I'd imagine doesn't have a use for this type of content. Perhaps their actual viewership metrics are telling them differently, so I could be wrong. Why does this really bother me so much? Because I've been coming to this site for a long time and have really enjoyed the content and effort put in by the staff over the years. It's disappointing to see things head down this road. In the past, I've always considered Windows Central (WPC/WME... etc, etc) to be the authority on this type of news. Lately, that feeling is certainly slipping, because I see more of this type of content and you find more actual news on other sites. Hell, maybe Mobile Nations is raking in the money hand over fist with this editorial direction and I'm completely wrong, but as a long time reader, I don't like the direction. Just throwing out some ideas, but why not just include an Amazon affiliate link on the main page in lieu of some of these guides? Also, what about a paid subscription service that filters out this type of content has some additional premium content and avoids those God-awful CPU and battery sucking ads? Seems to work for Thurrott. ... rant over...

I'm in a similar position. I switched away from Verizon when my Lumia died and they literally told me to leave if I wanted to use Windows, so I went to T-Mo but found the service lacking. Now I'm back on Verizon with an Android device (Moto Z Play) and like having access to all those missing apps, but still miss the Windows experience. I'm looking forward to whatever device Microsoft comes out with, so I can hopefully switch back. I still think Windows Central is tops for Windows/Microsoft news. I have plenty of other tech sites I follow, using their RSS feed in Firefox to simply view the title before going there. At least they haven't gotten into click-bait titles yet. "You won't believe the accessories we found for your Raspberry Pi 3!"

Sam boat as you. Recently switched to Android and I finally realized how much i have been depriving myself of in terms of apps, etc. I now have 2 new 4k tvs and a galaxy tab s2 tablet where I can watch whatever is on the tv on the tablet /phone irrespective of whether the tv is on/off and i watch whatever is on the tablet /phone on TV too (wifi direct) -- all of this is accomplished with 2 clicks. I can even control the whole the tv with Logitech Elite remote from any device running android. All that was near impossible on Windows phone. Instead of throwing thousands of $$ on Sonos, I picked up 5 google audio Chromecast pucks and 5 inexpensive small speakers and i now have whole house audio in addition to my existing 7.1 setup. All speakers / cc audio can be controlled by anyone on the network. Created zones and my +1 can be listening to different music in the kitchen and I can play different music in the bedroom. All of this is near impossible with Windows Phone without hacking some incomplete 3rd party app together. I miss Windows phone from the days of 7.0/7.1/7.5/8.0. I feel like a Syrian refugee who was abandoned by Microsoft incompetentencies in the mobile playing field. I finally opened my eyes and realized how much I've missed while hopelessly waiting for the next best windows phone. It'll take a lot to switch back to Windows Mobile in the future. I love my sp3 but it's mostly reserved for work and travel. As for media consumption and everything else, Android is where it's at. I can even control my Canon DSLR from my android device remotely or attach an 8"screen too it as a monitor during photoshoots or video recording. Like everyone else who switched, I mostly come here once every few weeks to read few articles. I used to live on this site 24/7 in the last few years but that changed once Microsoft abandoned ship.

I suspect you reused an old RPi2 article for this one, since you're recommending that Wifi dongle. And those heat sinks are cute, but not needed. What about power? The RPi3 recommends 2.5 amps, over the 2.0 amp recommendation that the 2 needed. Have you any recommendations for a decent power option?

Western Digital offers a 3A power solution for the Pi, which will also work in conjunction with the PiDrive add-on

This a great article. The wifi on the pi3 doesn't stay connected... Thus the USB works more stable than the onboard wifi. I have a pi3 I use for my AstroPrint for my 3d printer and it makes a difference of being online all the time vs interval burst to be connected. So this article is very accurate. WC is doing a great job on their articles.

I stripped out an old HP Pavilion desktop and stuck my Raspberry Pi B inside with all cables (HDMI, audio, Ethernet, power supply, external HDD/network drive) running out where the power supply used to be in the desktop case with wireless keyboard and mouse hooked up to my main TV and its handy, also set up remote desktop via my SP4 for ***** and giggles!!

Pay attention that the camera module doesn't work, with Windows 10 IOT, it was never implemented, as well as the graphic board (all animations are quite sluggish as they're rendered via software, not hardware). What a pity... A great OS leaved half unimplemented on rPI. Could be a high succes but... :(
Windows Central Newsletter
Thank you for signing up to Windows Central. You will receive a verification email shortly.
There was a problem. Please refresh the page and try again.