Best Alcatel Idol 4S Cases
What's the best case for Alcatel Idol 4S? Really, whatever's available!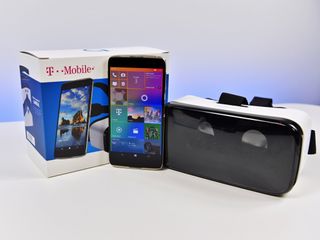 The Alcatel Idol 4S isn't exactly a full-on mainstream phone, and that's made rather apparent in the selection of cases available for it, or, rather, the lack of cases available for it.
That being said, the cases that are available will work just fine for you and your Idol 4S. Here's what's out there!
Incipio DualPro
Why you can trust Windows Central Our expert reviewers spend hours testing and comparing products and services so you can choose the best for you. Find out more about how we test.
Incipio makes great phone cases and it's really the only big case brand that's making cases for the Idol 4S.
The DualPro is a hard shell case, made from strong and durable polycarbonate, which protects your phone from bumps and scratches. The inside of the case is flexible TPE, which is soft and great for shock absorption in the event of a fall.
Incipio's DualPro cases come in black, gray, pink with gray accents, and rose gold with pink accents.
See at Amazon (opens in new tab)
Vinve flip case
Vinve's flip folio case is made of synthetic leather and is for those who want their Idol 4s to look sophisticated while being protected from scratches and dings.
The flip cover folds back into a convenient stand for hands-free viewing, and all the necessary ports and buttons are uncovered for easy access. The opening in the cover also lets you check the time and see if you have notifications without needing to open the case.
The interior lining is soft, so your Idol 4S won't get scratched up, and your phone is securely place by the snap-on shell inside.
See at Amazon (opens in new tab)
J&D Tech
J&D Tech's case for the Idol 4S is a slim and flexible TPU bumper, providing decent shock absorption in a fall.
Being so slim, this case won't add much bulk or weight to your Idol 4S, but it won't add a ton of rugged protection either.
The textured TPU won't feel slippery in your hands, so you won't feel like you're going to drop your phone every time you use it, and all the ports and buttons are left open so that you don't have to remove the case to charge your phone.
Comes in black, blue, or red.
See at Amazon (opens in new tab)
Mama Mouth PU leather wallet case
Mama Mouth's pleather wallet case is for folks who want their phone case to stand out, while also conveniently holding credit cards and a bit of cash, so they can ditch their wallets.
There are three slots for cards and ID and an inner pocket for a bit of cash, all held in by the flip cover and a magnetic closure. The PU leather is tear-resistant and will protect your Idol 4S from scratches.
There are eight gorgeous colors to choose from, and starting around $9, you might as well grab a couple and switch it up daily!
See at Amazon (opens in new tab)
Harryshell Dream Catcher wallet case
Another wallet case for your Idol 4S, Harryshell's is one for folks who like more than just solid colors. The dreamcatcher design on the front is striking, and the case comes with a handy mini stylus, which is great for certain games and other activities.
The front cover folds back into a stand for hands-free gaming or video watching, and there are slots for two cards, as well as a larger pocket for a bit of cash. You can leave your wallet at home and just carry the essentials!
Your Idol 4S is held in place by a bumper that provides shock absorption, while the folio protects your screen from scratches, dirt, and bumps.
See at Amazon (opens in new tab)
Starhemei slim wallet case
Starhemei's wallet case is a slim addition to your Idol 4S that won't add too much bulk or weight, but will hold up to three cards and a bit of cash in the larger pocket. Cutouts at the top and bottom let you take calls with the cover shut, so you can answer and then close it up instead of awkwardly trying to hold and open folio case.
These PU leather cases have a magnetic closure, and the front cover folds back into a stand.
They're available in black, blue, brown, and red.
See at Amazon (opens in new tab)
What protects your Idol?
Are you using an awesome case with your Idol 4S that we didn't mention? Sound off in the comments below!
Windows Central Newsletter
Get the best of Windows Central in your inbox, every day!
Mike is a staff writer at Mobile Nations and fancies himself a musician and comedian. Keep dreaming, Mike.
I just put the J&D case on mine. It's a nice try but ..... The cut out for the power button leaves a slender strand of the case between the button and the screen. It just kind of hangs there. The top and bottom edges don't wrap around the phone at all. This phone is going to be hard to design a case for due to those wonderful speakers. J&D tried, but I don't see this on as a keeper. If you are looking for cases, remember this is a twin chassis to the DTEK60. Searching Amazon or eBay for that one gives you more options. I'm going to be trying a few. As an option, SlickWraps and Skinomi offer wraps for the back of the phone in various finishes. I'll be trying the SlickWraps Carbon Fiber one Saturday.

I own the J and D and mama mouth cases. The J and D case did not fit snug at all. The mama mouth fits amazingly and is the case I use myself, but doesn't stand as well as the picture shows due to floppy case spine. You also lose out on the fingerprint sensor.

This article is just in time I'm looking for a case now and the incipio looks like the best one

I really love this phone and can't see putting a case on it. Now I've never dropped my phone (knock on wood) either or damaged any of them in any way not having a case on them. But out of all the phones I've ever had this one deserves to be caseless. I just love holding my phones without a case, that's what sold me on buying them in the first place, how it looks and how it feels in my hands. Don't get me wrong I pay the extra 3 dollars a month to protect my investment, and it's worth not having a case or screen protector for that matter. It's a work of art that shouldn't be hid. I've been asked several times what my phone is because of how great it looks.

I am not using a case either. I really like how it feels without a case.

Satisfied user of the Incipio Dual Pro case. Great feel, fairly thin, but still offering good protection. Yes, it hides alot of the beautiful backside of the phone; but the phone is a fingerprint magnet and slippery without it. I'll take the case rather than have to fork out money to get a screen or glass back replaced.

The incipio clear case is a good choice

Are these magnetic closures shielded? My wife has lost several debit cards to a phone wallet that was not.

I'm Using the Starhemei wallet case. It's a good looking case for the phone although the quality is not all that. Understand the case was less than $10 bucks. The cut outs are good and fits the phone great. The only con for me is I wish that it had a cut out for the finger print reader. Haven't found a wallet case for this phone that has the finger print reader cut out. When I do I will jump on it. Loving the Idol 4S Pro, It has been great!!