Best Smart Rings for Women in 2022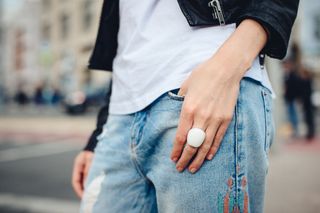 (Image credit: Nimb)
Rings are one of the best accessories a woman can have. Not only are they a subtle accessory choice, but most of them aren't so heavy that they'll become bothersome. Granted, a smart ring can do less than a watch — you can only fit so much technological marvel into a tiny ring — but it's nice to have some extra perks inside your jewelry. The options are limited these days, but the smart ring market is constantly changing so who knows what the future may bring!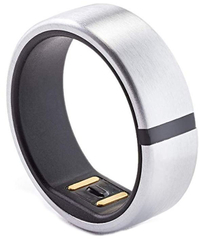 (opens in new tab)
Motiv Ring (opens in new tab)

The perfect fit for fitness

Amazingly sleek and available in three finishes, the Motiv ring is perfect for women on the go. It's waterproof and highly durable with its smooth titanium shell. Once connected to your phone and the Motiv app, you can monitor your heart rate, calories burned, distance traveled, and sleep habits. You also get a 2-step verification feature that keeps you safe when you shop online, check your email, or use social media. The sizing guide for Motiv ensures your ring will fit perfectly.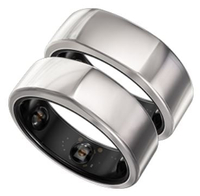 (opens in new tab)
Oura Ring (opens in new tab)

Sweet dreams

The Oura ring helps you track your sleep patterns so you're ready to face the day. It works by measuring your pulse, body temperature, and movements throughout the night to let you the quality of your sleep. You'll enjoy a full week of battery life on a single charge, too. You'll find that the Oura ring is available in a variety of colors and styles, but beware that some are more expensive than others.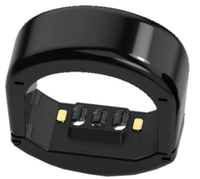 (opens in new tab)
BodiMetrics CIRCUL Sleep & Fitness Ring (opens in new tab)

Simple and sleek

For a simple but sleek design, you may prefer this smart ring from BodiMetrics. It's available in small and large sizes that can be adjusted to fit your finger. You'll be able to track your sleep and blood oxygen saturation levels thanks to the pulse oximeter. It will track four sleep stages, including awake, light, deep, and REM sleep. During the day, this feature is useful for tracking your heart rate as well as your blood oxygen saturation when you're exercising.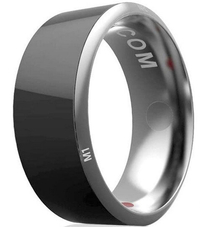 (opens in new tab)
Leagway R3 Smart Ring (opens in new tab)

Smarts on a budget

If you're on a budget, consider the R3 smart ring from Leagway. It's made of unique materials that claim to promote blood circulation and improve your metabolism. With the NFC chip, you can make payments and save data to the ring, which can be accessed via the corresponding app. Leave yourself a quick memo so you don't forget. It's also IP68 waterproof and dustproof, so it's made to last. Keep in mind this smart ring only works with Android and Windows devices.
Get smart
Why you can trust Windows Central Our expert reviewers spend hours testing and comparing products and services so you can choose the best for you. Find out more about how we test.
These rings can protect you, interact with your favorite apps, track your fitness, and so much more. It won't be hard to find a ring that meets your needs. However, if we had to pick one for style and functionality alone, there's no better choice than the Motiv Ring due to its subtle yet classic style and its long list of helpful features. You'll enjoy three days of battery life, waterproof technology, activity tracking, and online security for your accounts with 2-step verification. Talk about a smart ring.
If you're on a budget and don't need all the bells and whistles in a smart ring, we suggest that you check out the Leagway R3 Smart Ring (opens in new tab). It doesn't track your heart rate or sleep like some of the other expensive options on the list. However, it does come with an NFC chip, so you can make contactless payments and store important information that you can easily access on the mobile app.
Windows Central Newsletter
Get the best of Windows Central in your inbox, every day!