Woot currently has select Amazon Key configurations on sale until the end of the day or sold out. These bundle deals include the Amazon Cloud Cam with a smart lock of your choice from a variety of Yale and Kwikset options. You can get set up with a camera and lock combo from as little as $85 in this one-day sale. Considering these sets regularly go for $200 to $300, that's an excellent deal.
Lock in these savings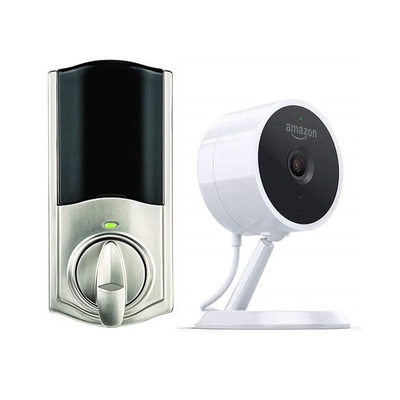 Amazon Key Cloud Cam Smart Lock Kit
Woot is bundling the Amazon Cloud Cam and various Amazon Key-compatible smart locks making it super affordable to get set up for Key deliveries. First, add the Cloud Cam to your cart then add your choice of smart lock.
From $85
The deal given is no longer valid and we do not have a better one. However, we have found some similar deals
To get the deal, you just have to add the Cloud Cam to your cart and then go back and add your choice of smart lock. You'll be getting the Cloud Cam (Key Edition) which usually sells for $120 for just $49.99 regardless of which lock you add. The locks themselves vary in price depending on the model and finish you go for, but prices range from $34.99 to $99.99. A bunch of the locks are featured on our list of the best smart locks, so you're definitely getting set up right with this deal.
Amazon Key is a service that gives the people delivering your goods access to your home so your packages don't get left outside your door. It's also a way to let in professional service providers like cleaners, dog walkers, repair people, etc. and it enables a bunch of other features, too. Those features include keyless entry, the ability to lock and unlock your door from anywhere, and limited guest access.
The service can be linked with the Amazon Key App, which allows you as the home owner to create custom keys for entry or unlock the door with a touch. Whether you have someone coming over to clean or your kids just locked themselves out, you'll be able to grant access without driving home and without leaving a key under that rock that everyone knows has a key under it.
If you are providing an entry code for a service provider, then you can use the app to limit that access. You can view video clips of people entering and leaving, check whether the door is locked or unlocked, and get real-time security notifications. The Cloud Cam's live stream includes two-way audio and works with any of the other Amazon devices like the Echo Show. For each guest access you create, you can manage the guest list and assign when and for how long that code will work.
The in-home delivery part of the service is still only an option for Prime members and only in select locations, but if you're eligible you can sign up for Prime here. The rest is available to anyone anywhere in the country that wants it. Prime members also get free shipping on all orders at Woot.
We may earn a commission for purchases using our links. Learn more.