The best travel apps on Windows Phone for the holidays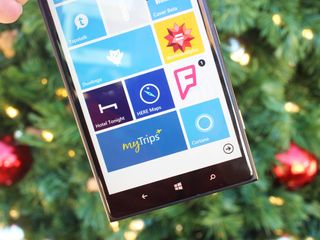 The holiday season is upon us! Thanksgiving kicks things off here in the United States. Then we have Christmas and New Years next month! People will be traveling more and more over the next 40 days (give or take) as they visit friends, family and cash in all that vacation time from work. Here are some great apps to load up on your Windows Phone as you travel!
MyTrips for third-party TripIt app
Why you can trust Windows Central Our expert reviewers spend hours testing and comparing products and services so you can choose the best for you. Find out more about how we test.
TripIt is one of the most useful services on the web for anything travel related. It will scan your emails for travel information (flights, hotels, cars., etc.) and automatically generate an easy travel itinerary for you! There's an official TripIt app in the Windows Phone Store, but it's a web wrapper that hasn't been updated in years. MyTrips is one of our favorite third-party TripIt apps on Windows Phone. Set up your account on the TripIt.com website and then install MyTrips to see the magic happen!
Cortana for built-in flight tracking
Those on Windows Phone 8.1 (and in selected regions) have Cortana on their smartphone. All you need to do is give Cortana permission to scan your email, and she'll automatically watch for any trips you have coming up. From there, she'll send you reminders when you need to get to the airport and track your flights.
Foursquare and Yelp for Local discovery)
Discovering new restaurants and attractions is one of the best parts of traveling. Be sure to use Yelp or the new Foursquare app when you need a break from your family and want to go explore. These two apps are our favorites for finding cool places around.
WhatsApp and Facebook Messenger for communicating
If your travel plans are a bit more international, you may not want to use SMS for messaging family and friends. When we're traveling we like to use WhatsApp and Facebook Messenger for staying in touch with loved ones. Yes, both are technically owned by Facebook now, but between the two we're able to communicate with most anyone we want! The Windows Phone apps have come a long way and rank among our favorite messaging apps on the platform.
Translator
English: Visiting a country with a language you don't speak? Then you're going to want to install the Bing Translator app for Windows Phone. This free app allows you to translate via text, voice, camera and more! Plus it has offline support for select languages. Must-have when traveling!
And now in French: Visiter un pays dont la langue vous ne parlez pas? Alors vous allez vouloir installer le soft de Bing Translator pour Windows Phone. Cette application gratuite permet de traduire via texte, voix, appareil photo et plus encore! De plus, il a un support hors-ligne pour sélectionner langues. Incontournable lors d'un voyage!
Hotel Tonight
There are a handful of great apps in the Windows Phone Store for booking hotels, but one of the most unique is Hotel Tonight. It pairs flexible travel plans with last-minute deals on open rooms. You're not going to use this to book a hotel months in advance, but within seven days it's ideal and could save you a lot of cash.
Flight Aware
Another community favorite for tracking flights on Windows Phone is the app Flight Aware. It's a free app that gives you real-time flight status for flights worldwide. Look for flights by aircraft registration, route, airline flight number, city pair or airport code. The tracking data includes complete flight status details and full-screen maps. It even takes it to the next level by providing NEXRAD radar overlay on those maps.
Uber
Need to get around fast in a new city? Despite some very questionable business practices, Uber remains one of the most convenient ways to get around quickly without taxi cabs. There's no official Lyft app on Windows Phone, so you're going to have to rely on Uber for quick getaways in new cities.
Maps/HERE Maps + Offline map data
Getting lost is never fun. It's especially annoying when you're traveling and don't have the patience for not knowing where you are. Thankfully you can download some maps for offline navigation on Windows Phone. HERE Maps is great for getting around, and HERE Drive+ brings turn-by-turn navigation to your phone. Don't want to use HERE? You can still use the built-in Maps on Windows Phone with the offline data!
MSN Travel
Here's a handy travel app from Microsoft. Travel gives you trip ideas for thousands of destinations and provides the ability to check a flight's status. Plus you can book flights and hotels from within the app. Double plus, it's beautiful!
These are just some of the many wonderful travel apps on Windows Phone! Which apps do you use and find indispensable when traveling? Let us know!
Windows Central Newsletter
Get the best of Windows Central in in your inbox, every day!
Kinda ties in with Cortana, but definitely worth mentioning.

You know what? That is such an obvious omission on that part. I'm going to add that one to the list just for your DarkRyd! :p

What about "Local Scout" already integrated on WP GasBuddy is important too... KAYAK, priceline, TripAdvisor, Expedia.

MSN Travel is useless like the other Bing/MSN apps

I second that, MSN news works really well, if you configure it well, and add good sources. And, weather maybe not good looks wise but spot on accuracy. Rest Idk.

So what you are saying is if you set the app properly, it works. Otherwise its garbage? GENIUS!! Ive heard these new led bulbs are trash as well. Did you know you have to flip a switch for them to work? Unacceptable!! Do better Cree.

No, I didn't say it is garbage. You just need to how to use it. If you don't know its like you're waiting for a led to light up without the power source. :P And, btw what's unacceptable? flipping the switch to light up the led or the other part of the comment, if it is former then sorry dude you need to speak to led itself and come on some agreement.

Offline maps got ready for my next trip with friends..... Its time to show off my offline navigation

Is that French machine-translated?

Of course. So don't blame any grammatical errors on me :P

I was gonna ask you the same thing lol.

Tripadvisor, T-Translate, PayPal

MSN travel, HERE Suite, MS Translator and Cortana tracking is all I need.

What about skype for communication?

No it isn't. It works just fine for me, what's there problem?

It is a fine app for me. At one work location I have NO AT&T service but there is WIFI. I am able to use the phone to make my business calls with NO PROBLEM. It is clear and easy to use. What is the specific problem that you are alluding to?

i love to use msn apps on windows phone but more on pc. all msn apps on pc are excellent. guess have to wait for windows 10 for all things to get a better windows phone app.

Amtrak is a must have if you travel by rail in the U.S.

Any good app to get information about snow conditions in European ski resorts?

After testing a few for that I went back to use Bing Weather since you can also select specific ski resorts for that matter.

I also used Bing weather last year. I didn't like it so much.

Trip advisor seems to be an obvious omission :/

Trip-it is so good they could guarantee that it will improve your life.

I travel very often around Europe and abroad and my list sticks more or less closely to Sam Sabri's since I use: • MSN Travel — to book flights and hotels (it uses Kayak to search for the best deal)
• Lufthansa & Air France (or other companies' apps) — to manage my flight tickets
• Navigon Europe — for offline GPS
• geekSubways — for maps & schedules
• Here City Lens — to find the right boutique, restaurant (you name it)
• B!keNOW+ — to find a bike station when downtown
• Uber
• Bing Translator
• GPS Alarms — to get alerted and exit at the right station when I'm traveling in a train or a bus
• WhatsApp (constantly) and more rarely Facebook Messenger I also use a few apps specific to the France: • Voyage-sncf, iDTGV — for train travel
• TaxisBleus — at times while in Paris
• iCoyote (or Waze) — to get alerted about speed traps
• Gasoil Now Prix Essence — to get the best deal when needing to refill my car's tank.

You ​forgot Kayak! The best trip app ever! I've used it on my past 5 trips. You forward any emails to their system and it magically creates a trip for you. It does flight tracking, alerts you about gate changes and keeps you on schedule. Plus you've got all addresses and phones numbers etc handy.

Amtrak should have gotten a mention here, a very well done app. It's a major way to travel on the East Coast in particular, and is even more relevant this year since it's the best option in bad weather like we're getting tomorrow.

Skyscanner should get a mention, great for finding flights

We need Orbitz, and the like

Anyone used wipolo? It's an alternative to tripit and Worldmate which was my favorite. It's free but lack some features compared to IOS and Android version.

Triphub is the one I use. Linked to my TripIt Pro account and it works wonders.

"Border Wait Times" To cross the border USA/Mexico or USA/Canada...

Flightstats would be great to have on windows phone .www.flightstats.com

Good helper for planning trip - Paspartu. Its a new soft with calculates finance, rest and travel time, share with friends and much more.
Windows Central Newsletter
Thank you for signing up to Windows Central. You will receive a verification email shortly.
There was a problem. Please refresh the page and try again.