Best Microsoft apps for iPhone
By Dennis Bednarz last updated
Microsoft has embraced iOS, bringing support for its flagship services.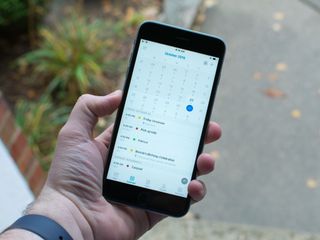 Microsoft's recent cross-platform ideology has spread to iOS and Android, delivering high-quality services for rival mobile OSes.
Outlook
Microsoft Outlook for iOS was originally not made by Microsoft itself. It's a mix of two acquisitions called Acompli and Sunrise Calendar respectively. These two apps were praised for their functionality and design, and Microsoft made the right choice to acquire them.
Outlook for iOS is an outstanding application. It's quick, functional and at times even outperforms the desktop Outlook application, depending on what you're doing. It features a "Focused Inbox" which helps you prioritize the content in your inbox and easily sort out the spam, advertisements or any less important email.
Outlook also features some other functions like plug-ins, allowing you to integrate services like Trello, OneDrive, Google Drive and DropBox integration and it works with every possible email provider you can throw at it. Outlook is getting constant updates and is probably the most polished Microsoft app you can find on iOS.
Xbox
If you happen to own a Xbox One, the Xbox app may come in handy. It includes features like controlling your Xbox from the phone, messaging your Xbox Live friends, or simply editing your avatar right from the app.
The Xbox app brings a welcome surprise with it, as its design is very consistent with the one found on other platforms. It's fully featured, handy and even has push notifications for things like achievements or messages. The app has some downsides though, like being painfully slow, but aside from that, it's a very pleasant experience.
The best part is that you can even buy games directly from it, so you will never miss out on a good deal.
Download Xbox from the App Store (opens in new tab)
Microsoft To-Do
Last time we reviewed the Microsoft To-Do app, it was a buggy and unusable mess. This has changed since then. While it may not be the most functional app out there, it's a solid and stable performer which can boost your workflow a little depending on your needs.
Microsoft To-Do is very simple and straightforward, and while there is still a lot to improve on, it doesn't necessarily require a learning curve if you want to use it for simple lists.
Download Microsoft To-Do from the App Store (opens in new tab)
Cortana
Cortana, once a Windows Phone exclusive, is now available for iOS and Android.
The app is definitely pretty, but it doesn't end at that. Cortana's natural voice is accompanied by a huge set of features like setting reminders, answering complex questions both by voice and text and much more. The app is getting constant support and updates which introduce new features almost weekly.
The biggest downside with Cortana is that it's limited to a handful of countries. If you want to get the app outside of these countries, you'll have to make a new Apple ID which is bound to the UK, for example, or any other country that supports it.
Download Cortana from the App Store (opens in new tab)
Office
The Office apps are very functional, to such point that it's impressive how effective you can be on the go. Word has full formatting and can open up any modern document you can think of, PowerPoint lets you create full presentations and even view them right on the device. If you happen to have a Lighting Port to HDMI adapter then you can even use your phone to display full presentations on the big screen. Excel is also a capable spreadsheet solution, but don't expect the full range of functions to be available due to the app's complexity on desktop.
The best part of these apps is that they are completely free as your iPhone is most likely under 10 inches and falls under the free Office 365 policy.
Microsoft Authenticator
If you regularly sign into a Microsoft account, the company's own two-factor authenticator comes in handy. Instead of the usual six-digit code to log you in, Microsoft Authenticator lets you authorize the sign in the attempt with a simple tap, making the process much more convenient. You get direct notifications which where you can approve sign-in requests straight from your lock screen or notification center.
In addition to adding your Microsoft account, you can also add details for other services that are secured by two-factor authentication, including Google and Facebook, Discord and much more.
Download Microsoft Authenticator from the App Store (opens in new tab)
Word Flow
Microsoft's Word Flow keyboard is nice, sleek, fast and very, very accurate. In fact, it offers the best typing experience I have ever seen. As the Word Flow keyboard from Windows Phone was known for the "swipe input," this is also available on the iOS version.
Word Flow also offers a lot of customization options where you can change the theme from dark to light, add a background to the keyboard or simply make your completely own and unique theme. The biggest shortcoming must be the "English only" support with no indication of more languages coming anytime soon.
For more details, check out our in-depth review.
Download Word Flow from the App Store (opens in new tab)
SwiftKey
SwiftKey is yet another keyboard from Microsoft. It is not in-house and has been acquired after a few years of working on its own, but it's definitely still getting updated and improved regularly.
The keyboard is very customizable with a ton of different themes and settings you can use. The latest update even added two new themes based on the Apple Human Interface design which makes the keyboard blend into the system much better. It supports "swipe input" and is very accurate too.
SwiftKey nicely integrates with different social services like Facebook, Google, your contact book and more, giving you suggestions perfect personalized for you and with content specifically from your own accounts. This means that the keyboard will know what your co-worker's email address is and what your mom's home address is as well when you need it.
Download SwiftKey from the App Store (opens in new tab)
OneNote
OneNote recently received a major overhaul on all platforms, revamping the color scheme and improving the UI.
The OneNote app is a very powerful note taking app which allows you to do everything from basic lists to scheduled reminders. It syncs all your data through the cloud and apps it looks and feels the same as it does on other platforms, giving you a consistent and pleasant experience.
Download OneNote from the App Store (opens in new tab)
Bonus: Skype Preview
Skype Preview is an invite-only beta testing app. It recently got a completely redesigned interface with many new features and options. The app is part of the new Skype experience that was announced recently and is a completely new direction for Skype as a service. The new version seems to lack Cortana integration which was present a few builds ago, but that may come back at a later point or, hopefully, before the global release.
The changes that we can see in the app will at some point make its way to all users using the regular Skype app. The regular app is fairly decent at this point and does the job pretty well, so you're not missing out on actual stability. Video calls work as expected, messages do too, and some of the features introduced with the new version are also present and backported for current users.
There is no specific timeframe in which we will see the major update roll out to current users, but based on the progress Microsft has done with the app, you should expect it at any time.
Your turn
What Microsoft apps do you use on your iPhone? Let us know in the comments below.
Dennis Bednarz is a former writer for Windows Central and the guy behind ModMy. He has been a recognised member of the Microsoft community for years and owns everything from Lumia phones to Surface PCs. He occasionally likes to rant about Windows Phone and drink tea. You can go ahead and follow him on Twitter at @DennisBednarz
What? I still prefer my Lumia 950 way better than an iPhone

I struggle with the trash that is iOS everyday at work (hardware is ok). So often, I give up and grab my 950 to do real work on a smartphone.

What about Windows Phones 😭

They seem to be getting a tremendous amount of development for a dead OS. CShell anyone?

Maybe Zac Bowden has heard from his sources that they're killing Windows 10 Mobile, which justifies articles like this one.

They are...while not overtly saying so...WM10 is done. It's being reborn as the new W10A with the small screen UI they're working on...and since no current phones support the minimum specs...WM10 is in hospice until RS3 and their 2 year commitment is up.

Every Microsoft app is best for iPhone //Run

Lumia 950/950 XL forever!

It's great that Microsoft is playing nice with other platforms, but this isn't iMore, nor is it Microsoft Central. This is Windows Central, we don't necessarily want to hear about what's happening on Apple devices.

Exactly. Apps are made by Microsoft by I guess the other partners from mobile nations should take care about articles like this. Cause even everybody here switch to android or iOS they will go and find info on other websites that have info for this kind of devices

WordFlow hasn't been very stable for me, and has slowed down at times. Going to try SwiftKey and see/hope that's better.

There was a day the Windows Central app was on my start screen.... There was a day.... Honestly this article has nothing to do here. It ain't Microsoft central as far as I recall. Or then, change the name of your damn site. What I would have accepted would have been the best apple apps on Windows.... I see a lot of people complaining about this but yet you guys are playing deaf and doesn't hear their voice and continue your own selfish way. Am really not astonished when I see this site is run by a self sufficient egocentric who doesn't know **** about Windows.

This site is Microsoft Central in everything but name - People should accept it and be happy :) Maybe a nice feature to add to the app could be customisable news feed where you can select specific categories to include/exclude, that could keep everybody happy. A lot of readers have issues with all sorts of content. There was a time when Xbox articles used to get flack but people are pretty happy with those now it seems

Would be helpful to put the less tasteful stuff elsewhere though, you know, the VR porn articles that seem so popular, the Apple/Android love-in content, any article with 'reboot' in the text etc.... :-)

Can't wait for the Apple event today and finally switch. Goodbye Microsoft and Lumia 1520. You served me well.

Is that today? Cool! I switched about 6 mos. ago...its been a hard transition, but it amazing having a phone with fully supported apps. Good luck!

Yes its today at 10am (Pacific Time).

The transition wasn't that bad... The MS ecosystem works extremely well so, overall, it wasn't that big of a change. And the app situation is so much better. No longer worrying that someone is going to cancel an app I use.

I had a much tougher time I guess, mostly around where all system settings are laid out. I still do not always get notified after hours when a contact messages me, ie my daughter saying she's late for curfew, etc. My apps do not automatically update, even though they're set to do so. It's not the 100% stable environment I expected. However, yes, knowing that an app is 100% supported and will always be is awesome. Plus, if you see an app on TV...guess what...its there!

iOS 11 is pretty awesome. I'm using it as my daily.

You should post this to iMore, not here.

No...because there are many of us here who use windows desktops, services and think windows moible is garbage so we use iOS.

I like Wordflow but it really needs to be updated. It hasn't added support for the Emojis that came out months ago. It's also starting to get a little buggy and new iOS versions roll out without an update.

Cortana and Word Flow are not available in Canada.......

This is a question I have had for a long time on the "Microsoft To-Do" app.... It's under a Microsoft account but, can you sync it with an Exchange server for "tasks" ? I know it's available for iOS, Android and Windows Mobile...

I'm a big fan of the Bing app on iOS. I use it insead of Safari for browsing. So many awesome bing features right at your fingertips (image of the day, news, "near me," restaurants, movies, music, maps, videos, etc). I'm surprised that Cortana even made the list. Cortana is nice on everything but iOS because it has access to so few features. Whereas the Bing app can be used like a browser and still uses custom relevance sorting as long as you log into it with your Microsoft account. You don't have to do that, but I recommend it.

My friend just bought the 7 plus. I was amazed that it still looks and works the same as the very first iPhone (yes, I had one...). I'm amazed people spend $800 a year to buy the latest one, which is basically the same as the previous one...
Windows Central Newsletter
Get the best of Windows Central in in your inbox, every day!
Thank you for signing up to Windows Central. You will receive a verification email shortly.
There was a problem. Please refresh the page and try again.