Best Cooking Apps for Windows 10
One of the convenient uses for a Windows 10 device is to help you find your way around the kitchen and there is a host of apps available to aid your culinary adventures.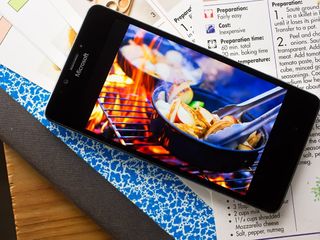 Whether you are trying to impress your date with a home-cooked meal or hosting a holiday feast, many find themselves in the kitchen hoping to cook things up just right. While these Windows 10 apps may not turn you into a Bobby Flay, they can point you in the right direction.
These apps can help you develop the basic cooking skills or expand the skills you already possess. Let's take a look at the best cooking apps the Windows Store has to offer.
Updated May 30, 2017: We made a few changes to this article based on new releases, reader input or staff discussion. There are some new titles in the mix, as well as those that we continue to view as the best from the Windows Store.
Recipe Keeper Free
Why you can trust Windows Central Our expert reviewers spend hours testing and comparing products and services so you can choose the best for you. Find out more about how we test.
Recipe Keeper Free is an easy-to-use Windows 10 app for organizing your recipes, creating shopping lists and planning meals. While other offerings provide recipes for you to explore, Recipe Keeper Free fills its library with your own culinary delights. The free app is available for Windows 10 PC and Mobile.
Recipe entry can be as detailed as you need, covering ingredients, serving size, cooking instructions, photos and more. If you need help building up your library, Recipe Keeper Free can import recipes automatically from popular websites. Imported recipes can be customized to meet your own needs or kept as is.
Additional features of Recipe Keeper include a shopping list generator that pulls ingredients straight from the recipe and a meal planner to lay out your weekly dining experience. The Recipe Keeper Free database can be backed up to an external drive or OneDrive. Recipes can be shared over social media or email.
Recipe Keeper Free allows you to store up to 20 recipes in your library. The free version is an easy way to keep all your favorite recipes close at hand. If your culinary wheelhouse exceeds more than 20 recipes, you can upgrade to Recipe Keeper Pro (opens in new tab) for $4.99.
Download from the Windows Store (opens in new tab)
Allrecipes
Allrecipes is a free app, available for Windows 10 PC and Mobile, with over 50,000 recipes. Recipes range from salads to meat entrées to decadent desserts — and everything between.
The app's main pages highlight a daily recipe, your recipe box (account required) and a Dinner Spinner feature. While you can search for recipes by keyword, ingredient, dish type and dietary preference, sometimes you just don't know what to cook — that's where the Dinner Spinner comes in.
With this feature, you pick three variables for the dish (type, main ingredient and time to prepare) and it randomly generates a recipe based on those variables. If you feel daring, you can even let Allrecipes choose the variables at random.
Recipe listings include an overview of the dish, a list of required ingredients, nutritional values, detailed directions, and user reviews for that particular dish. Many of the recipes also have a Recipe in Motion feature that provides video directions to prepare the dish. The video presentation is brief but compliments the written directions very well. Some users report stability issues with AllRecipes, but our experience has it being a quality cooking app to have around the kitchen.
Yummly
Yummly delivers more than a million recipes to your Windows 10 devices that cover a wide variety of tastes and styles. The free cooking app is available for Windows 10 PC and Mobile and requires a free Yummly account to use.
The app features trending recipes on the primary display and a drop-down menu to view your favorite recipes, search for recipes, and access the app's settings. Filters are available to sort recipes by dietary allergies, cook time, cuisine, course, nutrition, techniques and tastes. Recipes are pulled from various online cooking resources and individual recipes include the required ingredients, nutritional facts and cooking directions. Directions are in written form and vary depending on the source.
Yummly offers a wide variety of recipes that range from Holiday Cookie recipes to Caramelized Salmon dishes and everything else in between. It's a solid Windows 10 cooking app but may be a little overwhelming to the beginner cook.
Download from the Windows Store (opens in new tab)
Big Oven 300,000+ Recipes and Grocery List
Big Oven 300,000+ Recipes and Grocery list is a Windows 10 cooking app that is long on name and long in the number of tasty recipes it delivers. On top of the huge in-house recipe library, Big Oven also supports adding your own recipes.
Recipes are grouped into collections and searchable by keyword. If you are at a loss as to what to cook, you can enter three ingredients and Big Oven generates a collection of recipes based on those items.
You can add recipes by hand or use the RecipeScan to snap a photo to upload it. Big Oven also features a shopping list generator that pulls ingredients from recipes. The grocery list is sorted by store aisles automatically and can be shared via email with others.
This free Windows 10 Mobile app requires an optional membership to access the grocery list generator, use the RecipeScan and to create a favorites list. The free membership also allows you to synchronize data between your mobile device and the Big Oven website.
Download from the Windows Store (opens in new tab)
How to Cook Everything
How to Cook Everything is based on the bestselling cookbook and was one of our Hidden Gems from a few years ago. The Windows 10 app delivers 2,000 recipes and 400 how-to illustrations to your Windows 10 PC or Mobile device.
The main page for this Windows 10 app features key recipes, the ability to browse recipes by categories, view how-to tutorials and check out the most popular recipes. Additional features for How to Cook Everything include:
Locally stored recipe and reference content — no network connection required!
Handy built-in timers are placed throughout the recipe steps and can run in the background.
Organized shopping lists are available to make it easy to buy ingredients.
Share recipes with friends on Facebook and Twitter.
Every recipe includes an overview, ingredient list, detailed steps and any variations on the base recipe to experiment with. You also get access to related topics to improve your culinary skills. For example, a pizza recipe has links to how-to content on shaping pizza dough or tips for foolproof pizza toppings.
How to Cook Everything is available for Windows 10 PC and Mobile. It is currently priced at $9.99 with a seven-day trial to allow you to test drive the app before buying. It's a very comprehensive cooking resource that is well suited for the beginning chef, as well as the more seasoned cook.
Download from the Windows Store (opens in new tab)
Your thoughts
If you have tried any of these Windows 10 apps, let us know how they worked out for you. There are other cooking apps available in the Windows 10 Store and if you have a favorite that wasn't mentioned, toss your recommendation out in the comments.
Windows Central Newsletter
Get the best of Windows Central in in your inbox, every day!
George is the Reviews Editor at Windows Central, concentrating on Windows 10 PC and Mobile apps. He's been a supporter of the platform since the days of Windows CE and uses his current Windows 10 Mobile phone daily to keep up with life and enjoy a game during down time.
I'm sorry, but hands down, the best was Microsoft's Food & Drink. I MISS that app. It use to be on my Surface Pro 3 (I have Windows 8.1). The hands-free feature was AWESOME. I haven't found a decent recipe app yet that presents recipes in as beautiful and readable a format and has the hands-free control that Food & Drink has.

I tend to agree with you, but during its demise I put all of my recipes into OneNote. Then I found Recipe Keeper Pro, and have never looked back. I was able to put all of not only the recipes from the MSFST app into it, but those that were in OneNote as well. Easy Peasy! With the Pro version I am able to sync across devices, AND! with the latest update they added the feature to resize the recipes!...They also do a great job of updating their Windows 10 app for mobile as well..... Well worth the money!

The thing as, for me, the hands-free ability to move back and forth through the recipe spoiled me for any other cooking apps. NOBODY supports that feature, so, as far as I'm concerned, one cooking app is as good as another. Which means they're all 'meh' for me.

allrecipes used to be the best food app hands down, but it's been broken for about a year

Well that and the fact that their web page is so bloated with advertising I only use it now about once every other month.

AllRecipes shouldn't be in this list. It is everything but functional. All I get, and all I ever get, is for me to check my internet connection. It does have SOME functionality, but it is far from a "Best" in any list. "Cook with Yumvy" was one of the apps I tried and was definitely a contender. I do think you hit this one. Although I didn't choose this one as "My Best", it does deserve a slot on the list. One that you did miss, the one that I chose as "My Best", is Recipe Keeper Free/Pro. After getting the in app purchase that allowed me to sync across devices, I have been extremely happy with the app. The authors have always replied to me within a few hours at most when I have asked them questions or had suggestions. They have been responsive to those who have made requests as well. This is my only go to app for food! The only complaint I have about Recipe Keeper is the purchasing model they chose. As it stands, I believe you have to have on license for PC and one for mobile (These are the only 2 I have, so I don't know about the rest). They have shown interest in ideas about other models though and hopefully will change this for a more streamlined purchasing procedure. Please, add them to your list of "Best Cooking Apps". They really do deserve a slot on here.

Absolutely agreed about Recipe Keeper Pro. While, yes, it stinks that you must purchase the mobile and desktop versions separately, this app is amazing. I love that it syncs across devices, that you can plug in a URL and have it pull a recipe from a page (I use this feauture all the time on mobile so I don't have to save webpages for my recipes), that you can create your own categories and it's incredibly easy to use. I used to use Allrecipes but it is indeed broken and not qualified to count as one of the best cooking apps. I'll probably buy "How to Cook Everything" as it's a nice pocket manual for how to create things from scratch like pasta and the like and I am very impressed by the trial. WinCentral might want to update the pricing a bit though as it is currently on sale for the next two weeks for $6.99. Looks like it's time to use some of my MS Reward points to go app shopping. =)

WHAT? I only purchased once! and have both? My only problem with them is that I can't change my user name! I rate Recipe Keeper Pro as one of the best Windows 10 apps ever.

They might hve changed the need to buy it twice in recent times. I've had the app on my tablet for a couple years now and on my phone for a little over a year. If it's been changed then that's all the more reason for folks to grab it.

I just bought it today on my Win 10 Desktop and tried to use the App on my win 10 mobile device but it says I need to purchase it again if I wanna sync it. How did you do it?

Recipe Keeper is a great app to store recipes. It has been updated regularly and offers all the features you need for recipe gathering, storage, sharing and using.

Can't seen to find any good Desi (Pakistani/Indian/Bangladeshi) cooking app. :/
Maybe I should make one.

It's still a bummer that Microsoft Food & Drink is gone. I use a combo of Yummly and Big Oven, which didn't make the list.

Sorry, bad phone typed sentence structure. I meant that Big Oven didn't make the list. ☺

Oh, no worries. I understand what you meant now

Great British Chefs hasn't been updated recently but it's a total example of what an app should look like.

My wife and I have been using Pepperplate on our (aging) Surface RT and love it but there doesn't seem to be much interest from the devs to port to Windows 10. Maybe time to jump ship (and buy a new Surface!).

I am just hungry ... Good tips. Thanks for the post.

Allrecipes has made someone that never cooked a meal in his first 35 years in to the best cook in the house. I know the App could use some work but it's still my favorite.

Was looking for a recipe app just the other day. Thanks for the info!

allrecipes mobile site is ok... I should look into recipe keeper though I tend to just use onenote for recipes I want to keep.

While Yummly has a lot to learn about managing a saved recipe library, browsing through the photos of the recipes is like culinary porn for the soul. Yeah, i said it.
Windows Central Newsletter
Thank you for signing up to Windows Central. You will receive a verification email shortly.
There was a problem. Please refresh the page and try again.