Best Cooking Apps for Windows 10
One of the convenient uses for a Windows 10 device is to help you find your way around the kitchen and there is a host of apps available to aid your culinary adventures.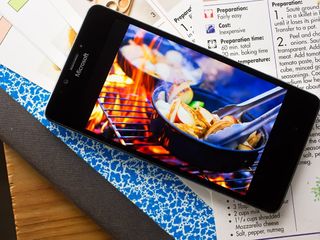 Whether you are trying to impress your date with a home-cooked meal or hosting a holiday feast, many find themselves in the kitchen hoping to cook things up just right. While these Windows 10 apps may not turn you into a Bobby Flay, they can point you in the right direction.
These apps can help you develop the basic cooking skills or expand the skills you already possess. Let's take a look at the best cooking apps the Windows Store has to offer.
Updated May 30, 2017: We made a few changes to this article based on new releases, reader input or staff discussion. There are some new titles in the mix, as well as those that we continue to view as the best from the Windows Store.
Recipe Keeper Free
Recipe Keeper Free is an easy-to-use Windows 10 app for organizing your recipes, creating shopping lists and planning meals. While other offerings provide recipes for you to explore, Recipe Keeper Free fills its library with your own culinary delights. The free app is available for Windows 10 PC and Mobile.
Recipe entry can be as detailed as you need, covering ingredients, serving size, cooking instructions, photos and more. If you need help building up your library, Recipe Keeper Free can import recipes automatically from popular websites. Imported recipes can be customized to meet your own needs or kept as is.
Additional features of Recipe Keeper include a shopping list generator that pulls ingredients straight from the recipe and a meal planner to lay out your weekly dining experience. The Recipe Keeper Free database can be backed up to an external drive or OneDrive. Recipes can be shared over social media or email.
Recipe Keeper Free allows you to store up to 20 recipes in your library. The free version is an easy way to keep all your favorite recipes close at hand. If your culinary wheelhouse exceeds more than 20 recipes, you can upgrade to Recipe Keeper Pro (opens in new tab) for $4.99.
Download from the Windows Store (opens in new tab)
Allrecipes
Allrecipes is a free app, available for Windows 10 PC and Mobile, with over 50,000 recipes. Recipes range from salads to meat entrées to decadent desserts — and everything between.
The app's main pages highlight a daily recipe, your recipe box (account required) and a Dinner Spinner feature. While you can search for recipes by keyword, ingredient, dish type and dietary preference, sometimes you just don't know what to cook — that's where the Dinner Spinner comes in.
With this feature, you pick three variables for the dish (type, main ingredient and time to prepare) and it randomly generates a recipe based on those variables. If you feel daring, you can even let Allrecipes choose the variables at random.
Recipe listings include an overview of the dish, a list of required ingredients, nutritional values, detailed directions, and user reviews for that particular dish. Many of the recipes also have a Recipe in Motion feature that provides video directions to prepare the dish. The video presentation is brief but compliments the written directions very well. Some users report stability issues with AllRecipes, but our experience has it being a quality cooking app to have around the kitchen.
Yummly
Yummly delivers more than a million recipes to your Windows 10 devices that cover a wide variety of tastes and styles. The free cooking app is available for Windows 10 PC and Mobile and requires a free Yummly account to use.
The app features trending recipes on the primary display and a drop-down menu to view your favorite recipes, search for recipes, and access the app's settings. Filters are available to sort recipes by dietary allergies, cook time, cuisine, course, nutrition, techniques and tastes. Recipes are pulled from various online cooking resources and individual recipes include the required ingredients, nutritional facts and cooking directions. Directions are in written form and vary depending on the source.
Yummly offers a wide variety of recipes that range from Holiday Cookie recipes to Caramelized Salmon dishes and everything else in between. It's a solid Windows 10 cooking app but may be a little overwhelming to the beginner cook.
Download from the Windows Store (opens in new tab)
Big Oven 300,000+ Recipes and Grocery List
Big Oven 300,000+ Recipes and Grocery list is a Windows 10 cooking app that is long on name and long in the number of tasty recipes it delivers. On top of the huge in-house recipe library, Big Oven also supports adding your own recipes.
Recipes are grouped into collections and searchable by keyword. If you are at a loss as to what to cook, you can enter three ingredients and Big Oven generates a collection of recipes based on those items.
You can add recipes by hand or use the RecipeScan to snap a photo to upload it. Big Oven also features a shopping list generator that pulls ingredients from recipes. The grocery list is sorted by store aisles automatically and can be shared via email with others.
This free Windows 10 Mobile app requires an optional membership to access the grocery list generator, use the RecipeScan and to create a favorites list. The free membership also allows you to synchronize data between your mobile device and the Big Oven website.
Download from the Windows Store (opens in new tab)
How to Cook Everything
How to Cook Everything is based on the bestselling cookbook and was one of our Hidden Gems from a few years ago. The Windows 10 app delivers 2,000 recipes and 400 how-to illustrations to your Windows 10 PC or Mobile device.
The main page for this Windows 10 app features key recipes, the ability to browse recipes by categories, view how-to tutorials and check out the most popular recipes. Additional features for How to Cook Everything include:
Locally stored recipe and reference content — no network connection required!
Handy built-in timers are placed throughout the recipe steps and can run in the background.
Organized shopping lists are available to make it easy to buy ingredients.
Share recipes with friends on Facebook and Twitter.
Every recipe includes an overview, ingredient list, detailed steps and any variations on the base recipe to experiment with. You also get access to related topics to improve your culinary skills. For example, a pizza recipe has links to how-to content on shaping pizza dough or tips for foolproof pizza toppings.
How to Cook Everything is available for Windows 10 PC and Mobile. It is currently priced at $9.99 with a seven-day trial to allow you to test drive the app before buying. It's a very comprehensive cooking resource that is well suited for the beginning chef, as well as the more seasoned cook.
Download from the Windows Store (opens in new tab)
Your thoughts
If you have tried any of these Windows 10 apps, let us know how they worked out for you. There are other cooking apps available in the Windows 10 Store and if you have a favorite that wasn't mentioned, toss your recommendation out in the comments.