The best gifts for kids this holiday season
Sometimes Santa needs a little help picking out the best gifts for those on his nice list. Don't fret — we've got you covered.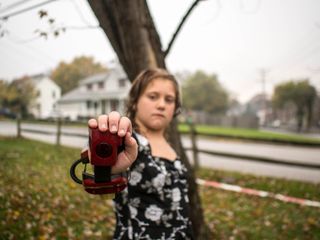 No one's more excited about the holidays than our kids, and with all the amazing toys to choose from the selection can become overwhelming. We've narrowed down some cool gifts to consider this year that will be a hit with any kid for the holidays. And, if you need help shopping for other friends and family members feel free to check out our extensive 2015 Holiday Gift Guide that covers our absolute favorite gadgets.
Xbox One 1TB Holiday Bundle
Why you can trust Windows Central Our expert reviewers spend hours testing and comparing products and services so you can choose the best for you. Find out more about how we test.
You simply can't go wrong with giving the gift of a brand new Xbox One to the special little one in your life. This holiday bundle includes a 1TB console along with 3 games: Ori and the Blind Forest, Rare Replay, and Gears of War: Ultimate Edition. There are plenty of other new games to consider this year for the Xbox One like Star Wars: Battlefront, Halo 5: Guardians, and Fallout 4 that would make great stocking stuffers. If one controller just isn't enough, snag the Lunar White Wireless Controller from Microsoft to let their friends get in on the action.
McFarlane Toys Halo 5 Spartan Locke Figure
Great as a collectible or an addition to your kid's action figure arsenal, the 10-inch Spartan Locke has been accurately crafted in sleek blue chrome armor with light blue accents. Packing his battle rifle the Spartan Locke can stand in his ready position or switch it up to his leadership pose. Any Halo 5 fan can appreciate the detail of this figure! Also inside the package is a download code for additional in-game content.
Kurio Smart 2-in-1 Tablet
It's like a Surface Pro only for kids! The Kurio Smart is the perfect 8.9-inch multipurpose tablet that allows your kids to work (and play) when they want. Running on Windows 10, the Kurio Smart is powered by an Intel 4-core CPU, 1GB of RAM, and features a dedicated graphics chip. With 32GB of memory on board there's enough space to get started, but also has the option for expandable memory via microSD card — up to 64GB. Although the Kurio Smart comes pre-loaded with plenty of games, apps, and e-books, there's also access to thousands of additional apps through the Microsoft Store. Use it as a tablet or connect the included magnetic keyboard for when it's time to get some homework done.
See our hands-on mini review of the Kurio Smart to see it in action!
Mega Bloks Gausshog Building Set
Assemble this iconic UNSC Attack Gausshog straight out of the Halo Universe with detailed accessories including detachable armor, assault rifle, and energy sword weapons. Master Chief and Arbiter micro action figures are part of package along with the Gausshog's 360-degree rotating Gauss Cannon. A great gift for kids hooked on Halo!
Bitsbox
Perfect for kids who are all about creativity, Bitsbox is a fun and unique way to break them into the world of coding. The idea is simple: Each month they'll receive a Bitsbox to their front door with material inside they can skim through. Once they've picked out a page they like, it's off to the BitsBox website to enter in the code on said page. After they've finished, the app will come to life on the virtual tablet displayed on the screen. With a quick QR code scan from any smartphone or tablet, the app they've just created will be right at their fingertips to show off to their friends. There are even a few different subscriptions you can choose from to fit your needs (and your budget).
LEGO Dimensions
Who says your favorite fictional characters can't share the same universe? LEGO Dimensions make anything possible, allowing up to 7 vehicles and gadgets into the game by placing them on the included LEGO Toy Pad. Friends can even join in when they want with co-op mode and there's always more adventures to be had by purchasing additional expansion packs — adding to your collection and opening even crazier combinations. LEGO Dimensions lets your imagination run wild with a multiverse of puzzles to solve and endless challenges to conquer. This starter pack goes for about $85-90 depending on what console you're rocking.
Playstation 4 XBOX One Nintendo Wii U
Syma X5C Quadcopter
Give the gift of flight this year with the Syma X5C Quadcopter that features an HD camera and can pull off flips at the press of a button on the included remote. Using its 6-axis gyro stabilization system, the Syma X5C flies with maximum stability even with wind resistance. With a little over an hour of charging this drone you can get about 6-7 minutes of air time before it needs another charge. It's not the best drone available, but it's a great starter under $50 for any kid interested in learning to fly their very own.
Playmation Marvel Avengers Starter Pack Repulsor
Let your little ones bring Marvel's Avengers to life with this incredibly fun Repulsor Starter Pack. By loading up the smart figures onto the power activators they become part of the battle while you track progress and receive new missions with the AvengersNet app. The wearable Repulsor Gear reacts to player movements using motion-sensing technology and lets you battle through missions with 3 blast modes, dodging, blocking, sneaking, running, and jumping. Kids will love the amazing light and sound effects that go along with the Repulsor vibrations on every blast.
Wow Wee MiP Robot
The MiP Robot is just a fun toy for any kid to control using the MiP app on an Android or iOS device. MiP features dual wheel balancing that allows it to navigate surroundings and follow hand gestures. Switch it into one of 4 robotic modes including roam, dance, stacking, and programming to see MiP in all its glory. Through motion, sounds, and RGB LED eyes, the MiP Robot has a responsive personality that's perfect for kids, whether they're controlling one or duking it out with a friend and his MiP.
Minecraft Gameband
Take your Minecraft world with you wherever you go and plug it into any computer with the incredible Minecraft Gameband. This unique wearable automatically backs-up your entire Minecraft folder and plugs into a USB port on your Mac, Windows or Linux computer for instant gameplay. The Gameband is even customizable using the PixelFurnace App, allowing you to create messages, images, and animations on the LED display. Even if you lose your Gameband, all of your data is backed up on their cloud based servers and they'll ship you a replacement at a reduced price with all your data intact.
$80 at Microsoft Store $116 at Amazon
Disney INFINITY 3.0 Edition Starter Pack - Xbox One
Star Wars has joined the Disney Infinity universe, adding even more heroes, stories, and worlds to explore. This 3.0 Starter Pack includes the game, base, 2 figures (Ahsoka Tano and Anakin Skywalker), Twilight of the Republic Play Set piece and a web code card. Of course, more characters are available if purchased separately. Mix and match characters with previous editions to embark on new adventures or just enjoy the story-driven gameplay inside the play set.
Get the Windows Central Newsletter
All the latest news, reviews, and guides for Windows and Xbox diehards.