The best Lumia 950 cases
If you're getting yourself a shiny new Lumia 950 then these cases will help you take good care of it.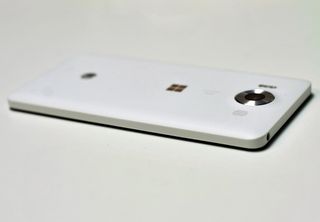 To case, or not to case? That is the question. As smartphone design evolves it's understandable you want to show off your new gadget. But at the same time it's meant to last you a decent amount of time and so you want to take the best care of it you can.
So check out this selection of cases that should help you do just that.
Mozo Notebook flip cover
Why you can trust Windows Central Our expert reviewers spend hours testing and comparing products and services so you can choose the best for you. Find out more about how we test.
Mozo is one of the first manufacturers jumping in with "Designed for Microsoft Lumia" licensed accessories. The Notebook flip cover is a leather case with a vertically flipping cover over the screen. This means you can throw it in a pocket or a bag, even drop it on the floor and be comfortable that the screen should be OK.
It hooks into the phone by replacing the stock back cover which means a perfect fit and minimal added bulk over a regular flip case. And since it's available in leather and a variety of colors, you're getting one stylish accessory for your new phone.
€59.90 at Mozo
£39.99 at Amazon UK (opens in new tab)
Mozo leather back cover
Strictly speaking, Mozo's second offering for the Lumia 950 isn't a case. It's a replacement back cover in a range of colored leather finishes with protective rings around the camera and flash. But if you're looking to add a little individual style to your phone through the accessories you buy, it's hard to look past this. It'll protect the back of the phone and whatever's inside it and it'll look really fancy while doing it.
€48.50 at Mozo
£34.99 at Amazon UK (opens in new tab)
Orzly Fusion Bumper Case
If you like the idea of showing off the stock look on the back of your Lumia 950 but still want to protect it, the Orzly Fusion might be the answer. The plastic back is clear and it fuses with a softer, rubber bumper to protect the edges. The bumper also wraps around ever so slightly over the front of the phone, keeping the display off the surface should it end up face down.
All the vital ports are readily accessible and you can get it in either a black or a transparent finish on the bumper.
$16.99 at Amazon (opens in new tab)
Cimo Shockproof Case
If you're less concerned with looks and more concerned with maximum protection, this armored, shockproof case from Cimo could be right up your street. It's pretty chunky and it's going to add some bulk to your Lumia 950, but it's also probably the best shot you have at keeping it safe if it's going to be a rough and tough environment.
And the anti-slip on the rear should make sure it's easier to hang on to, as well.
$9.99 at Amazon (opens in new tab)
Krusell Boras Microsoft Lumia 950 Folio Wallet Case
Krusell is a brand well known in mobile accessories and its also one of the first, along with Mozo, to jump in with the "Designed for Microsoft Lumia" licensing. The Boras is a leather folio case that opens horizontally and can be used to store credit cards, too. It also has the ability to act as a stand for your phone in landscape mode, perfect for watching videos on the go. A stylish and functional way to protect your Lumia 950.
$37.95 at Amazon (opens in new tab)
Krusell Boden Microsoft Lumia 950 Case
Krusell's second case Designed for Microsoft Lumia is a simple hard shell. It'll keep the back, sides and corners safe with its one piece construction. The back has a slightly transparent look and is covered in an anti-slip finish. The cutouts give ample access to ports and buttons and it's light enough so as not to increase the heft in your pocket.
$29.99 at Amazon (opens in new tab)
Your picks?
If you've got a great case in mind for the Lumia 950 that we haven't mentioned here be sure to jump into the comments and share it with us!
Windows Central Newsletter
Get the best of Windows Central in your inbox, every day!
Managing Editor - Tech, Reviews
Richard Devine is a Managing Editor at Windows Central with over a decade of experience. A former Project Manager and long-term tech addict, he joined Mobile Nations in 2011 and has been found on Android Central and iMore as well as Windows Central. Currently, you'll find him steering the site's coverage of all manner of PC hardware and reviews. Find him on Mastodon at mstdn.social/@richdevine
I hope tech21 jumps in on this...

YES! Love Tech21 cases and screen shields!

GB Microsoft Store has the Evo case from tech21 for the 950... Tech21 Evo Check Case for Lumia 950

Like the look of the krusell boden case!

also look nice http://www.aliexpress.com/item/Nillkin-Genuine-Wallet-Leather-Case-cover... http://www.aliexpress.com/item/Luxury-Leather-Wallet-Stand-Hard-Case-For...

Why so cheep. Do I have to by 950 of them to get that price?

It's made in China by child slaves out of materials that cause cancer. But you can't beat that price!

Because 98% of the products in your house aren't made in China? Where did you get that American designed, American built TV? Laptop? Smartphone? Washer? Dryer? Oh, they aren't American made, American built? Didn't think so. Hell I'll even bet the screws in your apartment or house are probably from China and so isn't the 950.

My 950 is made in Vietnam.

Actually a lot of washers and dryers are made in the US.

It is because they don't have the wireless charging built in like the more expensive ones.

I have ones similar to the orzly fusion for my 928 and Icon. Good protection and you can still see the beauty.

Yay. I ordered the Orzly one for my 950XL preorder! Definitely want to show off that!

Should the wireless charging work with all of these or are special cases required? The Mozo ones are the only ones I've seen that explicitly say wireless charging works (haven't done that thorough of a search though).

It's usually a cheap wireless dock that stops the wireless charging work if you have ya phone in a case. My 830 in I'm a pretty thick case and the charging works fine with the Nokia wireless chargers or ones that have 3 charging coils in, but the cheaper ones don't work so good with a case on ya phone, always worth checking first if you can before you buy. BTW never had a problem with the wireless chargers in McDonalds with my phone in a case.

good to know, thanks. that makes for lots of cover options.

My 930 works on Qi charging plates even when in an otterbox defender! Hope that gives you an idea of how well they SHOULD work!!

If it's a replacement back cover, like the Mozo one, you need to make sure it has the wireless charging feature (and NFC). If it's just a protective case then you should be fine

Mozo leather back for me! It makes 950 look, er, premium.

Mozo is also working on the non-leather back covers. I will wait and see if there is something look close to L930 back cover.

Can't wait for those. The leather is not a premium look for tech whatsoever. Bentleys, yes. Phones, never.

I think there's an LG premium phone with leather back cover. Leather ages well. Only the metal frame makes this look premium imho.

I'd love a really nice looking stormtrooper back cover.

Keep in mind that if leather gets wet it looks like crap. No running in the rain or getting splashed by the pool with one of those Mozo back covers.

Lather it with some protection like what you put on leather shoes and it will be fine. Haha

I think, the black leather cover looks a lot like 930 with it´s metal coated frame.

Any word on when that will be? Was going to jump on the Mozo leather one because the stock cover looks so lame. But if they're making a non leather version, I may wait for that.

Makes it almost look like a 930/ICON

Indeed! I'm also waiting for their non-leather backplate. I wish that 950 and 950 XL look more than average but oh well, best choice at the moment is to get Mozo backplates just to make new Lumia looked great. They have all the great specs and features anyways. I hope 960 series or whatever they will call it would have head-turner looking design.

i like the Mozo leather back case and the orzly bumper case. i have a 928 and my slim case broke but the phone feels good without the case, i wonder how the 950's feel

I've got 3 Mozo back's on order for my 950 XL

Microsoft store has some nice incipios

Incipio are always nice, just overpriced

The Mozo flip case looks pretty great. I was wondering if it replaced the back cover and I'm very happy to hear that it does.

It doesn't. It just covers the whole phone, so it will up to the thickness of the phone, though not much. The Mozo Leatherback replaces the cover.

Check the link in the post. The Mozo case says it replaces the stock back cover.

The article says it does replace it.

Holding out for one akin to the 640XL Wallet case.

I bought the case-mate for mine while at the AT&T store this morning. It's got it's own chrome buttons on the side which makes pressing the buttons nice and easy.

That's the one I would buy too if I was still going to buy the 950.

I'm disappointed Otterbox has opted not to make cases for Lumias anymore. I really like the defender cases. Posted via the Windows Central App for Android

Mozo for me (when MS starts taking preorders again for the XL). :-)

Got the Cimo Shockproof Case, but I'm not thrilled with it. Will keep my baby safe till i get the Mozo. It's too heavy and bulky and the 950 is just so svelt! ​

I had a *speck case for my 1020 which I loved as the front edge protection was rubber. When the phone is face down on the console in my car it will not move. Anyone know of a similar case? I purchased a CaseMate from ATT, nice feel and protection, but no rubber edges (found that out as soon as I cornered).

I use the same on my 1020 and M8. I even get them for my wife's iPhone. Speck is my favorite case and I look for the availability right away when I get a new phone

It's so unbelievable ugly! I want to like it but I just cant:-/ Will stick whit my 930

930 is still fine device, if you don't need Continuum or Windows Hello. The only bad thing about 930 is really not having Glance because Nokia at that time for some reason they didn't use panel that will support it. There is still next year, they might already learned something and finally release flagships that also looks good with usual flagship specs.

I had already ordered the Orzly for my pre-ordered 950 XL. I was thinking of going completely naked, but I changed my mind considering how much it cost me...

Black leather Mozo... mmmmmm...

I like the Mozo Leatherback cover. It's not going to give much protection but definitely level up the looks of the 950.

All I want in terms of a case is a Zero Lemon expanded battery with one of their rubber outer cases, which does seem unlikely and not very easy for this phone, but I would snap it up in a heartbeat if they did.

I'm loving the case support for this phone.

Will be picking up the black/silver case from Mozo as soon as I get my 950, it's gorgeous. ​But really, all I want is a standard replacement cover (with QI/NFC) in cyan. Hopefully we'll see more "Made for Lumia" options very soon...

Any hands-on for Mozo cases?

Great to see some good quality accessories right from the off!

I like the idea that Mozo is using replacing the case and buttons with metal and premium materials. This essentially changes the entire look of the device which is pretty cool. This allows anyone to customize their device to fit their mood. Something rugged for outdoors or sports and then something more elegant for formal events. Would like to see bamboo and other woods in addition to leather.

Any hints of a Mozo metal-look case?

I like these ones for the 950 XL http://www.aliexpress.com/item/For-Microsoft-Lumia-950XL-case-bamboo-woo...

I just got my Nillkin case delivered today. Loved it on my Lumia 735. I expect it will be great when I finally get a 950... http://www.amazon.com/gp/product/B017GY1UO2?psc=1&redirect=true&ref_=oh_aui_detailpage_o02_s00

I'd be looking for something that hide that ugly metal ring on the back... and they give 950's users something and cover the entire phone BUT the igly metal ring XD

PDair Flip Case may fit for your requirement. I got one for my Lumia 930. The case can protect the whole phone back cover. The camera only appears when you shoot. Here is thehttp://www.pdair.com/index.php/leather-case-for-nokia-lumia-930-flip-typ...

Who else beside me would like to see a wood/vapourmag back cover with a gigantic milled Windows logo?

+1 Posted via the Windows Central App for Android

Anyone know the best tempered glass for Lumia 920?

Because the screen is slightly curved tempered glass doesn't work. Learnt that the hard way.
You best bet is to try to find a Otterbox Defender with a built in screen protector.
Its awesome it saved my phone from a two storey drop

I'll wait for Nokia designed phone. Will look great without a case.

I picked up the ORZLY clear case with the black border. Its absolutely perfect with very little weight added. It reminds me of the iPhone 4/4s Apple bumpers except with the clear back protection as well. I dont usually purchase a case but I liked the idea of not covering up my phone and adding nominal bulk.

I hope to see a waterproof case at some point.

I do like the leather backs from a visual point of view, but would go for that shockproof case as unfortunately I'm clumsy.

Are there any apart from the Mozo that work as replacement backs?

The only thing I would consider are the replacement backs like the Mozos. I've never had a case on my phone and don't intend to start now. I'm not covering up an attractive phone. They look best au naturale​.

I'm just going to get any case so I don't feel the heat. I guess come winter it'll make for a good hand warmer.

None of them are looking great.

is the Cimo Shockproof Case are avalable for the 950 XL?? it's look like there is less choise for the XL

I'm going to have to go with the Crimo Shockproof Case. Ironic that the case that should provide the most protection is the least expensive.