Best Tempered Glass Screen Protectors for Lumia 950 XL
What are the best tempered glass screen protectors for Lumia 950 XL?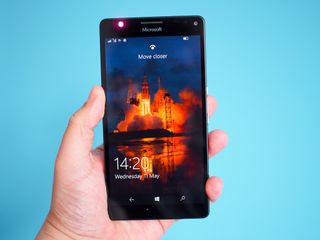 Updated April 27, 2017: We've refreshed this list to ensure these options are still the best tempered glass screen protectors you can get for your Lumia 950 XL.
Your big, beautiful Lumia 950 XL needs protection while it rides around with you throughout the day. Why not get it the best? Tempered glass screen protectors offer much more protection than plastic screen protectors, and they usually have a few added perks like anti-glare and oleophobic coatings.
Almost ready to pull the trigger on a new tempered glass screen protector for your Lumia 950 XL? We've rounded up the best available now!
StilGut tempered glass
Why you can trust Windows Central Our expert reviewers spend hours testing and comparing products and services so you can choose the best for you. Find out more about how we test.
Even though this screen protector is made up of five different layers — nano coating, tempered glass, explosion-proof film, adhesive coating, and silicon coating — it remains thin at just 0.33mm. You'll have no problems using your touchscreen, and the clarity of the screen won't change at all.
StilGut has a hardness rating of 9H, meaning it will be resilient to just about everything you carry around in your pockets or purse. Don't forget, it will also protect the screen from drops onto sharp and pointed objects. If you do manage to get smudges on the oleophobic outer layer, they can be easily cleaned off with the included microfiber cleaning cloth.
Unlike some other tempered glass screen protectors, StilGut took the time to cut out a hole to fit around the front-facing camera, rather than just trimming it below the camera. The result is more protection and a better-looking device. Users have stated that StilGut is one of the best screen protectors for sticking to the slightly sloped corners of the Lumia 950 XL. It is on the expensive side for screen protectors — about $20 for two — but it is definitely one of the best you can buy to protect your phone.
Nillkin H+ Pro tempered glass
Nillkin uses five layers in their H+ Pro screen protector to deliver a multi-purpose tool — it cuts glare down to a minimum, it is resistant to smudges from your fingers and will stay together even if it ever happens to shatter. Oh yeah, it will also protect your screen from scratches and drops onto sharp objects. Feel free to keep your phone and keys in the same pocket!
This screen protector is only 0.2mm thick but maintains a 9H hardness rating. You probably won't notice the protector when you have your phone on — the picture is just as clear, and it responds just as well to touch.
Users have stated that the Nillkin H+ Pro is one of the best tempered glass protectors when it comes to sticking to the Lumia 950 XL's slightly sloped corners. Installation is easy, but if you don't get it quite right the first time, this screen protector is removable and reusable thanks to its silicon adhesive coating.
If you want one of the thinnest tempered glass screen protectors for your Lumia 950 XL, have a look at Nillkin H+ Pro. It starts at about $13 (opens in new tab).
See at Amazon (opens in new tab)
SOJITEK premium ballistic tempered glass
Probably the best part of SOJITEK's screen protector is the lifetime replacement warranty. If you happen to be particularly hard on your phone, this feature could make the difference between other tempered glass options. Users also claim that this screen protector seems to stick without many bubbles to the Lumia 950 XL's slightly sloped corners.
You're getting a 9H hardness rating to ensure that the things you carry around in your pockets or purse don't scratch, and it will even protect your screen from drops onto pointed objects. The whole thing is only 0.33mm thick — you will hardly notice it's on your phone when looking at the screen. Can't forget about the oleophobic coating that helps cut down on smudges from your fingers!
For the cheapest tempered glass screen protector that comes with a lifetime replacement warranty, you have to check out SOJITEK. It starts at about $9 (opens in new tab).
See at Amazon (opens in new tab)
kwmobile tempered glass
This tempered glass screen protector has the most coverage at the top of the phone — even the front-facing camera is covered, but your pictures will come out just as defined thanks to its crystal clear construction. There will be no risk of scratching from keys and loose change, and your Lumia 950 XL will even be protected from drops onto sharp or pointed objects. Do note that the proximity sensor may be interfered with when using this screen protector.
A lot of other tempered glass screen protectors have a hard time sticking to the Lumia 950 XL's slightly sloped corners, but kwmobile seems to have things figured out. Users say they have little to no bubbling problems.
With a thickness of 0.33mm, your touchscreen will respond just as well as if it was bare. Its anti-glare coating will help you see your screen better, and the silicon adhesive layer allows you to reuse the screen protector if it doesn't go on straight the first time, or if you switch to a new 950 XL.
This tempered glass screen protector offers the most coverage at the top of your phone, including your camera — at only about $8 (opens in new tab), it's also a steal.
See at Amazon (opens in new tab)
Your screen protector
Are you in the market for a tempered glass screen protector? If you already have one for your Lumia 950 XL, have you experienced any bubbled corners? Which one worked the best for you?
Senior Editor, Laptop Reviews
Cale Hunt is a Senior Editor at Windows Central. He focuses mainly on laptop reviews, news, and accessory coverage. He's been reviewing laptops and accessories full time since 2016, with hundreds of reviews published for Windows Central. He is an avid PC gamer and multi-platform user, and spends most of his time either tinkering with or writing about tech.
Great timing. I somehow chipped my current tempered glass protector last week. Freaked me out until I remembered it was just the protector that was cracked (thus doing its job).

Good timing indeed. I just lost all confidence in iVoler after the glass did not stick to the screen in the corners. There is few posts in the forum pointing to the Nillkin as the best one that does the great job...

I'm on my second Nillkin after busting the first one. Had it on my phone for a good 6 months, never had any loose corners or bubbling. The only reason it failed is because i use my 950XL caseless and I chipped the edges of the protector, which eventually caused a single, almost invisible crack that didn't look that bad, but bugged the heck out of me whenever I noticed it. Long story short, Nillkin is great, it's 1/4 of the price of the Incipio one i got when i first bought my phone, and it seems to stick just as well if not better. Got my phone replaced under warranty about 8 months ago, the new one has a lot less slope on the corners but the cheap ones still don't stick down all the way.

Lucky you. I got Mr. Shield and now they it. Even though the 950 version it's great, the 950XL one has issues with peeling off.

Agreed mr shield for 950xl has big probs w corners

I bought the Nilkin H+ since, and haven't gone back. By the way my previous comment is from August last year. They have republished this article.

Used Nilkin on my 950XL a feel the ago, have since purchased one for every phone in my family.

I put one and my sensors double tap to wake didnt work,olso bubles at top corners,very sad

By all means, I'm a user of Nilikin, and it does the job well and looks good too (no problems at the corners).

I bought one for my 950 and it made it a pain in the you know what to use. I had to be holding the device to have touches register. If it was on my desk it was unusable. Hope these are better than the ones AT&T sold.

My daughter had the same issue with her 950 and the BodyGuardz sold by AT&T. I just installed the Nillikin Amazing H 9H protector and it fixed the touch issues. I really wanted the Amazing H+ pro like I have on my 950XL but couldn't find one for the 950. The Amazing H+ pro is thinner (0.2mm) and has rounded edges.

One thing to look out for: I had a White Knight tempered glass screen protector for my 640 that was pretty nice. But it didn't work well with my proximity sensor - screen wouldn't wake reliably on alerts, glance was useless, etc. Once I removed it, no problems. It had a little cutout for the camera but not for the sensors. I don't know if other protectors are any better.

Go with lightning knight instead. No issues for my 640. Been cracked for months on the underside and it hasn't bothered me. Amazon....

I'm on my 3rd Mr Shield protector on my 950 after a phone drop and a shop tool drop (doh!). Easy to install, works as advertised by saving my screen twice and all you do is contact support with your order number and they ship you out another, free of charge. I would expect no different from the version for the XL.

Proximity sensor won't work if the kwmobile's protector is on the phone. Look at the picture, the sensor is covered with glass. Also you can get bubbles on the corners. I'm a 950xl owner since day one and its my third TUDIA protector. All three without any issue. No bubbles, no sensor issues and double tap to wake works fine. On the other hand, the rest of the family (640s and a 535) all have kwmobile protectors.

Are this tempered glasses also best out there for the 950

Most work fine with the 950 because it has a flat screen (compared to the curved corners of the 950XL). Even the Mr. Shields one works perfectly, which fails on 950XL. My wife has the Mr. Shield installed on her 950, with no issues. But it failed terribly on my 950XL.

950XL - Using Nilkin :) Wish I had this article few months back coz its a pain to find the right one and after a lot of searching , settled for Nilkin and the main basis was design , always :D Proper cut for iris , sensors at top , front camera , mic at bottom \m/

Hey guys one article for USB C type accessories and covers for lumia 950Xl. Thanks for jotting them down \m/ :D

I used a 9H rated one from China and had the same issues with the corners and even worse... The proximity sensor would be very finicky and not want to turn the screen on and made glance unusable. If I would've known this I wouldn't have just stopped using one and scratched the bejesus out of my old poor 950 XL Posted via the Windows Central App for Android

Bought several for around £2.99 from Amazon and eBay. The one's that had the proximity sensor cut out were best.

Would've been great before I just bought a screen protector for mine just a little over a week ago. It's a cheap one made by iClearz. It's alright, and the included installation tools were actually pretty intuative. But it's noticeably lower quality than the original screen, and while not impossible to clean: It can be pretty difficult to get smudges off. I'll definitely consider these, thanks for the guide! Do you happen to have a similar guide for Lumia 950 XL cases?

My orzly case has been the best for my 950xl, hard clear plastic back and rubber bumpers. Other cases I have bought want to pop off on the corners, not so w this one. I think the key is that it has cut outs for buttons, those w their own buttons want to pop off in my pocket

unfortunately, I failed to protect my face. Now it's cracked, badly. such a shame, because the L950XL has matured into a very good phone.

Nillikin is the only one I have tried that sticks to the raised corners of the 950xl screen. It works great, fits perfectly...just a little shame that the top-right is cut out completely instead of allowing a small cut out circle like others...but, it sticks, so not really any other choice!

I got an incipio one from the ms store for my 950xl and it has been great

Came here to say this and to mention that the folk in the store will apply it for you at no charge... and if they mess it up, they'll try again with a new one for no charge. On my wife's phone, they got bubbles under the first two, but got it right on the third try. Only got charged for one. Customer service in the Microsoft Store is always awesome. :-)

actually I own a 950, not an XL, so I cannot say much about compatibility of those tempered glasses, but: If you own a 950 like me stay away from tempered glasses! I tried three different products on three different 950s with the same result: They interfere with the digitizer! If you lay your phone down on a surface like a blanket etc., the digitizer won't recognize inputs on some areas of the screen, especially on the lower right corner. Additionally most of those glasses cover the proximity sensor, which results in a no waking up of the display when calls are incoming.

Since you are experiencing the same issue with multiple different screen protectors, I would venture a guess that the common denominator, the digitizer, not the screen protector could be causing the issue. I have been using a Skinomi Techglass screen protector on my L950 with no issues. It's 9H, .33mm thickness, electro and oleophobic coated surface to resist dust and fingerprints and has a lifetime replacement warranty.

I use h9 screen protector and I have no issues using it in my Lumia 950

The Nillikin Amazing H 9H protector fixed the touch issues on my daughter's 950.

I find a temper glass for 950xl which do not lift up in the corners is nillkin h + pro it perfectly this fits' I'm using now it more than 3 months no problem at all the touch sensitivity and the clarity is amazing also it comes with camera lens film to protect the 950xl camera lenses .......

Like many, my 950xl lifts in the corners. From what I can see, the corners aren't flat. When viewing under a light source, there is deformation of the light, suggesting the corners have some kind of drop. I've yet to find one that adheres fully. I'll try the nilkin next.

I've tried multiple tempered glass for my 950xl no one fits on all four corners. Then one shop guy told me to see the corners in bright light with screen turned off. Saddened to see the bend on corners :( it's a manufacturing fault on my 950xl. No cover will fit on. Thanks to MS quality check teams

I agree, It's the phone quality control, not the protectors. I've had a few, Nilkin was the best but they always come off on one lower corner. Looking in the right light one can see the problem with the screen. :-(...

It is built into the design (not a quality control issue).

I've tried a couple of brands of the Tempered Glass screens. they all, to a variying degree lift on the corners. both bottom ones for sure. One is even lifing bottom middle and not well adhering around most of the edges....... I'm not sure if I want to be bothered spending even more money on yet another brand in case it still fails..

I have the otixio protector for the L950. It fits great, no bubbles, it just sealed itself to the sides. But I really like the cut outs for the StilGut brand and agree it looks nicer on the screen.

I gave up on tempered glass protectors. My 950XL's screen is slightly "pinched" at the corners (likely due to the adhesive between the glass and the phone body), so I get air bubbles on each corner. I lived with that for about half a year before switching back to a standard plastic protector instead.